Liverpool player rating for 2011-12 season - Part 2
1.37K //
27 Mar 2012, 17:07 IST
We continue with our evaluation of Liverpool's players on their performances during the 2011-12 season. For Part 1 please click here.
4. Doniéber Alexander Marangon (Doni)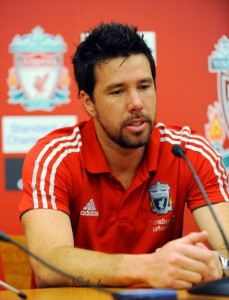 Cost Price: FREE
Fair Price:- –
The player who is famous for letting in 7 goals against Manchester United was brought in from A.S. Roma as cover for first team keeper Reina. Apart from getting a few appearances in some cup matches and reserve matches, he has hardly played  for Liverpool. He can still be called a decent keeper based on his past record at Roma. With Reina having been fully fit for most parts of the season and also starting in cup matches, Doni rarely had anything to do this season other than warm the bench. Doni is ahead of Brad Jones in the pecking order and next season he could get some matches under his belt with the Reds being in Europe. But the few points that have been awarded to him in respect of this season are for warming the bench and not complaining about that one bit.
Player Rating: 3/10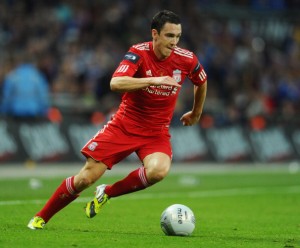 Cost Price: Around 20 mil
Fair price: 13-15 mil
The England winger was brought in from Aston Villa to provide the much-needed flair and width which Liverpool have been crying out for since the early 2000`s. Downing had a bright start to the season but his confidence kept reducing as the matches progressed. When he was at Middlesbrough he had the pace and trickery to beat almost all fullbacks. But the injury he suffered reduced his pace considerably. At Aston villa he was a top performer week in and week out and created a large number of assists too. But at Liverpool he is has been deemed as a failure having created just a handful of assists and goals in his entire time here. He came alive in the Cup final at Wembley and since then has looked relatively lively, with good link-up play with other players too. But he is still short on confidence and his right foot is almost non-existent. Every time he gets the ball he switches on to the left foot to cross it in and this makes him very predictable. He even missed a few scoring opportunities because of his weak right foot. Most observers consider him a failure since he has doesnt have too many assists or goals to his name. But what fans tend to forget is that the strikers themselves have been poor finishers. Carroll, Kuyt, Suarez and even Bellamy have missed some good opportunities to  score and had they scored then Downing's stats would have been different. Some statisticians claim that Downing has created almost 50 goal-scoring opportunities and it was his team mates that let him down. Whatever the reason, he is yet to show his full talent and skill and hopefully he can get into the kind of form that he displayed for his earlier clubs. He has a lot of talent but  has to improve his finishing and crossing.
Player Rating: 6/10
6. Jose Enrique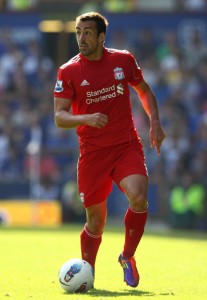 Cost Price: Around 6-7 mil
Fair Price: 7-8 mil
Enrique has to be the best LB the club has had since the days of John Riise. Enrique is fast, direct, strong, intelligent and has a bagful of trickery and dribbling skills at his disposal. From a defensive standpoint he has been better than most former LB's the club has had but he has the potential to improve even further. His pace helps him catch up with wingers or other players even after they go past him. His tackling is another major plus point for him. The fact that Liverpool still has a very good defensive record is down to the fact that very few goals are scored from the left side. That said, he still has a lot to learn. His crossing has been average but in some games it has been really poor. He has let in a few goals because of his tendency to hold back his tackle and let the crosses go in. But overall he has been a fine performer and one can only imagine that as time passes he will gain better understanding with the players around him. Enrique has been a really good buy for the club.
Player rating :7.5/10
7. Sebastian Coates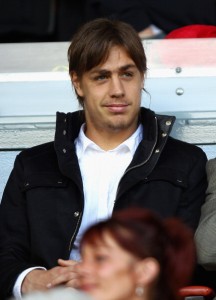 Cost Price: Around 7 mil
Fair price: 5-8mil
Coates is the youngest first-team player to join Liverpool this season .Coates already had a good reputation after his performance for Nacional and the Uruguay National team in the Copa Ameriaca Tournament. He is calm, composed and good in the air. He has decent pace and is often compared with Hyypia for his body frame and defensive style .He can make good interceptions and is not afraid to get forward when he gets the ball at his feet. He has played only a handful of games and that is not sufficient to know how good or bad he will eventually turn out to be in the long run. But from what we have seen so far he has been a decent buy for the club. He scored his first goal in a style that would have made many forward envious. Admittedly, even with his height, he often has some trouble winning the ball in the opposition area. But overall he is a good young player and probably will be the player to take over from Carragher once he hangs up his boots.
Player rating:6/10
Notable mentions: Jordan Ibe, a 16-year-old striker from Wycombe Wanderers, and Joao Carlos Teixeira, a 19-year-old AM from Sporting.