Liverpool vs Cardiff: A detailed analysis
Teams and Formations
Brendan Rodgers opted to field the same starting XI that had demolished Tottenham 5-0 the previous weekend. Sakho and Skrtel started ahead of Mignolet in goal. Flanagan continued his extended run in the first team on the back of arguably the best match of his short Liverpool careers. Johnson was given a free role on the right, while Lucas shielded the back four. Coutinho, Allen and Henderson started in the midfield with the former starting from the left and drifting in the middle as and when possible. The imperious Suarez started as the lone striker but with the form he is in he surely does not need anyone else to support him. Sterling was tasked to provide width in Liverpool's 4-3-3.
Cardiff made one change to the team that defeated West Bromwich Albion as Campbell dropped to the bench. Marshall starting in goal once again was protected by the ever improving Caulker, Turner, Theodophile and Taylor. Whittingham, Medel, Noone and Gunnarsson completed the second bank of four as Cardiff came with a clear plan of frustrating Liverpool by closing down spaces and counter attacking quickly. Mutch and Odemwingie started as the strikers in the 4-4-2 formation used by Mackay.
Cardiff's strong start
Cardiff came with a clear strategy of trying to isolate Suarez. They pressed high and forced Liverpool to play long balls to Suarez in the first quarter of the match. Two players were always marking him whenever the long balls were played to him. On the other hand, when Liverpool had the ball, the two banks of four were performing an excellent task of closing down their zones and denying Liverpool any clear cut pops at their goal. Cardiff found themselves with a chance to take the lead when Sterling lost the ball and Cardiff broke quickly. Noone found himself one on one with Sakho and unleashed a powerful shot on the Liverpool goal but Mignolet was quick to react and punch away for a corner. Cardiff managed to win a couple of corners and Liverpool were struggling to defend set-pieces and create clear cut chances from open play.
The opening goal
Around the 20 minute mark, Liverpool finally began to gain foothold of the match and started to dominate possession. Henderson, Sterling, Allen and Lucas were really effective in maintaining possession and harrying their opponents into surrendering the ball quickly whenever they lost it. A slightly elongated spell of possession ensued and was followed by Suarez playing one two with a Cardiff defender before wriggling past two opponents and passing it to Allen whose lovely little ball to Henderson resulted in him floating a first time cross in the box. Suarez, who had passed the ball to Allen, meanwhile continued his run and found himself in acres of space outside the box adjusted himself well and volleyed the ball into the net for a wonderful team goal.
This goal was followed by a barrage of chances from Liverpool when Sterling and Johnson found themselves one on one with the goalkeeper after two wonderful through balls from Henderson and Coutinho. The former's shot was parried well by Marshall while the latter had a poor touch which allowed Marshall to get hold of the ball. Meanwhile, Coutinho struck the post from a short corner kick while Flanagan was denied his first goal in front of the Kop by a goal line save from Marshall. Liverpool continued to apply pressure and another goal was looking increasingly likely and arrived via a Cardiff set piece.
Cardiff's corner kick was cleared and the ball fell to Henderson, who released Suarez with an absolute peach of a through ball from the outside of his boot. Sterling, Coutinho and the stand-in Liverpool skipper found themselves 3 on 1 with the goalkeeper and Suarez unselfishly passed the ball to Sterling who side-footed into the open net. Cardiff were in complete disarray after starting the match in such a brilliant fashion. Liverpool continued to probe and a clever Henderson back heel gave Suarez a yard of space which he utilized to curl the ball perfectly past Marshall for the third goal of the half.
The second half Welsh renaissance
Recognizing the issues facing Cardiff in holding the ball upfront, Mackay decided to bring in Campbell and Kim for the relatively anonymous Odemwingie and Medel on 55 mins. Rodgers decided to replace Flanagan with Kelly who occupied the right back position forcing Johnson to shift to the vacated left back slot. This tactical shift by both managers had a more drastic effect then what could be imagined. Cardiff suddenly started looking more purposeful with the ball and also began to win a lot of free kicks in dangerous positions.
The set-piece fallacy recurrence
Cardiff managed to score from one of these set pieces where Sakho was somehow left alone to mark two Cardiff players. As a result, Mutch found himself free and scored via a perfect header past Mignolet. Liverpool were lucky not to concede from one of the many resultant set plays. Skrtel was particularly a liability as his handling of Caulker was absolutely disastrous and should have earned Cardiff atleast one penalty.
The final period
Liverpool finally managed to get back their hold on the game and see out the last 15 mins without any trouble. Agger's entry in place of Coutinho also helped to that effect. On the contrary, Liverpool might have added a couple of more goals as Suarez managed to hit the post and Sakho almost connected to Johnson's punt in the area.
Suarez
On current form, Suarez is definitely the best player on the planet. On Saturday, he managed to break a host of records. He became the first player to score 10 Premier league goals in a month. He also became the first player to score braces in 4 consecutive premier league matches and the first player to score 19 goals before Christmas in EPL. He has also scored the maximum number of league goals in the top five leagues across Europe. Liverpool's decision to tie down Suarez to a new contract looks like a master-stroke as his form means that Liverpool can hope to look beyond finishing in the top four. All the above statistics will get even more highlighted when we consider that Suarez has played only 12 league games this season and yet has managed to score 19 goals and get five assists. If we consider his parried shots that have led to a goal and the penalties won by him then his assist tally rises to 8.
Henderson and Sakho
In the absence of Gerrard, Henderson has shouldered the additional burden of creativity in the final third in an excellent fashion. He has now assisted Suarez 5 times this season which is one short of the best goal provider-scorer pairing of last season. His ability to keep the ball in final third, Gerrard-esque passing ability and the ability to press effectively for the entire 90 minutes implies that he has now become one of the first names on the sheet along with Suarez and Mignolet.
Sakho has been able to keep Agger and Toure out of the starting XI after earning his place back against Norwich and he has yet to put a foot wrong in the league. He managed to complete 81/87 passes which clearly implies that he is perfect to Rodger's philosophy of building from the back. His desire to win every 50-50, supreme aerial ability, a great awareness of when to tackle and when to push back means that he offers the complete package for Liverpool and is already looking like a bargain at 17 million pounds. He also covered superbly when Flanagan lost his marker a couple of times on the left.
Mackay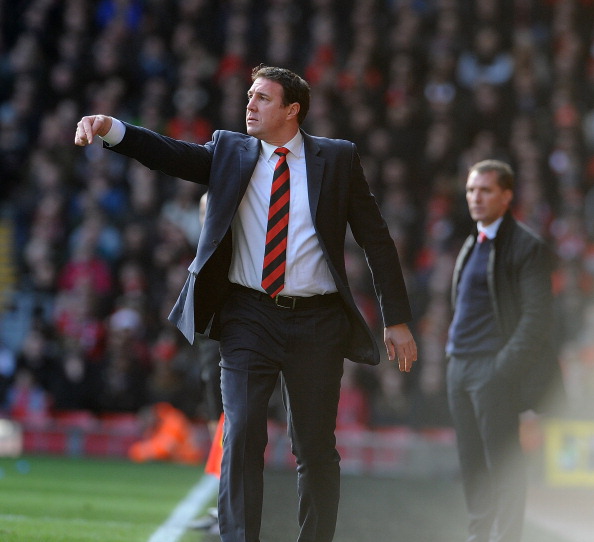 Mackay and Rodgers worked together at Watford. Both led Welsh clubs to their first promotions in the Premier League for over a century. Both are known for their superb knowledge of the game. Yet, they find themselves in contrasting positions right now. While Rodgers is about to be offered a new contract, Mackay may face the axe due to his issues with Cardiff City owner Vincent Tan. Mackay might have made a small mistake in starting with Odemwingie, but I really doubt if that had any bearing on the result. Though, the way he galvanised and organised his team to limit Liverpool and pull City out of trouble in the second half clearly indicates his tactical acumen. Any team will be lucky to have a passionate and clever manager like him and Cardiff city fan's show of support at Anfield to their ostracized manager clearly indicates that.
Conclusion
While Cardiff City find themselves in a relatively safe position, they need to keep up their decent home form if they are to ensure survival in the Premier league. On the other hand, Liverpool should wait a week for the two away trips to City and Chelsea before starting to fantasize beyond top four. Suarez has been responsible for possibly the greatest individual performance in a half season of EPL and if he can continue in this vein of form then he will be the one challenging Messi and Ronaldo for the best player tag next season. Roy Hodgson, meanwhile, will be worried seeing two of his backup defenders Dawson and Caulker being ruthlessly exposed by Suarez as he starts to decide on his squad for Brazil.