Luis Suarez - A pantomime villain or a cult hero?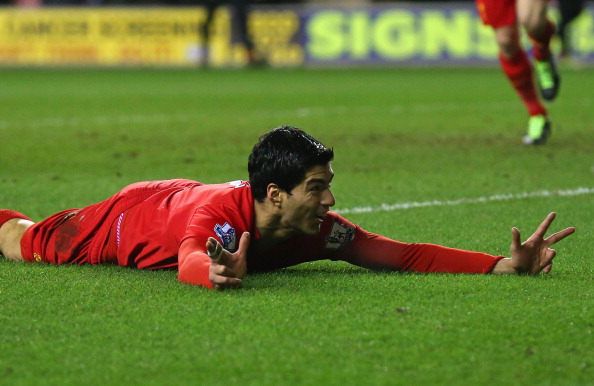 Luis Alberto Suarez Diaz, born in Salto, Uruguay never thought he would be a villain and hero at the same time when he played on the streets, struggling to afford even a sock for himself. He has that street instinct in him. He was never trained or brought up in a protected environment or afforded all the luxuries like many footballers in England were brought up in.
Luis Suarez wants to win. It is a simple fact that can pretty much justify all his attributes on the field. The street fighter in him has carried the team this season, fighting his way from the front. In the almost two and a half seasons of him being here, he has gone through a lot, especially the racism row. It happened before he had completed even a year in English Football and there he was, slapped with an 8 game ban and a hefty fine. Racism in no shape or form can ever be justified but it did no good to his image already tainted with the infamous hand ball against Ghana in world cup or his nickname in Netherlands,"the cannibal of Ajax", for biting his opponent's ear.
He tried to move on from that episode but has now ended up being called a diver when in fact he has never been booked as many times for diving in England compared to many other English media sweethearts like Bale or Young. Gary Lineker was the first to admit it during a transmission of Match of the day when he confessed to double standards, referring to Liam Ridgewell's dive vs Sunderland being defended by giving a variety of excuses.
To be fair to Luis, he has improved a lot but a single mistake often results in a furore. Take the handball against Mansfield for example. Many have done it in the past and many will do so in the future without admitting it, but Luis was declared a devil for doing so. Yes, it was unethical, but in the words of Gordon Strachan, "Will you go and pay 85 quid if you are not caught for parking in a No parking zone?"
But after a long time, people are now starting to realise just how good Luis Suarez is. He is the top scorer in the premier league. A striker who, according to many, could not finish, has 2 more goals than the "most clinical striker in the league", Robin van Persie. He is also now more focused on what he does with the ball; earlier he used to be in the referee's ear, shouting about every single decision, making him sound like a cry baby.
His transformation is somewhat similar to Cristiano Ronaldo during his early Manchester United days when he was considered more of a show-pony, doing unnecessary tricks without any end product and was a hated man around England. But both of them are now respected and admired by everyone for their qualities, and their behaviour is given less importance.
A genius has his flaws. The best and the most extreme example is Diego Maradona. I am not necessarily comparing their talents, but even he was laced with drug accusations and scored, probably, the most famous goal in the world with his hand. But did his talent ever come into question? No! He is still a hero to many and an idol for them.
England has been unlucky in the way that many of the world's greatest talents have never played there, for example, Maradona, Pele, Ronaldinho, Ronaldo, Romario, Zico. But Cristiano Ronaldo and Luis Suarez have bucked the trend and people need to understand that they need to accept their flaws to realise their genius. Otherwise, the English league may remain only a competitive league devoid of any great talents.