Luis Suarez: Making his boots do the talking
1.15K //
18 Nov 2012, 23:33 IST
The Uruguayan may still have to burn a few more miles before generating any sense of atonement after hitting an abominable low last season, but beneath all that was written and more, lies an impelling footballer who is making everyone stand up and take notice of his prowess on the field rather than his verbal dexterity.
It's sometimes hard to find takers for his rapacious aggression, his oft irking nature of a street baller, his more than necessitated exaggeration of contacts or some blatant dives in his single-minded pursuit to put the ball at the back of the net, not-withstanding adherence to any footballing commandments.
Liverpool have stuck by him through thick and thin, bordering, or to some, crossing the limits of ridiculing the club's reputation. They gave the lad from Uruguay every bit of support any club could give their player when the storm was out and for Dalglish, it may well have been one of the vital cogs of the decision making machinery that saw him out of his beloved Liverpool at the end of last season.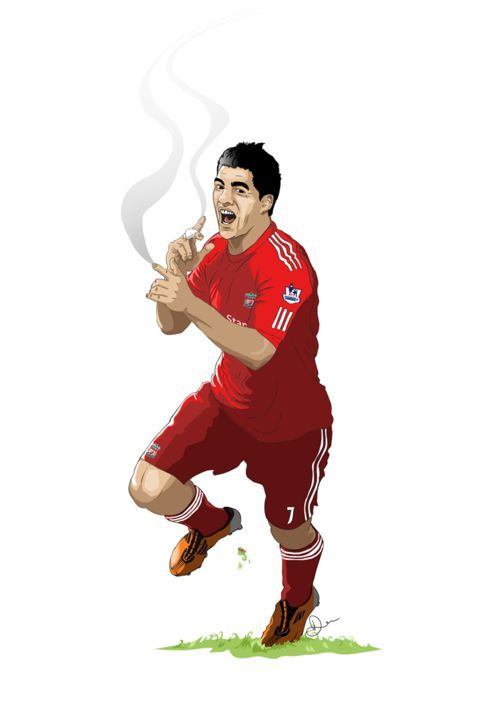 It's been a hard toil at times for both the club and the player. Was the faith on the lad justified? Going by what we have seen so far this season, the answer is emphatically YES! It's rare to see any club coming out in defense of its player with such staunchness, and somewhere deep inside it seems to have struck a chord in the Uruguayan.
Last season, a superb turn or a dribble to get by his man only to see his shot hit the bar, hit any part of the goalkeeper or whistling past the upright was a characteristic feature of Suarez's performance. Another in a long line of flawed genius or players tagged as "enigma" perhaps.
Finally, this season Suarez seems to "get it". He has been dragging the Reds to some sort acceptable level of competency. The level of dependence on the South American for the proper functioning of Liverpool on the field seems to be reaching a debilitating level, but Suarez seems to enjoy it all. His brilliance these days now comes with a "chip on his shoulder" performances.
Bringing a 60-yard long punt on his chest while beating his man and rounding the goalkeeper to tap in; heading in goals at the back-post as well the front-post or curling it in with the outside of his right foot. He is doing it all. Nothing seems to be beyond his realm of possibilities.
The Uruguayan still makes a muddle of a fair share of his chances (34% shot accuracy this season) but you would back him to find the back of net or set up one of his team-mates these days more than ever, because his play has been that darn impressive. Suarez is the closest synonym to a "one-man team" right now.
Leading the goal scoring charts for now, Suarez is only one goal behind his total tally of 11 Premier League goals last season, while playing in a much more inexperienced side. Doing all this while creating 35 chances in total (including 2 goal assists) of which 32 are from open play. Now that's impressive. 
In Brendan Rodgers, Suarez has found another manager who has unwavering confidence in both Suarez and the way Liverpool should play the game. In more than a few decades, the Reds have an unmistakable style of playing with Suarez as the key ingredient, the axis around which the Liverpool's offensive prowess revolves and Suarez is more than rewarding them for their faith.
Rodgers' inheritance was a dysfunctional squad and a £35 million tagged forward which he couldn't incorporate into his style. He has come up short on many tactical decisions while being short-armed in the transfer market.
At least he has made the right decision to know around whom his future team is to be built. He is more than a player in a red uniform. He is the endeared spirit at the Kop, the biggest reason to afford a smile for Liverpool fans.
Any other season and the Anfield faithful would have been up in arms if eleventh place was all that was to show for their efforts after 12 weeks of action. They understand now that the team is in a state of elemental building and heading the hierarchy for future success is a magician wearing the number 7.