Video: Luis Suarez shows Lionel Messi who the boss of the first touch is
6.05K //
02 Nov 2016, 10:17 IST
(Video Courtesy: F2 Freestylers)
Luis Suarez is renowned for his all round gameplay, nutmegs and of course banging in goals at a very high rate for Barcelona and previously at Liverpool. Suarez has been scoring freely again this season.
The Uruguayan striker also has a deadly first touch which sets up all those brilliant goals for him, and he was asked to put it to the test in a freestyle challenge.
The F2 Freestylers – Billy Wingrove and Jeremy Lynch – called on Suarez to test his first touch. The F2 Freestylers are one of the most popular football freestylers in the world with over 4.7 million subscribers on YouTube, they are very well-known for their videos involving Europe's best players.
In the video, Suarez was asked to control a ball dead after it was thrown off a 35-metre crane. There are lots of fine nuances involved in controlling a ball from such a height. Firstly, the ball is influenced by the wind and moves considerably through the air. Secondly, it travels very fast, at about 65 miles per hour. And lastly, the force with which it falls to the surface is high, making it extremely difficult to control.
With his Barcelona teammate Lionel Messi watching on for "moral support", could Suarez pull it off?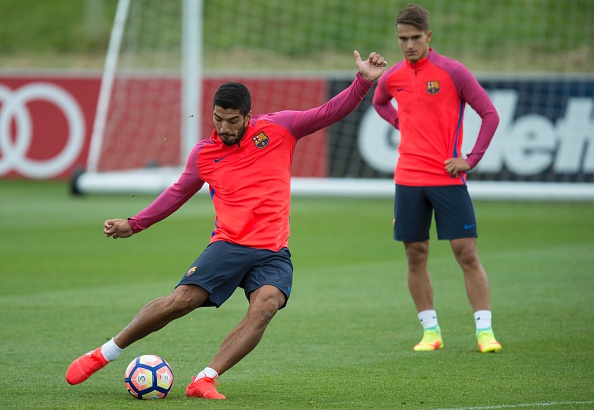 In the video, after missing the ball on his first attempt, Suarez tries again. The second time, he effortlessly brings the ball down dead at his feet. The Uruguayan clearly has an astounding first touch, and this has been the case all throughout his career.
The video goes on to show the F2 Freestylers attempting to beat the world record for controlling the ball from 35.2 metres and keeping it up at the same time i.e to continue juggling the ball after it has been dropped from that height.
Suarez couldn't put his incredible first touch and his overall skills to good effect against Manchester City last night, as the Manchester club ran away 3-1 winners at the Etihad Stadium. An early goal from Lionel Messi couldn't put the match to bed, and City came back strongly with goals from Kevin de Bruyne and lkay Gündoan.
Judging by this video though, Suarez should have no problems controlling long balls from his teammates and setting up that half a yard to shoot on goal.
More Football news, transfer rumours, analysis and features at Sportskeeda.com