Mahendra Singh Dhoni to quit cricket and join Liverpool FC- a Dailyfail exclusive.
3.75K //
21 Mar 2012, 12:00 IST
Mahendra Singh Dhoni, aged 29, the current captain of an exemplary Indian cricket side, who is known for his glove work more than anything else has now announced that he is going to quit all forms of cricket, including gully-cricket (of course there is a World Cup triumph last year under his kitty but that victory was because of Piyush Chawla, Sreesanth and Poonam Pandey more than anything else. It is said that the thought of seeing Poonam Pandey go for the full monty actually motivated the players and it wasn't Gary or MSD.) This news may come as a shocker to many but there are few people who are feeling relieved about this decision. The list of people include Partiv Patel, and former greats like Vijay Dahiya, MSK Prasad, Ajay Ratra etc. When contacted, a close aide of Ajay Ratra said it is a dream come true for the 32-year old and the rest as it gives them another chance to redeem themselves and help Australia complete a whitewash.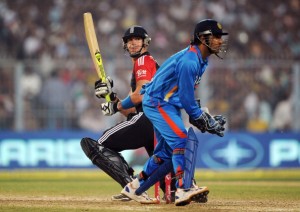 According to sources who claim that their information is highly authentic as ever, M.S.Dhoni is quitting cricket for a career in Football- where he is not expected to catch many balls but just stop them, and also because the game doesn't include a 4 feet wooden equipment called bat. Given M.S.Dhoni's love for football and his relationship with football goes back to his school days where he was a goalkeeper, before shifting to cricket accidentally.
A word on the 'accident' mentioned above- after his first day on the field as a goalkeeper, the next day, he took part in a hockey game as a goalkeeper. One can not blame him as both sport were played on the same ground. MSD did an excellent job of thwacking the hockey ball and this unleashed his latent talent- ability to hit. Later, since hockey did not generate enough income, he shifted to cricket.
After playing for seven years, seeing the rise in criticism from all quarters of the globe- from people in Manthope to McGrath in Melbourne, who apparently now can predict people's marriage and bride/groom-to-be, Dhoni has decided to quit cricket and pass on the baton to Virat Kohli, who is doing a great job of controlling his aggression and is a born leader unlike Dhoni. Dailyfail understands that Dhoni is a free agent and is expected to be signed by Liverpool for $75million as a substitute for the ever consistent Pepe Reina. Pepe Reina is the best in the world in what he does. (To know the quality of Pepe Reina, please spare a minute and watch on Youtube.)
There seems to be some reality in this exclusive report because Liverpool, a club boasting of only history are known for their quality signings like Downing, Henderson and the 6-feet-wonder-oh!-what-a-blunder Andy Carrol. The signing of Dhoni is expected to bring some relief to Fernando Torres. The reason can be deciphered even by blondies. The signing eases the pressure of Torres as he won't be addressed as the costliest purchase in the Premier League.
There is also a possibility that Dhoni could be made the captain of Liverpool after Kenny Dalglish was told about the former's employment of 4-5-1 formation in a cricket Test match at the Sydney Cricket Ground. Incidentally, 4-5-1 is the formation that the Greeks used en route to their 2004 Euro triumph.
Though it is already known that Liverpool's current second-choice goalkeeper is Dhoni, it won't matter to the Scousers. In fact, a chant is already created by the football supporters which goes " Jose Manuel Reina, na-na-na-na; who cares if it's Dhoni or Doni, as long we don't play the stupid pony!"
If Virat Kohli is not ready for the job, the next person tipped to be the captain is Sourav Ganguly, who is currently a member of an elite commentary panel that consists of Ravi Shastri and Wasim Akram. It is believed that Ganguly who was supposed to share the commentary box with his well wisher Greg Chappell is very much ready for the job. There are TV clips which suggests that Ganguly is wearing his Test cricket attire under his blazer suit, so that if Team India, which is injury prone whenever they under-perform requires a player to complete their eleven, Ganguly will do so immediately.
Other News- 
Sachin Tendulkar to shift to Tennis, after failing to score one century even after scoring 99 centuries. His son is expected to be drafted in the team, to complete his dad's job...
Virat Kohli to be awarded the 'Truthful player of the season' award, after revealing the fact that he showed his middle finger to the Indian public who woke up daily at 5 am and not to the Australian crowd…