Main man: Why Jordan Henderson is irreplaceable for Liverpool
2.68K //
24 May 2014, 00:30 IST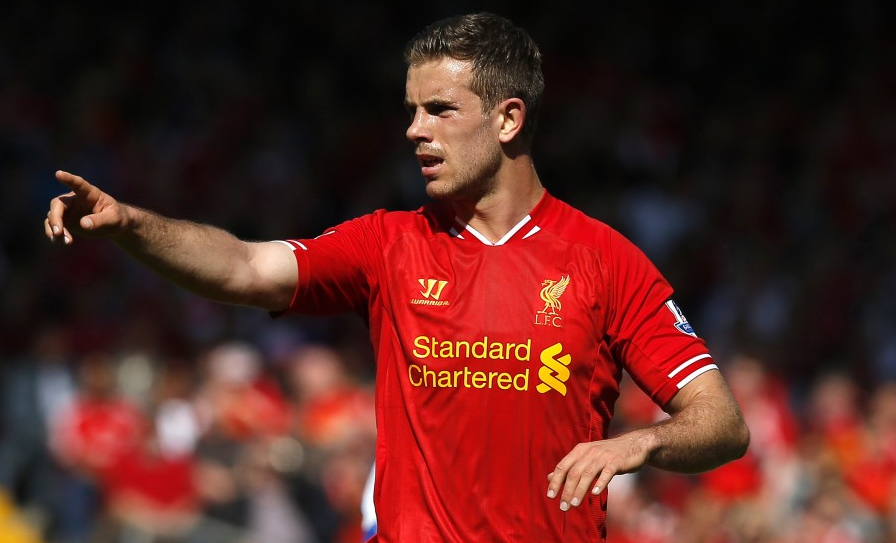 The label of 'most improved player' tends to be interpreted as a backhanded compliment – the subtext being: Well done! You're not as bad as you used to be. In the case of Jordan Henderson, though, it's a tag earned as a result of his becoming Liverpool's single irreplaceable player.
Henderson had become well-acquainted with criticism since he relocated to Merseyside during that now-infamous summer splurge of 2011. Many lazily lumped him into the 'failures' bracket simply because he arrived for a high price alongside Charlie Adam and Stewart Downing, and shortly after Andy Carroll; many have been underwhelmed by his lack of the sort of creative showboating that so caught the eye during his time at Sunderland.
In truth, though, Henderson has rarely performed poorly for Liverpool – his 'most improved' tag is because of the player he's become rather than the one he used to be. But it's not just the casual fan by whom the 24-year-old has been under-appreciated: Brendan Rodgers actively tried to sell him to Fulham shortly after his appointment. Less than two years later, Henderson is being touted by many as a future captain of the club – a prospect that would have been scoffed at mere months ago but now appeals to a substantial number of Anfield regulars.
Like his side, Henderson's rise this season has been meteoric. Over the past few months his captain has been receiving plaudits as regularly as he's been dispatching passes – and rightly so – but Steven Gerrard's conspicuous fruition in his new deep-lying role has been facilitated by the less eye-catching work being done by the man alongside him. There would be some irony in Henderson inheriting the armband from Gerrard because he is in many senses his skipper's opposite: he passes easy, tends against the spectacular and has an instinctive grasp of a midfielder's tactical requirements.
But like Gerrard his leadership qualities are deeply ingrained. Indeed, once the white line has been crossed on a match-day Henderson's is perhaps Liverpool's most vocal player; he is certainly the one his manager most consistently entrusts to relay his instructions from the sidelines. He is old beyond his years, too: one of the few members of a young squad to exhibit the game's cannier, more cynical skills when they're required. Time-wasting and referee-haranguing may be frowned upon by the moralisers but, as Liverpool will need little reminding after their latest run-in with Jose Mourinho, they also help to win games. When the situation demands, Henderson is not shy of practicing either.
And while his early flowering as a flair-heavy playmaker now looks to be a red herring, he has not discarded the ability to dissect a defence. His assist-to-the-assist for Luis Suarez's first goal at Cardiff in March was a case in point: a perfectly timed, immaculately weighted through-ball to set Glen Johnson steaming in behind a previously resolute defence and kickstart a rampant comeback.
When coupled with the recent struggles of Lucas Leiva, Henderson's blossoming has left him as the one player within the Liverpool squad who's offerings cannot be replicated by a deputy. Without Suarez at the start of the season, Liverpool survived with relative ease, taking 13 points from 15. Shorn of both Gerrard and Daniel Sturdiness over Christmas, the side thrived, producing showpiece performances at White Hart Lane and the Etihad. Without Henderson, though, Liverpool crumbled.
The Wearsider had started every single game of the league season until his sending-off against Manchester City in mid-April, having been substituted only once. In his absence, his side's title-challenge faltered fatally, with a close-run win over Norwich preceding critical results against Chelsea and Crystal Palace. In both of those games, Liverpool suffered (and understandably so) from a lack of maturity. Against Chelsea, the side needed instructing that forcing the issue should not have taken precedent over patient probing; at Palace, Liverpool needed a calm head when their three-goal lead took it's first blow, a reminder that points, not goal-difference, were now the priority. It's perhaps trite to say that Henderson would have been the man on call to provide all of this, but on both occasions he was certainly conspicuous in his absence.
He is the only player at the club who marries energy and athleticism with the now-compulsory quick-witted ball-playing ability. When Lucas deputised during Henderson's suspension, his aggression was welcome but the side's attacking zip plainly suffered, the Brazilian lacking Henderson's range of forward-passing. Joe Allen is roundly capable on the ball but lacks the imperious physicality that his colleague offers. Gerrard brings bite and vision but not lungs.
A year ago, if you were to ask Liverpool supporters the one player their team couldn't do without come the summer of 2014, there's little chance that even the most ardent of Henderson's defenders would have opted for the gangly midfielder. As it stands now, he is irreplaceable.