Manchester United 1-2 Real Madrid: One Red Card that killed the match
759 //
06 Mar 2013, 15:00 IST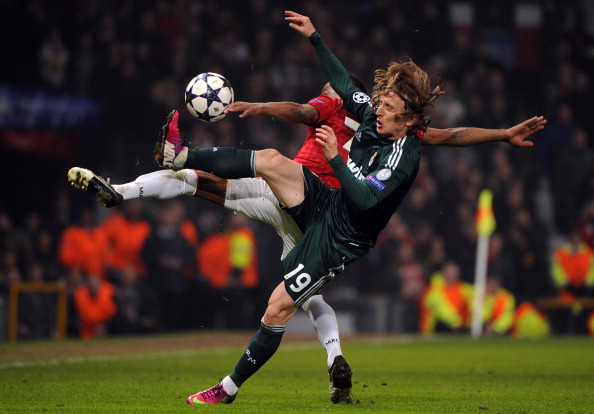 Manchester United played Real Madrid at Old Trafford in the second leg of an intriguing tie after a 1-1 draw in the first leg. There were many momentous things that marked the occasion, but one beat them all.
Ryan Giggs' 1000th career appearance, no.
Ronaldo's first return to Old Trafford, no.
Another mouth-watering Fergie v/s Mourinho clash, still no.
It was a red card that effectively killed the match. And a very controversial decision at that from a notoriously fussy and card happy Mr Cakir. A lot can be discussed about the match, Ferguson's team selection, tactics, Ronaldo; but everything becomes irrelevant when two teams of such stature meet and one of them goes one man short.
Teams
Manchester United (4-4-2): De Gea; Rafael, Ferdinand, Vidic, Evra; Carrick, Cleverley; Nani, Giggs; Van Persie, Welbeck
Real Madrid (4-2-3-1): Lopez; Coentrao, Varane, Ramos, Arbeloa; Alonso, Khedira; Ronaldo, Ozil, Di Maria; Higuan
No surprises there for Real, but Ferguson made a big call by not including his No. 10 Rooney in the starting XI. Perhaps it was Rooney's 1st leg performance, or possibly a tactical decision.
Experience plays its part
The match began in a similar vein to that of the first leg. United yet again chose to bypass the midfield by playing long balls to Van Persie or playing through the wings via Nani or Rafael. Welbeck was provided a similar role as last time. Real Madrid had the concrete task of breaking down a very well-structured United defence.
While Real are the best counter-attacking unit in Europe, their build-up play simply does not match up to their standards. Not conceding a goal would send United through, and that was clearly the Old Gaffer's intention.
Arbeloa allowed room on the left, deemed as a lesser threat.
The first half completely panned out the way Ferguson wanted. The trio of Vidic, Ferdinand and Evra kept a tight lid on any clever movement between Real's main attackers. The basic strategy was to allow space on Real's right wing, providing Arbeloa, Real's weakest attacking link, an impetus to advance forward. It proved to be the right tactic as he was rarely given a pass by his team-mates, who are used to combining with Ronaldo and Ozil more towards the left.
By the end of the first half, United's experienced defence had more than warded off every Real attack effectively. Ferguson had tactically triumphed over Mourinho, and it was evident on the Special One's face as he exited into the tunnels. Experience had been the key for United as Giggs could attest to.
The goal and the red card
The Red Devils were rewarded with a goal in the start of the second half as they combined well along the right flank, before Nani's low cross deflected off Sergio Ramos' sliding foot, into the back of the net. 1-0 and United were in the driving seat finally.
The Los Blancos began to pile on the pressure after that as the Red Devils began to play more defensively. Then came the moment when the game changed. Nani was shown the red card. The Manchester United winger contested a high ball with Arbeloa and caught the Real Madrid full-back in the midriff with a high boot, but it certainly did not warrant that decision, a yellow card perhaps, but a red was utterly extreme. The funny part was that the Real players never even called for a card, Ferguson was certainly incensed, but the referee had made the decision.
Modric Masterclass
Immediately following the sending-off, Mourinho sent in Modric, subbing off Arbeloa. It was a perfectly logical substitution as Nani was the only threat on Arbeloa's wing and United were going to play in a defensive lock-down for 30 minutes.
Modric's presence gave Real Madrid something that even Xabi Alonso cannot give, a player who can play like Ozil and Alonso combined. He controlled the play, weaving passes in the tight channels of the United defence. United, on the other hand, could never really commit players going forward. Their only hope was to hold the slender lead. Soon those hopes were shattered by a moment of brilliance by Modric who restored parity with a thumping 25 yards strike that was perfectly placed to beat De Gea.
Soon, Ronaldo decided to make his presence felt with the final nail in the proverbial coffin for United as he poked in a Higuian cross through the corridor of uncertainty, right in front of the keeper.
After that Ferguson made many changes, but the result was almost obvious. Add in Real's keeper Lopez, who was having a very good game, United never stood a chance really.
Verdict
Real Madrid are a very good team in fine form, anyone could attest to that. So, Manchester United did not play bad, far from it. Their tactics worked and they earned a 1-1 draw in the first leg. They could have been en-route to the next round, had it not been for the red card. Other than the red card, Segio Ramos gave away an obvious foul that could have earned a penalty for United, had the referee deemed it as such.
The refereeing aside, Real Madrid were certainly not the second-best team here, their sheer quality quite often overwhelmed the United side but United's stubborn defence held firm. The match could have been very exciting going into the last 30 minutes, but with Nani's sending off, the end was completely anti-climax.