Manchester United are going through a rough patch right now. Things aren't going their way and it is fair to say fans are enduring a hard time as well. Moreover, at this very moment, there are no signs of light at the end of this tunnel. Manchester United have been a force in the past courtesy some of the greatest players of all time who have donned the famous United shirt.
From Europe to North America, the Red Devils have had exquisite talents from around the globe. Few Asians have also excelled at the theatre of dreams, namely, Ji Sung Park and Japanese maestro Shinji Kagawa.
Speaking about continents, there stands one gigantic footballing continent which has failed to develop a fruitful bond with Manchester United - South America. It is surprising to see South Americans fail at Manchester United, simply because nations like Brazil, Argentina, Uruguay, Chile & Columbia have provided football with so much talent but none of them did well when at United.
There have been a few exceptions, for example, Antonio Valencia and Brazilian Rafael da Silva but it would be fair to say most of the great names have failed to make a mark at the Manchester club.
Here are 5 South American footballers who made a high profile move to Manchester United but failed to impress.
---
#1. Angel Di Maria
The Argentine famously arrived at Old Trafford with a lot of promise after spending 4 impressive years with Real Madrid. The dynamic winger announced himself at Old Trafford with a series of blistering performances for the red devils.
The United folklore thought they had finally got someone to fill in the boots of Cristiano Ronaldo. They finally found someone who would be their next super 7, someone who will carry the legacy of the famous United shirt but Di Maria's impressive form was short-lived and Di Maria was soon found hovering at the bottom of the pecking order.
Di Maria spent just 1 season at Manchester United before moving to PSG, thus ending a highly disappointing spell at the theatre of dreams. Di Maria will always be remembered as a skilful winger who caused havoc on his day but his Manchester United days are always going to be labelled as disappointing.
#2. Radamel Falcao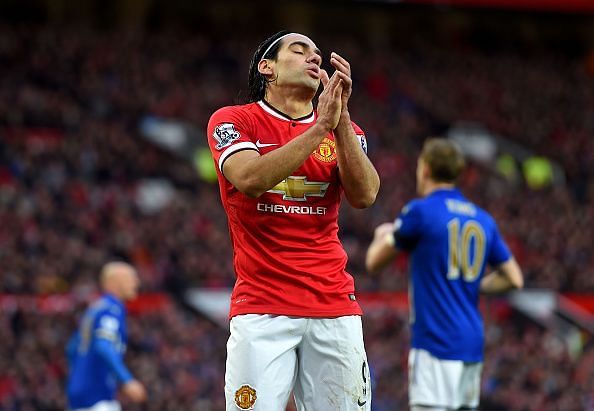 Radamel Falcao, a name once feared in Spain courtesy of his goalscoring exploits for Atletico Madrid became the subject of trolls upon his arrival at Old Trafford. When Manchester United signed Radamel Falcao on loan from Monaco it was thought to be a brilliant move.
The Columbian had been impressive in front of the goal for previous clubs but with a return of 4 goals in 29 appearances, it is fair to say that Falcao's move to Manchester turned out to be a disaster. The man who scored stunners in Ligue 1 and LaLiga was missing sitters in the Premier League.
United fans soon turned their back at the former Atletico striker as his performance dipped in the course of the season. The Columbian's misery was not just limited to United as Falcao's Chelsea spell was equally horrific.
#3. Juan Sebastian Veron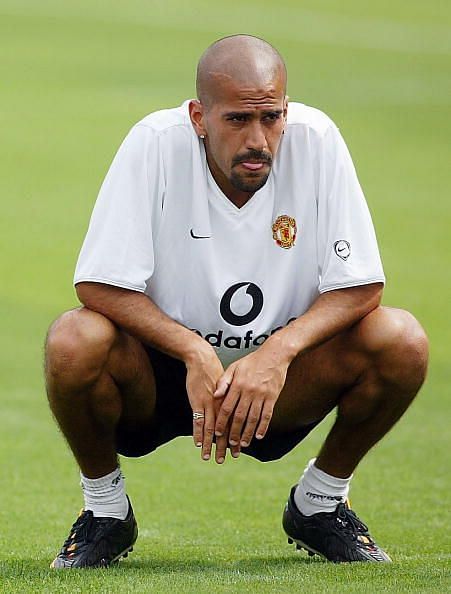 The playmaker from Argentina arrived at Old Trafford with a huge reputation of being one of the best midfielders in the world. A two-footed midfield general with a knack for scoring screamers, Veron seemed like the real deal but things didn't turn out as expected for the Argentinian.
Veron struggled to match the pace of the Premier League and his transition from Serie A to the Premier League didn't go too well with his playing style. Veron was a big hit in Italy where he won Serie A with Lazio for 1999-2000 season, the last time Lazio lifted the prestigious trophy.
His move to Manchester United is still a topic of debate as Veron proved to be one of the worst signings made by the legendary Scotsman, Sir Alex Ferguson.
The Times even listed Veron in the list of 50 worst transfers to the premier league.
#4. Diego Forlan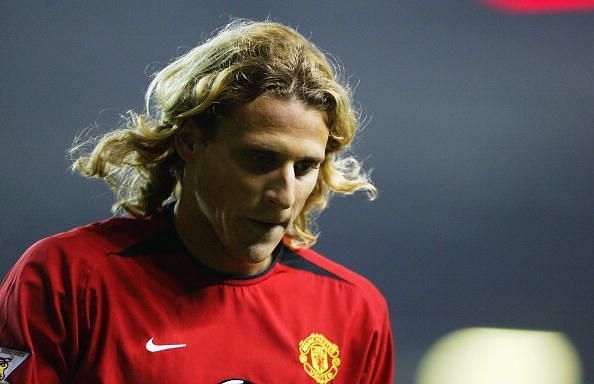 When Forlan completed his move to Manchester United, it was thought to be a passing the baton kind of movement. Manchester United, at the time, boasted some of the best strikers in Europe. Forlan spent 4 years at the club, but as they say that some things are not meant to be, Forlan's United venture wasn't a success.
Forlan played close to 100 matches for the English giants, scoring a meagre 17 goals. He was offloaded in the summer of 2004 as the Spanish club Villareal came calling. However, he was an instant hit in Spain, scoring goals for fun.
Forlan became one of the top strikers of the world during his stay at Spanish giants Atletico Madrid. His successful career makes us wonder why did the legendary Uruguayan struggle at Manchester United?
Though Forlan wasn't much of a great player for Manchester United, the fans still cherish his 2 astonishing goals against arch-rivals, Liverpool at Anfield.
#5. Alexis Sanchez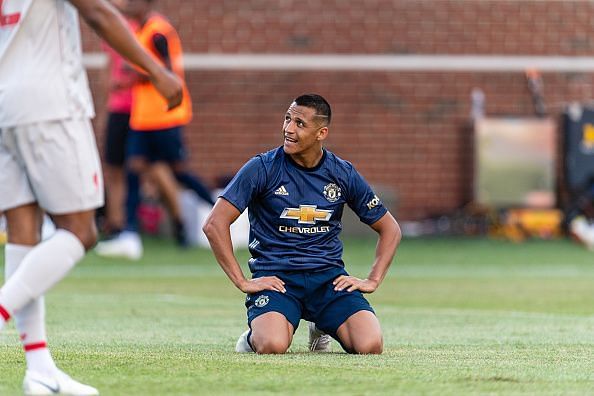 Finally, the latest addition to the infamous list is none other than the Chilean sensation, Alexis Sanchez. A move that was thought to be a masterstroke soon turned into a mere disappointment. The former Barcelona player spent 4 years at Arsenal where he often turned out impressive performances for the Gunners, a big reason United brought him in.
Manchester United beat their derby rivals, Manchester City to the signature of Alexis Sanchez as the citizens were tipped as the favourites to land the Chilean. United fans believed Sanchez to be their new star man but ever since he completed his switch from Arsenal, Sanchez has looked like a mere shadow of his former self.
Time might be running out for the former Barcelona man as United fans have grown frustrated with the series of disappointing performances and with continuously wasted chances knowing the fact that talented youngsters like Martial and Rashford are being looked over in order to incorporate Sanchez in the starting 11.