Manchester United plane crash - The Munich disaster
4.82K //
14 Jul 2014, 18:57 IST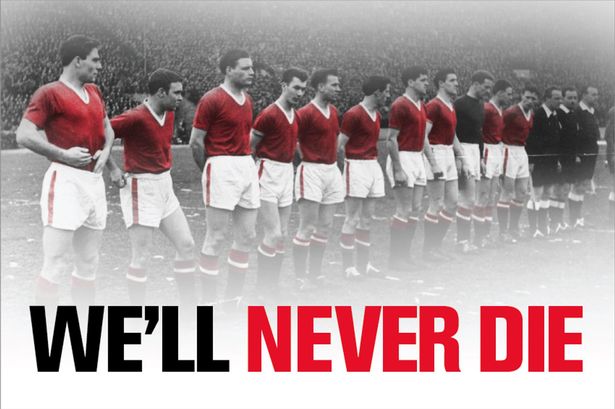 On 6th of February, 1958, on the icy slush covered runway of the Munich-Reim Airport, the Manchester United plane crash took place. And it made the whole world stop.
Penning down the details and facts of the disaster is easy. But just facts and details don't give justice. If it was just details, I could tell you 'The Munich air disaster occurred on 6 February 1958 when British European Airways flight 609 crashed on its third attempt to take off from a slush-covered runway at Munich-Riem Airport, West Germany. On the plane was the Manchester United football team, along with supporters and journalists. 20 of the 44 on the aircraft died. The injured, were taken to the Rechts der Isar Hospital in Munich where three more died, resulting in 23 fatalities with 21 survivors.'
I look at what has been written and I feel angry. Details and facts cover everything about the sad news that day. But details and facts don't tell about the pain and anguish felt about the crash. They reduce the grandiose of the Busby Babes to a mere string of letters, written and printed. They make no mention of the tears that graced the faces of millions around the world.
The news sent shockwaves throughout the world, breaking millions of hearts. The Busby Babes had fallen, crashed into the snows of Munich and everyone felt their loss. Imagine a group of dedicated and talented youngsters, at the prime of their youth and making awe-inspiring impact on Europe for the first time then, taken so cruelly from this world. Imagine a group of players around which stories of courage, determination and loyalty have been woven, players who have become heroes in the eyes of their fans snatched away from life.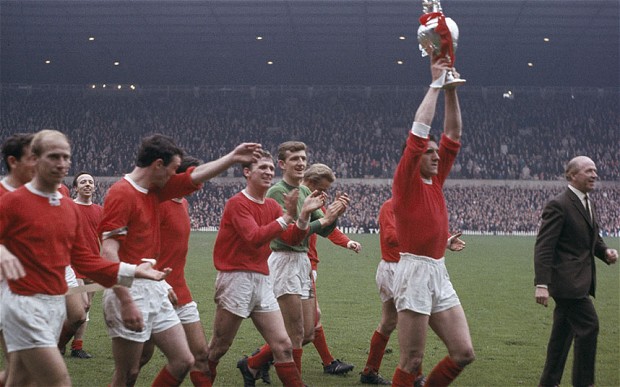 The Manchester United football team was returning from a European Cup match in Belgrade, Yugoslavia (now Serbia) after playing against Red Star Belgrade. The flight stopped to refuel in Munich because a non-stop flight from Belgrade to Manchester was not within the range of the "Elizabethan" class Airspeed Ambassador aircraft.
After refueling, pilots James Thain and Kenneth Rayment tried and twice abandoned take-off because of boost surging in the left engine. Trying not to fall behind schedule, Thain rejected an overnight stay and instead, made a third take-off attempt. The engines were running on an over-rich mixture, causing them to over-accelerate; a common problem for the Elizabethan and Thain suggested opening the throttle slowly would suffice. This meant that the plane would not gain take-off speed until further down the runway, but with the runway almost 2 kilometers long, he believed this would not be a problem. Snow was falling by then, causing a layer of slush at the far end of the runway.
The plane carrying the Red Devils never took off. It skidded off the end of the runway, went crashing into the surrounding fence and across a road before its port wing snapped off after it caught a house. Part of the plane's tail was torn off before the left side of the cockpit hit a tree. The right side of the fuselage blew apart, spawning massive flames after it hit a wooden hut, inside which was a truck filled with tyres and fuel. Twenty passengers never made it out alive after this initial crash and three more fell in its aftermath. Most notable, among the latter, was Duncan Edwards who many had hailed as one of the best football players ever seen. Fearing an explosion, Thain told his crew to evacuate the area and clambered out of the galley window. On reaching the ground, he saw flames under the starboard wing, which held 2,300 liters of fuel. He shouted to his crew to get away and climbed back into the aircraft to retrieve two handheld fire extinguishers.
Meanwhile, in the cabin, goalkeeper Harry Gregg regained consciousness. Gregg found an opening at the side of the cabin and kicked the hole wide enough for him to escape after which he helped pull survivors from the wreckage. Sir Bobby Charlton remembers waking up, in his aircraft seat, nowhere near the plane. He was still belted down to his seat which had somehow been ripped from the plane. Waking up dazed, Sir Bobby walked a few steps, until he found Sir Matt Busby, lying down on the snow seriously injured. He removed his long coat and wrapped it around his manager's body.
Manchester United were trying to become the third club to win three successive English league titles; they were six points behind League leaders Wolverhampton Wanderers with 14 games left. They also held the Charity Shield and had just advanced into their second successive European Cup semi-final. The team had not been beaten for 11 matches. Who knows what this team would have gone on to accomplish. Sadly, it seems God had other plans. Never forgotten, here is a list of all those who fell that day in Munich:
Walter Crickmer, club secretary / Tom Curry, trainer / Bert Whalley, coach
"Walter Crickmer always reminded me of a little dynamo, nothing was too much trouble. Tom Curry was someone we looked up to like a father. And Bert Whalley was certainly a tremendous help to me when I was a part-timer." - Bill Foulkes
Roger Byrne - aged 28, Captain, full-back. 277 appearances, 19 goals.
"An aristocratic footballer, majestic in his movement. Roger was so fast but at the same time he controlled his movement beautifully, like Nureyev." - Sir Matt Busby
Geoff Bent - aged 25, full-back. 12 appearances.
"When Geoff matured and reached his twenties there were many clubs after him but he stayed loyal. He could look after himself and was a great tackler. Roger Byrne was a consistent player and very brave, that was the reason Geoff got so few games, but he was good enough to hold a regular place in any team." - Jimmy Murphy
Eddie Colman - aged 21, half-back. 107 appearances, 2 goals.
"Eddie was a chirpy lad and a terrific player. He pushed the ball - never kicked it - and he jinked past players. He was known for his swivel hips." - Wilf McGuinness
David Pegg - aged 22, forward. 148 appearances, 28 goals.
"David would have been a great asset to any team because he was a natural left-flank player. David was very, very clever. Our best left-winger by a mile." - Sir Matt Busby
Mark Jones - aged 24, half-back. 120 appearances, 1 goal.
"Yorkshireman Mark was a really lovely fellow, but my word he was a tough nut, and nobody took any liberties with him on or off the field." - Bill Foulkes
Tommy Taylor - aged 26, forward. 189 appearances, 128 goals.
"I rate him as one of the all-time, best centre-forwards in the game, and he had yet to realise all his potential. He was a typically bluff Yorkshireman in many ways, often acting the clown, and a great team man." - Bill Foulkes
Liam 'Billy' Whelan - aged 22, forward. 96 appearances, 52 goals.
"Billy was a magician with a ball at his feet. I really don't think he knew how good he was and how much better he could have become. A world-class forward. There is no doubt about that. His vision and passing was sheer class." - Albert Scanlon
And finally a miracle we never got to witness, Duncan Edwards - aged 21, half-back. 175 appearances, 21 goals.
"When I used to hear Muhammad Ali proclaim to the world he was the greatest, I used to smile. The greatest of them all was a footballer named Duncan Edwards." - Jimmy Murphy. "The only player who ever made me feel inferior." - Sir Bobby Charlton.
Along with members of the club, notable Journalists and friends of the club also lost their lives that day:
Alf Clarke, Journalist - Manchester Evening Chronicle
Don Davies, Journalist - Manchester Guardian
George Follows, Journalist - Daily Herald
Tom Jackson, Journalist - Manchester Evening News
Archie Ledbrooke, Journalist - Daily Mirror
Henry Rose, Journalist - Daily Express
Eric Thompson, Journalist - Daily Mail
Frank Swift, Journalist - News of the World - Frank Swift was also one of Manchester City's greatest-ever players.
Capt. Kenneth Rayment, Co-Pilot
Bela Miklos, Travel Agent
Willie Satinoff, Supporter
Tom Cable, Steward.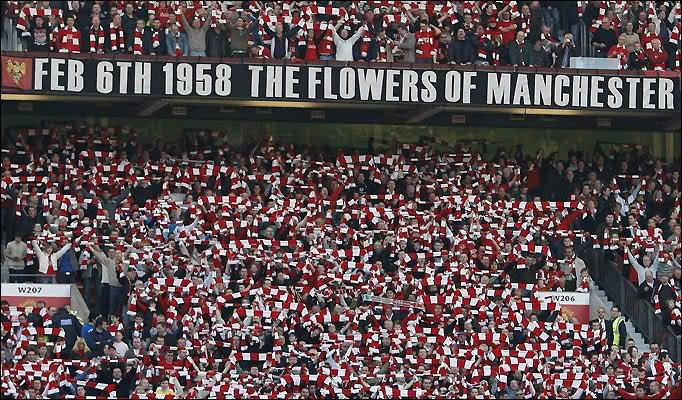 Take a look at the ages of the players who died, the flowers of Manchester. Try to imagine the feelings of the survivors when they discovered that so many of their brothers had perished. Now imagine yourself as a youngster, so inspired by these footballers only a few years older than you. Then try to feel the shock, pain, disbelief and utter helplessness of hearing about their sudden demise. Imagine Sir Bobby Charlton, walking back to the dressing room and not seeing the familiar faces that he had come to regard as brothers. This was not just the biggest tragedy in English football; it was the defining moment in the history of Manchester United. The outpouring of passion that followed was unbelievable. Millions of people - some not even football addicts - wept openly. Schools were closed. Memorial services and tributes proliferated all over Europe. The world's sense of invulnerability was shaken. The greatest club side in English football history was wiped out at Munich. And the world wept for it.
Years down the line, the legacy of the Busby Babes lives on. The club has made all of them, the ones who died and the rest who've mourned, proud by coming back stronger from the disaster, and dominating club football for the years after. Manchester United danced with the devil on that fateful day in Munich, and from its flames have come out burnt, scarred but stronger.
In a fitting tribute, the entire story of Manchester during the Munich disaster and how it overcame difficulties has been shown in the fictional film United. Although criticized for being incorrect to the true story in certain parts, it is still worth the watch, a story to immortalize the Flowers of Manchester: