What's the story?
Manchester United are already looking at strengthening their squad in the summer with Atletico Madrid striker Antoine Griezmann on their radar.
The French forward has been linked with La Liga rivals Barcelona all year and the Red Devils plan to turn his head with the biggest wage packet they've ever paid, according to The Sun.
In case you didn't know...
Griezmann had been linked with a move to Old Trafford last summer itself. The 26-year-old had even claimed last summer that a move was indeed possible and said there was a "6 out of 10" chance that he could move to United.
However, once Atletico Madrid's transfer ban was upheld, Griezmann decided to stay with the club another year as he did not want to leave them high and dry without the ability to sign a replacement.
He also has a release clause worth €100m (£87m) in his contract which can be triggered by the club.
The heart of the matter
Jose Mourinho will be looking to bring in fresh faces so United can compete with arch rivals Manchester City next season. Zlatan Ibrahimovic, who will be 37 this year, may not get another one-year extension on his contract and the Portuguese boss will prefer to go with a younger player.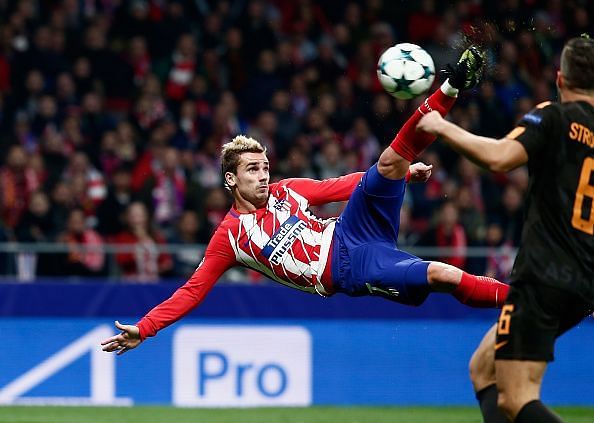 However, the report states that should United convince Griezmann to move to the Premier League side, they will have to increase the wages being offered.
"The goalposts have moved significantly since the first attempt to sign Griezmann," said their source at the club. They also report that the France international demanded £390,000 per week to put his signature on the dotted line.
Also read: Top 10 highest paid players in the Premier League
Video: The best of Antoine Griezmann
Author's take
There is no question that Griezmann will leave Atletico Madrid in the summer. He has gone as far as he can with the Rojiblancos. Barcelona is an attractive destination if he is looking to win trophies but should Mourinho want him to move to Old Trafford, only the higher wages on offer may convince him to do so.
£390,000 per week seems a bit of a stretch, though. The highest wages they ever paid was approximately £300,000 per week when Wayne Rooney was at the club.
To pay £100,000 more than the next highest-paid player at the club seems implausible but the market is so inflated that United may eventually cave in if Mourinho pushes them to sign Griezmann.