Are Manchester United the most underwhelming team in the Premier League?
2.52K //
20 Feb 2015, 16:24 IST

It does not give me any pleasure to say that at the moment I am struggling to watch Louis van Gaal's team with any great enjoyment. They beat Burnley on Wednesday night, but it was Burnley who had by far the best of the first half. At times, United's football is miserable." Paul Scholes' recent no-holds-barred assessment of the current state of Manchester United in his column for the Independent was damning, to say the least.
The former United midfielder quite accurately bemoaned the overwhelmingly pedestrian nature of the team's play under Van Gaal, claiming too few risks are being taken by the players. He asserted that in his playing days he would be dropped if he stopped playing passes that had an element of risk, and that the team were now no longer adhering to the traditions the club had come to be famed for. Remember the lightning quick counter-attacks led by the likes of Ryan Giggs or Cristiano Ronaldo? Remember wondergoals scored by Eric Cantona and Wayne Rooney? Remember the excitement that used to surround games at Old Trafford? Anything resembling the times of old now seem to be lost in the past.
United did indeed beat Burnley in their last Premier League game and Scholes was spot on in his assessment. The away side were, as has occurred far too commonly for United fans in the last 2 years, the better side at Old Trafford. They attacked with verve, intensity and innovation, while the hosts and former Premier League champions remained uninspiring, relying on two Chris Smalling headers from set-pieces and a Robin van Persie penalty to come away 3-1 victors. At Preston on Monday night, their only chance of note in the first half came from an Ángel di Maria free-kick, and only did they come out of themselves and start playing any of the kind of risk-taking passes that Scholes misses so much after going a goal behind. They again won by three goals to one, but neither of their first two goals were particularly well crafted, and the third was again a penalty. It spoke volumes that the biggest talking point was, after a cup scare and what was on paper a resounding comeback, whether or not Rooney had dived to win that spot-kick.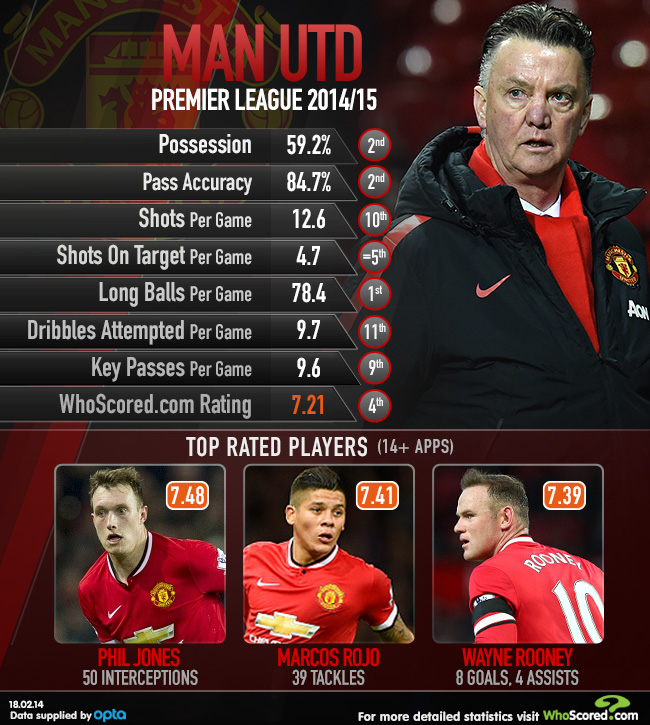 Rooney's goal was his first in over 15 hours of football. It was only his fourth shot on target of the year (with the other 3 all coming at home to Cambridge United). It was only the fourth goal of the calendar year scored byRooney, Falcao or Van Persie. The word miserable does seem a tad harsh on the face of it, but it is hard to deny that United have become decidedly dull. Could it be that they have become the least entertaining team in the Premier League, relative to their riches?
Watching Aston Villa extend their woeful scoring record is about as painfully boring as watching paint dry, and Paul Lambert managed something quite extraordinary in turning an exciting, young squad into a stagnant, ageing group of players functioning at odds with each other. They do not work effectively as a team and are in serious need of direction, with the lowest WhoScored rating in the Premier League this season (6.77).
On the basis of a second half in which three goals were scored and Villa played a more direct game with significantly more purpose about them, Tim Sherwood could well be the man to, at the very least, turn the club into a more attractive prospect for fans. For all the criticism there was of him in his time at Spurs for a lack of tactical acumen that saw him include Christian Eriksen in a two-man central midfield, one thing that can't be denied is that he made Spurs markedly more exciting. While Villa certainly give United a run for their money in the Premier League's boredom stakes, the ambition lacking from their game in recent weeks is at least slightly more expected than in a team of the talent available to Louis van Gaal.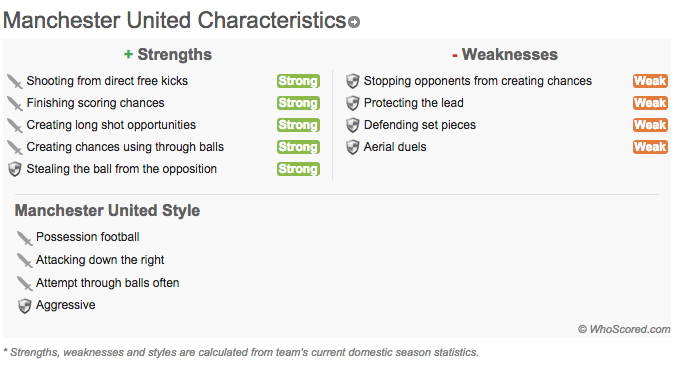 As alluded to by Sam Allardyce after the teams' draw at Upton Park, United are playing the most long balls in the Premier League (78.4), though that in itself does not necessarily make their play aimless or boring. They are, however, succeeding with 84.7% of their passes, the second highest pass accuracy of all top flight teams (just 0.1% behind City) and are sending the lowest proportion of their passes forwards (29.7%). The stats back up Scholes' assertion that United are playing too many safe passes.
They have the second-highest share of the ball (59.2% possession) but rank 11th for dribble attempts (18.1 per game) and 9th for chances created (9.6 per game). The regimented style of play that Van Gaal promotes has made some of his players remarkably more withdrawn. Di María, for example, the best creator in Europe last season with 17 assists, has become increasingly inhibited in his play (though injury has played a part). After creating 31 chances in his first 10 league appearances for United (3.1 per game), he has set up just 6 in the following 7 games (0.9 per game).
It was no secret that United players feared the wrath of Sir Alex Ferguson during his time there, but as Scholes suggested, it was for the right reasons: they did not want to upset the manager by playing too safe. Under Van Gaal, however, playing passes that can concede possession are more likely to upset him, and the consequence is that they are passing the ball to death around the back four and in deep midfield positions, worried about what might happen if they stray from their manager's instructions. They have thus become the dullest Manchester United side in recent memory and relative to their resources; it is fair to call them the most underwhelming team in Premier League at present.
Do you think United are the most underwhelming team in the Premier League? Let us know in the comments below