Manchester United vs Aston Villa player ratings
1.08K //
11 Nov 2012, 20:50 IST
Manchester United staged a second half comeback to grab 3 points at Villa Park and stay top of the league for yet another week with a 2-3 victory over Aston Villa. As has been the pattern this season, United came back from 2 goals down to win 3-2, hence becoming more popular as the comeback kings.
Aston Villa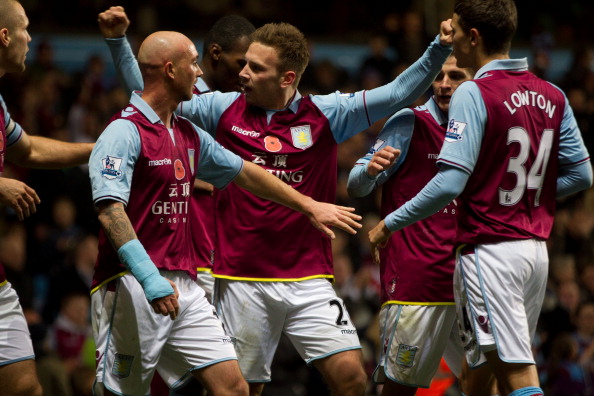 Brad Guzan- 7
The Villa no.2 had a decent game until Chicharito was unleashed. He showed good presence for Villa between the sticks apart being well supported by his defenders. He however was lucky when Van Persie hit the cross bar twice within a minute.
Matthew Lowton- 7
Playing at right back is not something Lowton is comfortable with, but did justice to the manager's faith in him and matched United's Antonio Valencia who is in electrifiying form, but was sloppy in the second half as Villa became sloppy t the back, but had an overall decent game.
Ron Vlaar- 7.5
The Villa captain set the ball rolling for his team and led from the front. His ability to match Wayne Rooney for pace showed exactly why Paul Lambert had spent big bucks for his services. Upon the introduction of Chicharito, he was beaten for pace and had an own goal against him, but had a good game overall.
Enda Stevens- 6.5
With Gary Gardener and Eric Lichaj injured, young Enda Stevens received a call up for first team action. Although he was outstanding in the first half, his inexperience costed him as he was unable to match and pick up the pace of Chicharito. His defensive marking was sloppy but one would agree that he had a good game.
Ciaran Clark- 6
The most sloppy and disappointing player. Had a torrid time against Valencia, Scholes and Rooney. Was unable to read the pace of the game like he has done so well in the previous game.
Barry Bannan- 8
Had a fantastic game, provided many crosses and assists for Benteke and Wiemann. Was later brought off for Fabian Delph after United's third goal went in.
Ashley Westwood-6.5
Had a terrifying game against the experienced midfield of United. Was no match for Paul Scholes and Michael Carrick and lost the ball many a time.  Looked a lot out of place in midfield.
Stephen Ireland- 7.5
Had an excellent first half. He was efficient in midfield, even the legendary Paul Scholes found it hard to cope with his immense pressure. Provided a lot of good and clever passes to the strikers.
Andreas Wiemann-9
Was simply brilliant throughout the match. Scored both the Villa goals and had a brilliant chance saved from a Bannan  cross.Looked very lively up front and caused havoc for the United defenders.
Gabriel Agbonlahor-8
Had a fairly decent game, by his standards. Did not trouble Rafael as much as he would have wanted. He provided the assist for Wiemann's second goal with some good trickery at the left.
Christian Benteke- 8.5
Was outstanding up front in the absence of the prolific Darren Bent. Caused a major problem for returning defender Chris Smalling.
Substitutes
Karim El-Ahamadi (80)-N/A
Fabian Delph(87)-N/A
Brett Holman(80)-N/A
Manchester United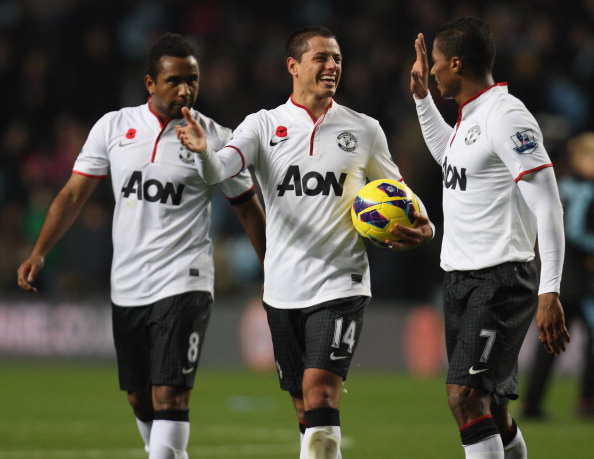 David De Gea- 6.5
The Spainiard is finally settling into life at Manchester United. Did not have the best game, but kept out Andreas Wiemann's header which earns him a 6.5 rating.
Rafael Da Silva-6.5
Had a decent game, was constantly being bailed out by winger Antonio Valencia. Despite attacking a lot, he also showed signs of defending for a change. He also provided the cross for the second united goal.
Rio Ferdinand-7.5
With an ever faulting United defense, the onus was on Ferdinand to shine,which is precisely what was done. He however had a good game.
Chris Smalling-4.5
It is never easy for a returning center back to cope with the premier league pace. He could not stop striker Benteke and had a horrific time against Ireland and Wiemann. Overall, he must improve is performances if he wants to steal a starting line-up place.
Partice Evra-7
The United captain had a good game at Villa park, considering he didn't have much on his plate apart from captaincy.
Antonio Valencia-7
United's go-to man could not do much as he was not provided with the space that he would have liked from Enda Stevens.
Paul Scholes-6.5
A rare bad performance from United's legendary midfielder. Had a decent second half, but was watched closely by Ireland in the first half.
Michael Carrick-7.5
With an off colour Scholes, the onus was on Carrick to perform and he delivered in midfield with some strong challenges.
Ashley Young-5
Was sloppy in the first half against his former club, was so poor that Sir Alex withdrew him for Chicharito who turned out to be a success.
Wayne Rooney-8
Was excellent in his new attacking midfielder's role. Has been the linchpin and the driving force behind United's success this season.
He has been in terrific form this season, and his good form continued with 2 attempts, only to be denied by the cross bar twice in a minute.
Substitutes 
Chicharito (45)- 9
Unleashed by Ferguson at the start of the second half, he brought energy and life to the team and showed enough character to be involved in all three goals for the away side.
Tom Cleverley(71)-N/A
Anderson(80)-N/A