Manchester United's UCL exit: Not like this!
1.58K //
07 Mar 2013, 18:12 IST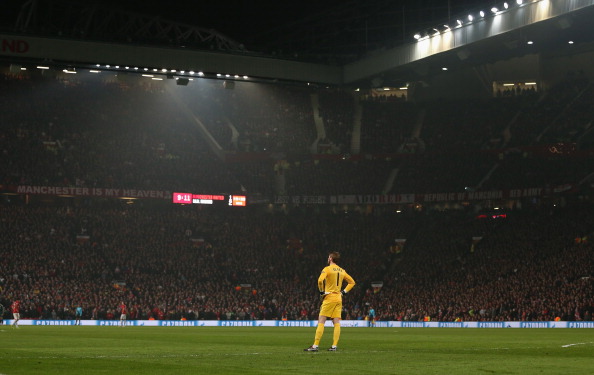 When you have had enough of the blame games, when you have seen enough media reports and spun the coin to hear both and all sides more than once, you stand to realize that the only statement that flashes across your eyes like a sign on Broadway is "Not like this!" It was the sign which flashed when it happened and will be there long after the dust has settled and we have moved on.
Imagine watching a highly acclaimed movie like 'The Dark Knight Rises' and everything's going well for more than half of it. Then comes the part where Bane breaks the Batman, breaks his body, his morale and more. Imagine the director ending the movie right there. What happens then? What would you feel? Shock? Disgust? Anger? Bitterness? What would you feel if you're a movie buff who loves his/her superheroes? Would you feel for Batman or Bane?
Now step into a similar scenario. A highly promoted and publicized event, tickets of which come at more than a premium, tickets of which are worth their weight in gold; tickets to a glittering night under the Old Trafford lights. Two heavyweights, Manchester United and Real Madrid. The movie everyone waited with bated breath to come on the silver screens, by Jose Mourinho's own quotes "A match the world will stop to see".
The atmosphere was perfect, heavy yet crisp with anticipation, waiting to see a former prince come back to his kingdom. The question was, would he leave crowned a king? Or would the kingdom's new knight in shining armour usurp the old favourite? So many questions, so many sub plots simmering under the surface. For about 60 odd minutes, our vivid imaginations were fed with a wide panorama of colours. No dearth of stars to take centrestage in case either the prince or the knight failed. And then the back was broken!
If you follow football, love the game like I do, you will accept the harsh reality that some days you will be beaten and some days you might just not bring your A-Game to the field. But not when it is cut short by something as ridiculous as an undeserving, illogical colour brandished by a 36-year-old insurance agent from Turkey. By Mourinho's own admission, Manchester United were the better team on the night. We played better than a team who have stars to put two worldclass teams on a Champions League pitch. But Real could not adjust to the English pace for the first 45 minutes, let alone have the prodigal son, the superstar, get a half decent opportunity to score.
See, I am not claiming United are better than Real on the roster, but on the night they were. When you are defeated by Barcelona in 2011 by a pure masterclass, you cannot complain; you learn to live with that. But Real Madrid were not better than us.
Tactics from the Gaffer were immaculate, individuals had prepared well, we had the plot running like a Rolls Royce engine, a soft purring to the ears. We were hitting them hard and fast on the breaks, leaving them gasping for breath and then we had the Vamos Ramos! moment. No disrespect to Sergio because if he had left it alone, Welbeck would have pounced.
I am not going to discuss Nani's red card anymore, the situation has been analyzed from every angle like a well done kebab; anymore and we have to serve burnt chicken. FIFA and UEFA want its referees to adjudicate on every coming together on a football pitch. It doesn't need to, because two players coming together in a collision for the ball will happen. It is a sport of commitment and passion, not the gentleman's gilli danda in prim and proper whites with a red cherry. Nobody, not the players, not the fans and certainly not the ambassadors of the game want the policing to be done on every single coming together. It's just a decision taken by faceless prudes in suits. Suits who fail to take a decision on goal line technology or cut out playacting and diving.
And what the hell is Roy Keane talking about, because he's the only one other than UEFA who's backing the Turk. Roy Keane backing the administration is the world's most laughable irony; a man who, if the administration was any tighter than it was back in his playing days, would not have played more than 10 matches a season if the rules that applied to Nani were applied to him. His schizophrenic attitude has not got him anywhere in management. He might think he is doing a Brian Clough but he is not. He doesn't have Clough's enviable attitude, his roguishness and Clough was against the administration's prudish behaviour. Keano was a legend in his playing days but is nothing more than a bitter man now and he has just pulled the trigger on his former mentor. Good luck to him if Sir Alex chooses to go nuclear on this Irish hothead.
Since I have calmed down on the Keane issue, I'll get back to the night. Modric scored an outstanding goal before the former prince put the dagger through the hearts of his million lovers and not just the demanding Real Madrid supporters. But nobody will remember that and even if they do, they will ask if it would have come about if there were 11 players on the pitch. Sir Alex will be disappointed knowing this was probably his last great opportunity to win the trophy with his beloved United. The team was good this season, no injury worries, solid team spirit and on fire forwards. All put to an end by a trigger happy Turkish referee.
For Ryan '1000′ Giggs, this marked the first of many ends. He was undoubtedly brilliant on the night. Cristiano Ronaldo will vouch for his former mate – he left Old Trafford with Giggs' thousandth United jersey signed by all the players. For the fans and Manchester United family, there will always be a next time. But if you understand football and want to answer my questions asked in the first two paragraphs reasonably, you will know that it was undeserved, it was cruel and not meant to be like this!