Stewart Downing's Twitter Q&A goes up in flames!
21.29K //
10 Mar 2013, 19:08 IST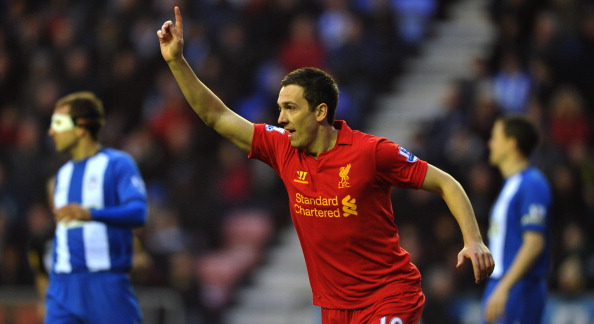 Usually when a football team decides to have Twitter Q&A session with one of its players in the hot-seat, the conversations turns out to be very entertaining and a lot of fun. But this was not so for Liverpool's Stewart Downing.
The Liverpool winger must have had a hell of a day, thanks to some fans bombing cyberspace with hilarious questions. They decided to lay to waste the #askdowning thread.
Here are some of the questions that were posed to Downing -
@DualeAdam1: If you were a footballer, what would your preferred position be?
@Liam Payne ?Payny_01: How did you feel last season knowing Tim Howard was closer to lifting the golden boot than you?
@BillHansen28: So you left Aston Villa for Champions League football. How's that working out for you?
?@McFarlaneJordan: Are you the only professional footballer to be neither footed?
@Notcarlcole: On a scale of 1 to Jesus, how good are your crosses?
@Dave B MUFC ?Bowsy: How did it feel to have more arrests than assists last season?
@arpan_manutd: Do you know any footballer (except you) who is neither footed?
@Jon Barbuti: Which Premier League bench is the comfiest?
@Fergie's Hairdryer: How do you get to the other side of the road when you don't know how to cross?
@marc sepetowski ?sepo_efc: Do you consider yourself to be just as bad as Jordan Henderson?
@?JacobCampbell5: Did you pick number 19 because you knew it would take about 19 months before you did anything of any kind of use?
@?Abdn_Horror_Guy: If you were to transfer away from Liverpool, how many goats and cows would your new club receive in the dowry to take you?
@?lloydturner1: How do you ignore all this abuse and carry on day to day? #respect