Messi or Ronaldo?
4.30K //
25 Nov 2012, 22:52 IST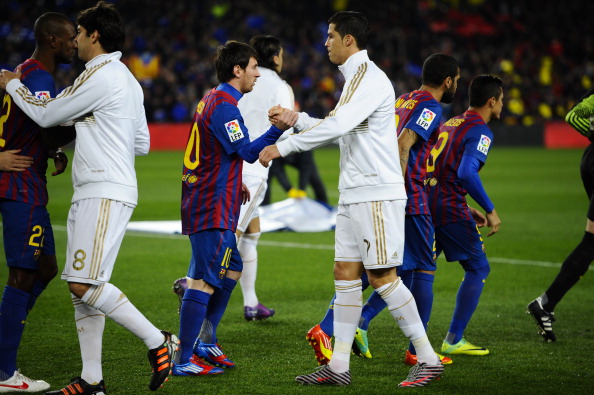 There is always this debate in the air, among football analysts and also among the fans. At present, they are the ideal role models for youngsters to follow. Be it scoring goals or discussing the highest salary paid, they are always in the news. This is my view over the issue.
Messi is a cheeky guy who always likes to play it safe. If he thinks that the chance is gone, he would pass on the ball to a team mate rather than doing the unorthodox, which can be justified in one way since he doesn't lose possession. His close control and dribbling skills are admirable and cannot be duplicated. Ronaldo, on the other hand, always has a go whenever he sees a sight of the goal. Most of the time he succeeds. His determination and persistence to beat defenders sometimes makes him do the unthinkable to find a way through. Be it his skill moves, his speed, his finishing, his crosses or his dribbling, he always enthralls the crowd. He, really, is a perfect Entertainer. Given the level of their talents, there is no doubt that both have achieved memorable success at their respective clubs.
At the international stage, though, the picture is different. While playing for Argentina, Messi is unable to replicate the same magic which he creates for Barca. For some reasons, things are not going well for him at the International stage. Is it the absence of the likes of Xavi or Iniesta? Some say so. But Portugal is altogether a different team with Ronaldo's presence. He brings with him added enthusiasm within the team. This can be affirmed by the way in which he led his team to the semi final stage of the Euro 2012 competition. Portugal, eventually, bowed out to the tournament winners Spain 2-4 after extra time.
When Mourinho was asked about who would win the Ballon d'Or, he promptly replied 'Ronaldo'. Mourinho also said Ronaldo had had a tougher career than Messi: "It is harder to be Cristiano than Messi. Messi grew up in the team where he plays, with the players with whom he plays. Not Cristiano. He was in England, then they put him here in a losing team. He had to grow over the last two years with this team which has been forming."
There was some logical reasoning behind his answer. Keeping in mind the success that he has achieved at Real Madrid in such a short span of time, there was some logical reasoning behind this answer. For a winger to achieve such success is really commendable.
As seen, Messi and Ronaldo have two distinctly different styles of play and comparison between the two is like a comparison between Jesus and Buddha. But I would like to conclude with two statements "Messi plays exceptional with a very good team" and "Ronaldo makes an ordinary team play exceptional."