Messi: The greatest ever?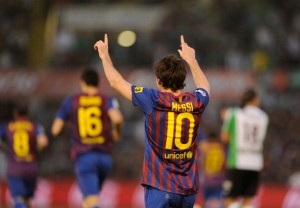 Over the last 3 years there has been much debate about whether
Lionel Messi
is the greatest player in football's rich history. It is a claim many support, and one that many don't. Arsene Wenger, as sound a judge as any, is trenched in the Messi camp. Perhaps the 4 goal field day he had against
Arsenal
in the Champions League swayed his opinion slightly.
Pele, along with Maradona, is the only other serious contender for the honour. When asked about Messi's stake to claim that honour, Pele said, "when he has scored as many goals as me and won 3 World Cups, we'll talk." Well, Messi might have a bit of trouble there. Pele scored over 1000 goals in his long illustrious career. However, Pele spent his entire career playing for Santos in Brazil. Widely regarded as one of the best teams in the world. Santos played many exhibition games all over the world; thus, a lot of Pele's goals came in pretty much meaningless games. Not to mention the fact that Pele's competitive matches in Brazil were not exactly played against the highest calibre of sides.
That is an accusation that cannot be leveled against Messi. Messi has played his entire career in the Champions League, against the best sides in the world. Indeed, it was a game in the Champions League last week, against Bayer Leverkusen, that reignited the debate. Messi scored 5 goals in a 7-1 rout of the German side. No one had ever scored 5 goals in a Champions League game before. Mind you, there were a lot of things that hadn't been done before Messi came along.
Just a few days ago, after scoring another 2, Messi moved to within 6 goals of Barca's all-time record goalscoring mark. At 24, Messi will almost certainly set a mark that will remain out of reach of anyone else in the future. The remarkable thing about Messi, though is not his goalscoring; it is the way he scores his goals. He is remarkably similar to Maradona in the way he plays the game. Once he has the ball at his feet, he is a joy to watch. The goal that sticks in my mind is his second against Real Madrid in the Champions League semi-finals last season. He went past 3 men almost as if they weren't there and coolly slotted the ball past Casillas. It was a wonder goal, make no mistake about it. And the truly great thing about Messi is that he scores these types of goals on an almost weekly basis. It is that, and the joyful exuberance with which he plays the game, which puts him alongside Pele as one of the best to have ever played the game.
Messi is an incredibly likeable character. He always has a smile on his face, he plays for the team and he is also remarkably humble. After winning the Ballon d'Or for the 3rd time in a row, he dedicated the win to his team mates and suggest that Xavi and Iniesta were more deserving than him. This is one of the reasons he stands head and shoulders above his only contemporary rival, Cristiano Ronaldo. Ronaldo's goalscoring feats are very similar to Messi's; he scores plenty of miracle goals too. But he endears himself to few; well, 14 year-old girls aside.
When the 'greatest ever' argument pops up, Pele's World Cup success is inevitably brought up as the marker which Messi must achieve. I believe this to be remarkably unfair. Pele won 3 World Cups, but he did so with some of the greatest teams to have set foot on a football pitch. Messi's Argentina certainly do not fit into that bracket. Granted, Messi has never reached the heights at international level which he has achieved with his club. Yet there is time for that to change. Messi might yet win a World Cup, and surely the debate would reach fever pitch if he were to do so.
The greatest argument for Messi is his Champions League triumphs. He has now won 2, and it would be a brave man to bet against a third this year. There is certainly an argument to suggest that the Champions League is of a higher quality than the World Cup. If you are, like me, in favor of that argument, then Messi certainly has everything he needs to stand against Pele.
So, is Messi the greatest ever? In my opinion, yes. But at just 24, he has plenty of time to convince others. I am sure that by the end of his career, I will write an article entitled, 'Messi: The greatest ever', without the question mark at the end.