Mesut Ozil: The German Zidane
3.15K //
19 Mar 2011, 05:58 IST
Germany Under-21 manager, Horst Hrubesch once said,
We in Germany are prone to rave about foreign players. We praise Wayne Rooney to the heavens, likewise (Cristiano) Ronaldo or Messi. But we have our own Messi. Our Messi is Ozil.
It was the under-21 European championship which brought Mesut Ozil to prominence. A third generation Turkish-German, Ozil was eligible to play for both Turkey and Germany.But he choose to represent Germany. Turkey's loss was Germany's gain.  However he acknowledges the Turkish influence in his game. Ozil says ,
My technique and feeling for the ball is the Turkish side to my game. The discipline, attitude and always-give-your-all is the German part.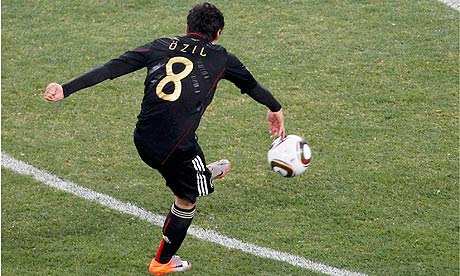 In 2009 , he was given his International break by the German National coach, Joachin Loew. In the absence of Michel Ballack , Ozil was selected in the German squad for the 2010 World Cup. He had big shoes to fill. However he didn't disappoint in South Africa. For years, German team lacked an attacking midfielder but in Ozil they had found a world class one. Germany went on to claim 3rd position in the World Cup and Ozil had become an International star. His performances in the world cup got him a nomination for the golden ball, which is given to the best player of the world cup. Ozil had announced his presence on the world stage.
His performances did not go unnoticed and Real Madrid swooped for Mesut Oezil from Werder Bremen for a fee of €15 million in August 2010. There was a consensus that the Spanish side had secured an emerging talent but mostly as a replacement for the crooked Kaka. Little was known that  Ozil will make Ballon d'or winner Kaka struggle to get  into the team. His acquisition was a master stroke from Mourinho and at his price , it couldn't have been better.
From the start of his Real Madrid career Ozil didn't disappoint and the fans knew that their beloved Zidane was back. He walked off the pitch as a second half substitute to standing ovations in his first two games as a starter at the Santiago Bernabéu. Very few Real Madrid players have achieved to get such recognition and accolades from the demanding Bernabau crowd. A revered Muslim like Zidane , he recites Qur'an verses before all his matches to help him focus. His consistent performances over a period of time haven't gone unnoticed. In a team where Cristiano Ronaldo hogs the majority of the spotlight, Ozil has rapidly taken strides to match his flamboyant compatriot. In the absence of Ronaldo, Ozil masterminded Real Madrid's attack against Racing Santander in the La Liga and his performance won him many plaudits.  After his exploits , Real Madrid legend Emilio Butragueno has suggested that Mesut Ozil can be as good as Zinedine Zidane.
The best trait Ozil has at this age is his humility. In response to Butragueno's and club director Valdano's praises, Ozil deflected the claims saying ,
I have come here to evolve, but Zidane was world class, and I am still learning. I have much to prove.
However his team-mates are now beginning to acknowledge Ozil's presence in the team. Before Ozil's arrival in the team, there was a unidirectional focus to Real Madrid's game and all the attacks were channeled through Christiano Ronaldo. With Ozil making his presence felt , slowly he has become the focus and the attacking lynchpin of this Madrid attack. Ronaldo is more known for his individual exploits but Ozil has been more of a team man , who tracks back to retrieve the balls from the midfield , keeps the game ticking and rarely mis-passes a ball. While there is still a long way for Ozil to be really compared to the Zidane , the signs are beginning to show. He might not be as proficient as Zidane with the ball but he has the talent which is there for everyone to see. In the recent Champions League match against Lyon , it was Ozil who provided two assists and help Madrid overcome their nemesis. At his age of 22 , even Zidane was not the player we know he became.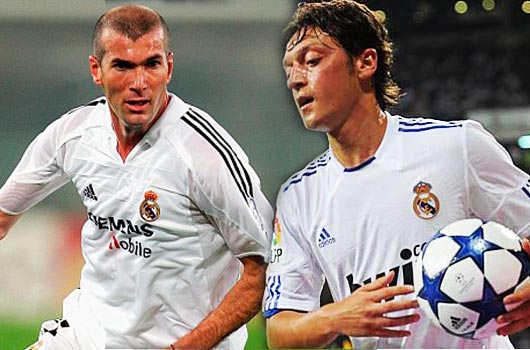 His comparisons with Zidane and his performances this season has made him a future Ballon d'Or winner in the waiting.The boy from Gelsenkirchen has an entire career ahead of him, and whether Oezil will emerge as a Ballon d'Or candidate this season will depend on what he can help achieve for his team. If he continues to play so well , Real Madrid might have just found their new Zidane.