Middlesbrough — the giant-killing hurdle for Arsenal towards FA Cup success
2.06K //
28 Jan 2015, 14:52 IST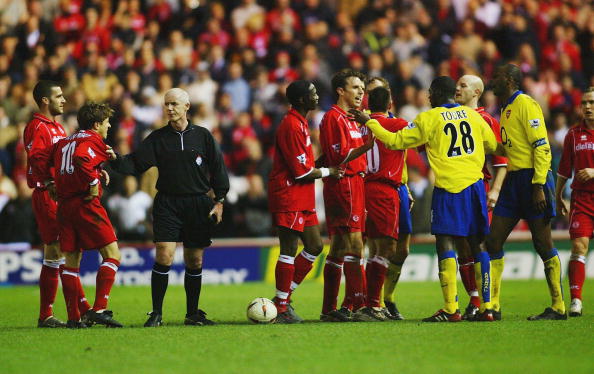 Continuing a run of favorable draws, we've been pitted against Championship side Middlesbrough, whose reward for seeing off Manchester City in the fourth round is a dare to see if they can do the same to us in the fifth. After previous seasons in which we've drawn in various competitions Chelsea, Liverpool, Tottenham, Everton, Borussia Dortmund, and Bayern Munich, it might come as a welcome change to face off against the Brightons and Middlesbroughs of the world.
Then again, we had our own troubles against the Seagulls and should heed the cautionary tale offered by Man City's experience. Put simply, anything can happen in the FA Cup and frequently does, our own experience a year ago notwithstanding. On paper, drawing Boro might feel more comfortable than drawing yet-to-qualify Manchester United or Liverpool, we — as the old saying goes — should be careful what we wish for.
After all, Boro did just see off Man City 0-2 at the Etihad, something we modeled for them a bit the week prior, but that's not all. They're undefeated in their last five, and, but for a rocky start, might sit atop the Championship. As it stands, they're in third, just a point off the pace behind Bournemouth and Derby. They boast far and away the stingiest defense in the Championship, conceding only 18 goals in 27 matches. Anyone who doubts what that can mean need look no further than their performance against City, where they stuffed one of the world's most-expensive attacks in its own lair.
For those wondering, yes, City did field Silva, Agüero, Navas, and Joveti?; even if this wasn't their full-strength squad, it should still be good enough to score a goal or two against most, if not all, other squads around. So we know that we'll face a stout, well-organised defense, one emboldened by that, and other results. In their last seven outings, they've conceded a single goal, and that was a fairly meaningless 85th-minute goal in a 2-1 win over Cardiff.
If there are silver linings to look to, it's in these: we won't be leaving London until traveling to Monaco for the second leg in what might amount to a formality (for all the right reasons, of course). That may not mean much at Middlesbrough's end, considering their intrepid foray into the Etihad. Last season, though, we didn't have to leave London at all in seeing off Tottenham, Coventry, Liverpool, Everton, Wigan, or Hull. On the other hand, we'd do well to note that Chelsea, Man City, Southampton, and Tottenham all lost at home (and Liverpool staggered to a draw).
Looking beyond that, it's worth asking how Middlesbrough's position on the table affects things. On the one hand, they've drawn one of the most difficult clashes on offer in a competition in which they would still have to three more rounds of similarly difficult fixtures on their way to winning the FA Cup. On the other, they're in the thick of a six club deep fight for promotion to the Prem. Given a choice between the two, which one offers them the more tempting prize?
I'm not here to say that we should pin our own hopes to some kind of zero-sum game theory in which we can only triumph over Middlesbrough because they'll put all of their eggs in the Championship title basket; I'm merely suggesting that it's a variable to consider.
I can't suss out Middlesbrough's motives, but I would suggest that we have more to worry about from an in-form Championship side than we might from a struggling Premiership side, whether it be any of the half-dozen other top-flighters such as Manchester United, Liverpool, Aston Villa, West Ham, West Brom, or Leicester. Whether a few of these are locked in their own fights to stay in the Prem (or better) seems to matter a bit less than a chance at promotion.
In short, we may have dodged a few bullets with those aforementioned names, but Middlesbrough certainly have us squarely in their sights. For us, this might be our best chance at silverware, and as the cup-holders, we'd better show that we can at least make it to the final. We do have a number of players coming back on-line, so, by contrast against last season's run, we might be gathering strength for this title tilt and the looming Prem run-in.
We'll learn more about Middlesbrough and about the date of the clash itself in coming days and weeks. For now, we should turn our sights towards Aston Villa's visit on Sunday and the not-quite-confirmed transfer of Gabriel Paulista.