Cristiano Ronaldo has vowed to break more records after securing his blockbuster move to Saudi Pro League side Al-Nassr.
The Portuguese icon has achieved enormous success in Europe but now heads to the Middle East.
Ronaldo was unveiled as an Al-Nassr player and spoke at a press conference on Tuesday (3 January).
He vowed to continue breaking records despite leaving Europe, saying (via GOAL):
"I broke many records in Europe and I am here to break more."
Cristiano Ronaldo, 37, is known by many as the King of the Champions League. He holds the record for most appearances (183) and goals (140).
He won the European title on five occasions, including three in a row.
Ronaldo is the all-time top goalscorer for Real Madrid, netting 450 goals in 438 games during his time at the Santiago Bernabeu.
He also holds the record for the most goals scored in a Premier League campaign for Manchester United when he bagged 31 in 2008.
The Portuguese great won five Ballons d'Or during his European ventures, but now eyes glory and more records in the Middle East.
Goalscoring is Cristiano Ronaldo's specialty, and he may have Al-Nassr's record in his sights.
To become the Saudi club's all-time goalscorer, he will need to beat Majed Abdullah's record of 189 goals.
The Portuguese is not resting on his laurels and will continue to look to make history away from European football.
---
Bernardo Silva was not surprised Cristiano Ronaldo was dropped for Portugal's FIFA World Cup last 16 tie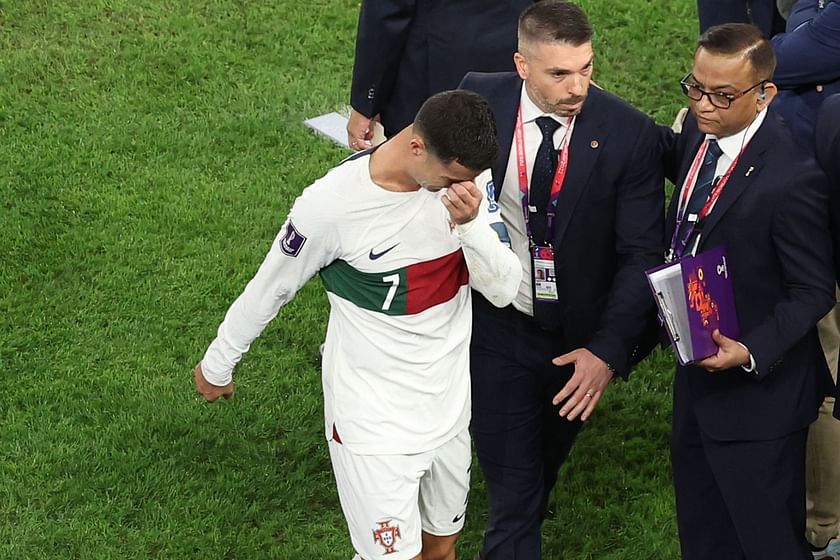 Portugal manager Fernando Santos took a huge risk when he named Cristiano Ronaldo on the bench for his side's last 16 FIFA World Cup clash with Switzerland.
Silva revealed that the Portuguese players found out about Ronaldo being dropped just two hours before they smashed Switzerland 6-1 on 6 December.
Speculation grew over the forward not starting amid Goncalo Ramos' impressive performances and a lack of form for the veteran striker.
Silva admitted Portugal teammates were talking about the possibility. He told Record:
"Between us we talked and asked "could it be, would it not be?", because the players talk. But we only found out about the team in the locker room when we arrived at the stadium, two hours before the game."
The Manchester City midfielder then explained why he was unsurprised by Ronaldo's omission.
The former Manchester United striker managed just one goal in five appearances during the tournament in Qatar.
Silva added:
"There are 26 players, too many for the coach to choose for each specific game. It never shocks me that he decides to go with one or the other. Right or wrong in the opinion of each one, the coach has the right to make the decisions he makes."
Portugal eventually bowed out of the competition in the quarterfinals after a 1-0 defeat to Morocco. Uncertainty remains over the future of Cristiano Ronaldo in the national team.