England women's national team coach Sarina Weigman has hailed USWNT icon Megan Rapinoe as "one of the most important players," following the latter's retirement from international duty. Weigman praised the OL Reign forward for the role she played in raising the standard and perception of women in the football world and society at large.
After more than 17 years with the USWNT, Megan Rapinoe has finally called time on her spell with the Stars and Stripes. Her appearance in the friendly clash against South Africa on Sunday was the final time she donned the famous jersey.
Although Megan Rapinoe will play a few more games for OL Reign, she's announced that she will end her club career at the end of the season.
After reaching the latest landmark of her career, praises have been pouring in for the attacker from footballing figures across the globe and Sarina Weigman has also paid tribute.
Speaking ahead of England women's Nations League clash with the Netherlands, Weigman paid homage to the icon, saying:
"I think she [Megan Rapinoe] is one of the most important players," she was quoted as saying by The Guardian. "I think the US were the trailblazers in women's football, and also for the position of women in society. We should be all very thankful for what she leaves behind. I have so much respect for her."
"I think this group of women are very conscious of society too and using the platform in a positive way to change society," Weigman continued. "They are so outspoken and well spoken, they articulate themselves so well."
Weigman also previewed England's clash with the Netherlands, a team she was in charge of formerly. The tactician explained that she would certainly meet many familiar faces and admitted that it'd be special.
"A little bit strange too – of course I have some memories here," she said. "I'm really looking forward to tomorrow. It's just very special to be here and to play the opponents. Of course we know each other really well, I know the staff, most of the staff didn't change that much, or the players. Lots of people will be in the stands that I know."
---
Megan Rapinoe's USWNT career in numbers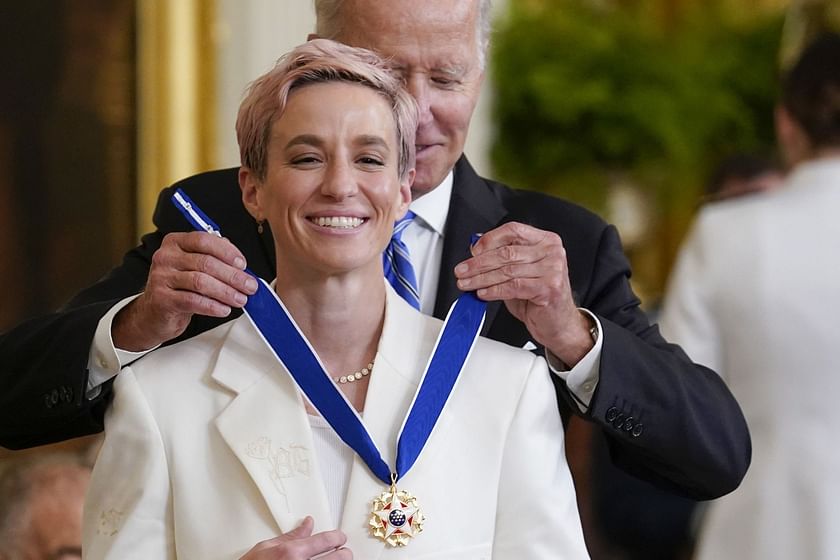 Over the course of her international career, Megan Rapinoe made 203 appearances for the USWNT, recording 63 goals and 73 assists to her name. She helped the team win the World Cup twice (2015, 2019) and the Olympic gold medal once (2012).
Talking of individual awards, the forward claimed the FIFA Golden Ball, the FIFA Golden Boot, the Ballon d'Or among others.
She's earned her reputation as one of the greatest players in women's football and arguably the greatest in USWNT history.
Edited by Shubham Banerjee