Twitter exploded as Tunisia defeated France by a scoreline of 1-0 in the 2022 FIFA World Cup on Wednesday, November 30.
Didier Deschamps decided to give most of his first XI stars a rest and rotated his squad to give the unused and fringe players a chance. The defending world champions had already secured their qualification to the knockout stages of the tournament before the game kicked off.
That said, the Tunisians turned out to be a real problem for the French side. They provided constant threats throughout the first half. However, the first goal of the game came in the 58th minute as Wahbi Khazri found the back of the net.
Deschamps made an attempt to salvage something from the game as he brought on Kylian Mbappe, Antoine Griezmann, and Ousmane Dembele during the latter stages of the game. However, Les Bleus couldn't break the perseverance of the Tunisian defense until Griezmann found the back of the net with almost the last kick of the game.
The Atletico Madrid forward's effort, however, was disallowed after a VAR check. Tunisia held out for the remaining minutes to clinch three points and cause a major upset.
However, their efforts turned out to be in vain as Australia managed to beat Denmark 1-0 to advance to the Round of 16 as Group D runners-up. Tunisia finished third in their group.
Here are some of the best reactions across Twitter after the Tunisia vs. France match in the 2022 FIFA World Cup:
---
France manager Didier Deschamps reacted to rumors of Karim Benzema returning to the 2022 FIFA World Cup ahead of the game against Tunisia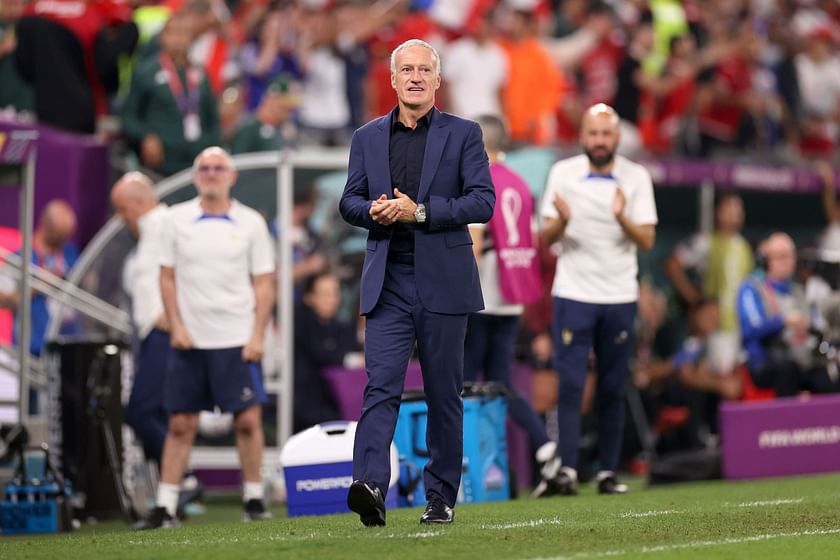 France manager Didier Deschamps reacted to rumors that Karim Benzema, who left the squad before the World Cup due to injury, might make a return to the team.
Speaking ahead of their last group game, Deschamps said (via Metro):
"Wow. Well, I'm not sure [what to say], that's really not something that I'm thinking about. You seem to know a lot about the situation but I haven't really been following who has been saying what. I talked to Karim after he left and you know the situation, and we heard how long it was going to take for him to recover.
"So I don't really know what you're trying to imply. I have 24 players in my squad and I'm happy with the squad I have. Some players are missing, [Presnel] Kimpembe and [Paul] Pogba are missing too, and of course I talk with them. But it's up to you if you want to speculate and imagine scenarios. That's not what I'm focusing on at the moment."
France will face the runners-up from Group C in the Round of 16 on December 4.