Manchester United midfielder Bruno Fernandes has provided a sneak peek of Erik ten Hag's strict discipline that led to the departure of Cristiano Ronaldo. The Portuguese forward left last November after falling out with his Red Devils boss.
Fernandes spoke to United legend Rio Ferdinand on BT Sport and discussed the changes that have ensued under Ten Hag. The former Sporting CP particularly detailed the rules the coach has put in place at Old Trafford:
"He demands; he demands from people. You do it, or you're out. You don't play. If a big player doesn't do what he wants, he will pull him apart. And he did that; he did it with Cristiano (Ronaldo); he did it with Jadon (Sancho); he did it with Marcus (Rashford)."
Ten Hag is renowned as a stickler for discipline, which clashed with Cristiano Ronaldo during the later stages of his second spell at Manchester United. The legendary forward walked out at half-time in a friendly at home against Rayo Vallecano earlier in the season, leaving the new manager unimpressed.
However, Ronaldo's decision to storm down the tunnel and refuse to come on as a substitute in the Red Devils' 2-0 win over Tottenham Hotspur in October was a bigger offence. The striker was slapped with a one-game ban by Ten Hag.
Ronaldo commented on the incident with regret but insisted that he felt disrespected by Ten Hag, telling British journalist Piers Morgan:
"It's difficult to tell you 100%, but let's say I regret, but in the same way I felt provoked by the coach. ... Not allowed for me, a coach to put me in three minutes in a game. Sorry, I'm not that kind of player. I know what I can give to the teams."
The interview was Ronaldo's last course of action as a Manchester United player. The Portuguese forward and the club mutually agreed to terminate his contract in November last year.
---
Richard Keys claims Cristiano Ronaldo suffocated Marcus Rashford at Manchester United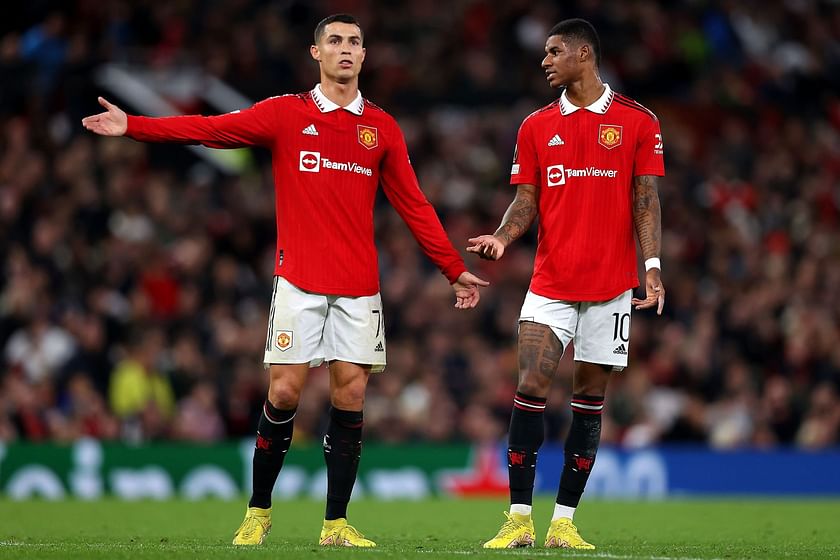 BeIN Sports presenter Richard Keys says that Ronaldo suffocated Rashford at Old Trafford last season. He pointed out the fact the striker has dramatically improved following Ronaldo's exit. Keys wrote in his blog:
"If (Erik) ten Hag has done anything to help (Marcus) Rashford, it was in getting rid of (Cristiano) Ronaldo. ... He was a pain around the club, and he suffocated the life out of players like Rashford. Here is the proof – with Ronaldo starting games at United, Rashford scored eight goals in 19 games."
Keys added:
"Now Ronaldo has gone, it is 16 in 17 – 10 in 10 in the PL. Obviously, there are other factors, but those stats don't lie."
Ronaldo's departure from Manchester United left Ten Hag's side in need of a frontman to come to the fore after scoring 24 goals in 39 games in the 2021-22 season.
Rashford was the man who stepped in and filled Ronaldo's boots and has done so in style. He has bagged 24 goals in 36 games across competitions this season. The English attacker is enjoying the best campaign of his career under Ten Hag.