Neymar: Medel's tackle on me wasn't football, it should be called UFC
2.99K //
30 Mar 2015, 15:59 IST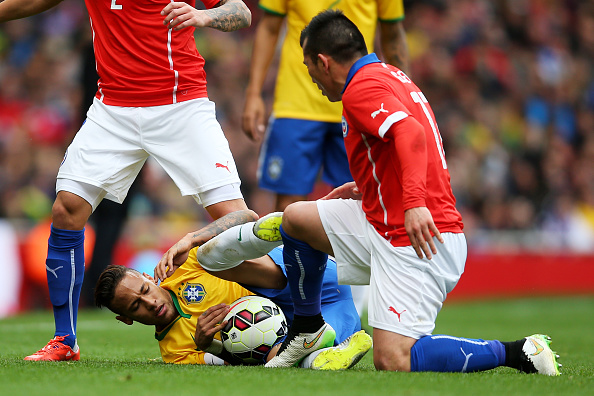 Brazilian striker Neymar has compared the foul made on him by Chilean midfielder Gary Medel to something one can see in Ultimate Fighting Championship(UFC).
The 27-year-old brought down the Barcelona forward during the first half of the international friendly held at the Emirates Stadium on Sunday and referee Martin Atkinson awarded Brazil a free kick for that tackle.
Replays showed that Medel had stamped his right boot on Neymar's right calf and yet wasn't booked by Atkinson. The 23-year-old Brazilian was clearly left unamused by that decision, and speaking after the game, he said that the referee had to be a lot more vigilant on the field.
"That tackle can't be considered part of the game: Neymar
"That can't be considered part of the game, no. If we say that is part of the game, then the name [of the sport] is wrong. We can't call it football -- we should call it UFC. I am the one who suffers the pain. I think it is because of the rivalry [between Brazil and Chile], and you end up suffering because of it," Neymar said.
"But what can we do? The referee didn't see it. He's there, but he didn't see it. There are four officials and nobody saw anything. We have someone on the pitch who's in charge, and he has to issue a punishment. You have to have an eye on these things," he added.
Brazil eventually went on win the contest 1-0, courtesy a goal by Firmino in the 72nd minute of the game.