No regrets joining Botafogo: Seedorf
932 //
06 Dec 2012, 21:28 IST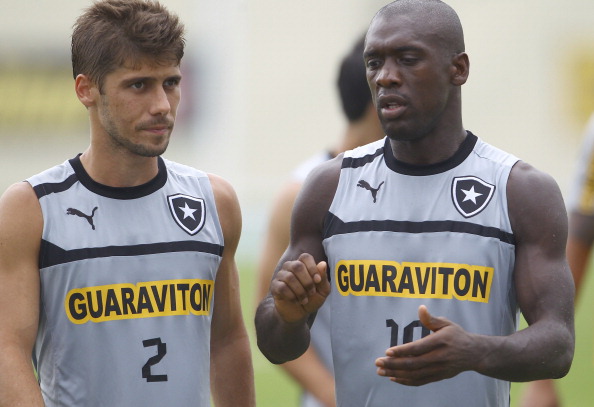 Rio de Janeiro - Dutch footballer Clarence Seedorf said he has no regrets about joining Brazilian club Botafogo, despite the team's failure to secure a place in next year's Copa Libertadores.
The 36-year-old joined the Rio de Janeiro outfit in July after ending his 10-year career with Italian Serie A giants AC Milan, reports Xinhua.
Seedorf impressed with nine goals in 21 matches while playing in an unfamiliar role as an attacking midfielder.
Despite his efforts Botafogo finished the season seventh in Brazil top-flight, three places away from a spot in next year's Copa Libertadores – South America's elite club competition.
"I have to say that I don't regret anything about my decision to come to Botafogo," Seedorf said.
"It has been intense and a great experience. It's a new culture in terms of football and also life."
Traditionally one of Brazil's strongest clubs with a proud history, Botafogo has not won the Brazilian championship since 1995.
Seedorf said he was keen to help the club relive its glorious past.
"Botafogo has an ambitious project. It is an ambitious club. They want to return to the glory days but with a young team. It really is a great source of motivation for me after 10 years with Milan."
Brazil has been a positive experience both on and off the pitch for Seedorf, who is relishing living in Rio with his Brazilian-born wife, Luviana, and their four children.
But he admits to being disappointed by the low attendances in Brazilian football.
Despite the media storm that accompanied Seedorf's arrival, Botafogo averaged just 9,000 fans at their home matches in 2012.
They were one of eight Brazilian top-flight clubs to have a median attendance of less than 10,000.
The only team to average more than 25,000 spectators were Corinthians with 25,222.
"What most has most surprised me is the fans. They are all crazy about football but don't really go to the stadium."