North London Derby preview: Stopping Bale
881 //
02 Mar 2013, 21:24 IST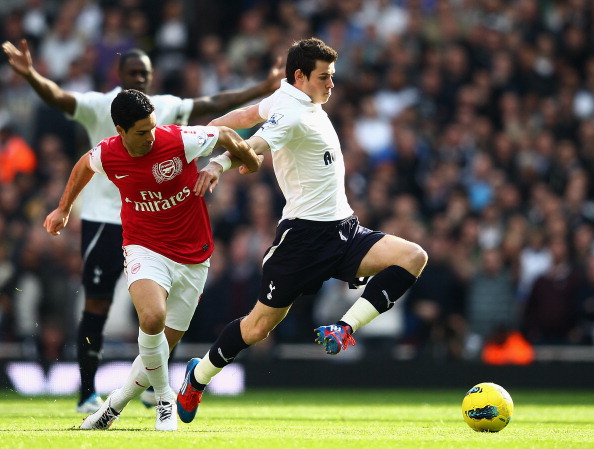 It's NLD Eve! Who's excited? I'm lucky my nerves aren't a slow burn like most. I never seem to get excited for this derby until kick off, which is a good thing. It allows me to clear my head before an absolutely must-win match.
To win, we've got to stop Gareth Bale. It's plain and simple on paper, but in the famous words of Andy Gray, paper never won a football match. Over the past few matches, Bale has risen to become one of the hottest players in the country, largely due to his ever-present direct style of play. What I've noticed more in his play of late though, and especially against West Ham, is that he's become a free spirit. In a way, he's taken up the mantle of Luka Modric; not in creating for others, but himself. The scariest part is it's working. Bale is in the form of his life, having scored 15 goals and assisting once this season in the EPL.
While Bale is quickly becoming a scalpel of defense, he's in danger of being manipulated by clumsy hands. If Bale doesn't dictate play for the Spuds, they've got a problem. With misfiring strikers and average defenders, Tottenham have more weaknesses than it first appears. Isolating a key player seems obvious, but it's not as easy as it sounds.
Everyone knows I'm a huge fan of Per Mertesacker. Everyone knows he's the glue to our back line, and that he's indispensable… right? For once, I think Per will have to sit this one out. His form has gone pear-shaped, likely due to fatigue and the patchy form of Thomas Vermaelen. A combination of Koscielny and Vermaelen is just begging to be broken down via poor communication, but it's a risk I think Arsène will have to take. Both defenders are strong in the tackle and in the air, and are full of pace to deal with Bale's new found false 9 role. On either side, I have full confidence in Carl Jenkinson and Nacho Monreal to be tidy in defence and helpful on the counter. Most point to Carl as the person to deal with Bale, but I don't think that will be the case for most of the match. I believe Bale will be the responsibility of our double pivot in midfield and central defensive partnership.
In midfield, I'd like to see Coquelin start beside Mikel Arteta to form a two-man marking system in the middle that targets Bale. If they're conscious of both Bale's movement and their own, he'll be easy to contain with Coquelin's tenacity and Arteta's vision. The only Tottenham midfielder who can cause problems is Moussa Dembélé. He's their most "complete" player in the sense that he can dribble, create, defend, and dictate play. If we're going to press, then our attacking midfielder will have to stick to Dembélé the entire match, similarly to the job Wayne Rooney and Bryan Ruiz  have pulled off against Mikel Arteta in the past.
In the last 5-2, we were treated to one of Olivier Giroud's more impressive performances, bullying Tottenham's defense with ease, and coolly slotting home a difficult stretched pseudo-volley. With Younes Kaboul and Jan Vertonghen likely to start the match alongside attacking fullbacks Assou-Ekotto and Kyle Walker, our front line need to seize their opportunities, and expose the space behind Tottenham's unintentionally high line. Theo Walcott and Lukas Podolski are just about matched for pace by their opposing defenders, but that hasn't stopped them before. Service to Giroud must be thick and fast, as we know that Olivier tends to be wasteful and sulky if he doesn't get his fair share.
A score of 4-2 jumps out at me, with Giroud bagging two and Podolski with a pair of assists and a goal to himself. Let's hope we go out there with the intention to destroy from the first minute. If anybody should be worried, it's the Spuds. They're the ones striving to remain ahead in the table, and face pressure from their fans at home. I just hope we can go to White Hart Lane and give Bale and the Boys the beating they deserve. The magnitude of this match can't be stressed enough.