North London still Red
699 //
20 Nov 2012, 22:20 IST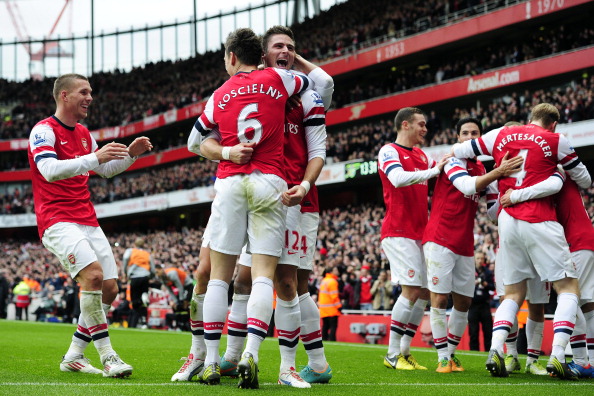 Cast your mind back to Saturday at about 2:30 pm. Arsenal have thrashed Tottenham 5-2 for the second time this calendar year. Nice feeling, isn't it? Enjoy it for as long as your heart desires. After all, it is the moment when we affirmed our domination over Tottenham with a replication of the gloriously damning result that they came to the Emirates to try and avenge. What better way to assert our authority, to make a statement of intent to the rest of the league and to inject some much needed red and white confidence into the veins of both the players and fans alike. Arsenal fans all over the world united together in pure, unreserved jubilation, celebrating yet another famous derby victory. North London is red.
I believe that there are a number of different positives to take from Saturday's derby win that us fans can be happy about. The game started a poor one from an Arsenal point of view, but Adebayor's act of idiotic recklessness gave us a real opportunity to turn the game around. However, after the recent run of form you would be forgiven for feeling that we may yet have had a tough game on our hands. The team had to prove that they could not only win, but ruthlessly punish their opponents as a really top-class side would. They did exactly that, in emphatic style.
Individual Performances:
I am only going to focus on the 3 players I was most impressed with on Saturday: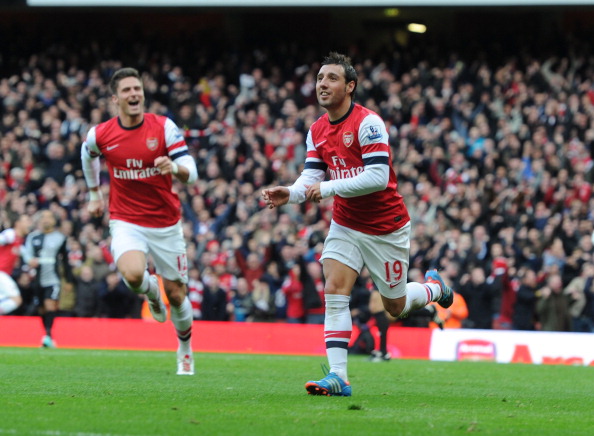 So I start with Santi Cazorla, who was widely coveted with the honour of being the North London derby man of the match and, in my eyes, rightly so. Despite looking physically tired in the past couple of weeks, playing with less freedom as a result of opposition players getting closer to him and having to fly nearly 12,000 miles to Panama and back in midweek, he looked like he was back to his majestic best. His touch and ball retention were second to none, while his fizzing short passes and floating long passes were intelligent and accurate throughout the game. His movement was purposeful and oozed grace, and when he needed to finish, his precise, controlled strike didn't let him down. At times I sat in awe, as I'm sure many of you did, at the little Spaniard's mesmerising display and thought to myself: "It's good to see Santi back to his best!" (Goals: 1 Assists: 1)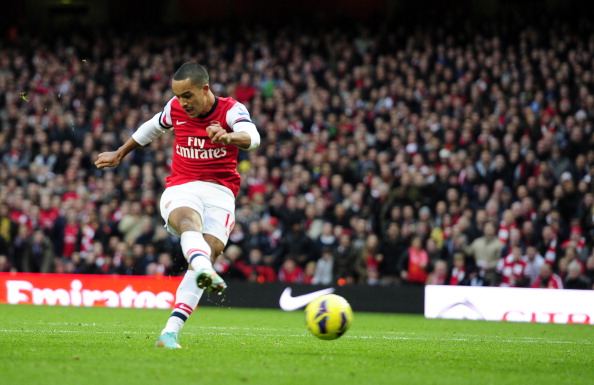 Theo Walcott continued to prove that he is a player Arsenal simply cant afford to lose. From the off, his running with the ball was effective, his evident hunger and confidence that he could beat opponents paid off, his crossing was sensational and his finishing was accurate. I felt that he was the player who consistently posed the greatest threat going forward for Arsenal and thoroughly deserved his 5 minutes playing up front at the end (when he scored his goal). His post-match comments were also something that the fans can feel confident about. He seemed to indicate that he is enjoying life at the Arsenal and wants to see a deal done, as long as he gets more playing time in that centre forward role. With 9 goals and 7 assists already this season, I'll be praying he pens a new deal sooner rather than later. (Goals: 1 Assists: 1)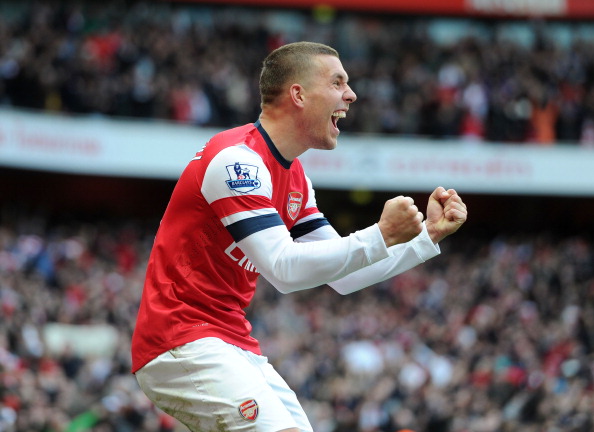 In recent weeks Lukas Podolski has looked tired and lacklustre in his performances. On Saturday however, he was fighting for every ball, helping out defensively to good effect and making powerful attacking runs when in possession. I noticed that he would often pull inside, off the wing and play as a second striker, putting himself into dangerous positions in and around the box and using his know-how to turn away from markers. This versatility and use of his own experience is what Podolski has been lacking of late and even though his fitness is still something to be questioned, having been substituted in every league game this year, his performance was admirable to say the least. (Goals: 1 Assists: 1)
Team Spirit and Confidence:
After a torrid month for the team, it was evident from recent performances that the team's confidence was lacking somewhat. As a result the team were low on their usual belief and urgency to go and win a game, even if the odds were stacked against them. However, the game on Saturday meant something to the players and it showed, even from those who had never played in a North London derby before. They channeled their passion in exactly the right ways, producing some fantastic football, the like of which us fans have missed watching in recent weeks, and scoring plenty of goals to go with it. Yes, we were helped by Adebayor's red card, but playing against ten men can sometimes be a very challenging task and I thought that the team approached the circumstances with a refreshingly positive attitude. Once we took the lead the team did not sit back, they went in search of more goals and went on to kill off Tottenham in some style. The 5-2 scoreline would have been expected from a team in confident winning form, but for a team who had won just two out of their last seven games in all competitions, I thought it was a fantastic result.
Something else I thought was a minor, but promising, positive aspect of the match on Saturday, was that five different players scored our five goals. This is often regarded as a sign of good team morale and that the players are playing for one another, rather than themselves or supporting one or two star players. I think that this statistic supports the fact that this season, we do not need to rely on one main goalscorer. This is backed up by the fact that we have four players who have contributed five or more goals so far this season (Walcott, Giroud, Podolski and Gervinho). I personally believe that this both takes the pressure off our forward players, allowing them to play more fluently, and makes each player feel more valuable to the team and integral to it's success.
The team must now take this confidence and build upon it. It is imperative to our season that we string together a run of good form leading into the Christmas period, after which the schedule becomes packed and tiring. As long as there is a purpose and belief to our game and how we approach matches, like we saw on Saturday, I believe the potential of this Arsenal side, which Vincent Kompany on Match of the Day said was "the best team we [Man City] have played this season", can be fully realised.
Gooners in Harmony:
Was the biggest positive I, as a fan, took away from the 5-2 win against Spurs the right to brag? Or seeing the team perform well together with verve and passion? No. It was the good feeling that was present amongst fans themselves, both before and after the match. Fans put their opinions and views on pressing matters aside for a more important and mutually beneficial purpose. No matter whether it was singing in unison at the pub or ground, exchanging jokes with one another over text or debating about line-ups on Twitter, it just seemed like it was business as usual for Arsenal fans. That may sound rather mundane and uninspiring to some, but I firmly believe that in times of divided support, such as these, it is those little things, brought about by a big derby game, that bring fans together and creates a more unified and positive atmosphere amongst them. There is no doubt, as we saw on Saturday at the Emirates, that both the attitude and actions of supporters has an effect on the team and their performance. I just hope that us fans, as well as the team, can keep this going for a while yet.