The Walcott conundrum: Not another repeat performance!
944 //
20 Dec 2012, 22:46 IST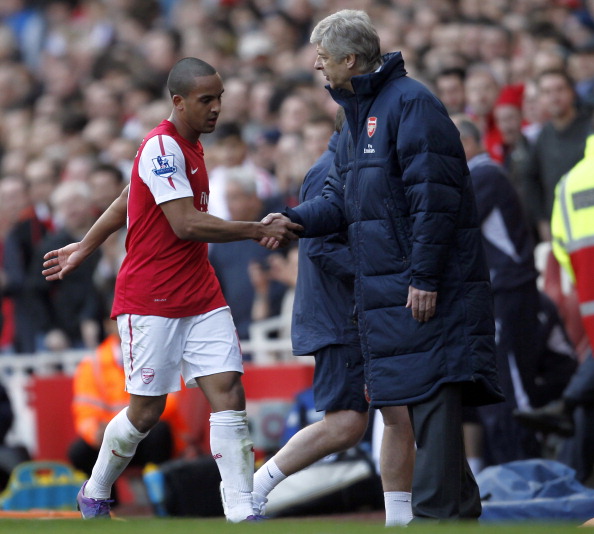 Arsenal have announced that five of their young stars have signed their contracts. While all is cheerful on that end, there is no official word on Theo Walcott yet. While Walcott remains a topic of debate in footballing circles across the world, it is safe to say that Wenger won't let him leave Emirates, not without a commendable fight at least.
While midfielder Jack Wilshere signed his eighty thousand pounds a week deal and Alex Oxlade Chamberlain, Gibbs, Ramsey and Jenkinson followed suit, Wenger hoped it would serve incentive enough for the 23-year old striker to sign the dotted line. It has been said that Wilshere's commitment to club was Wenger's carrot to Walcott. While Walcott finally got to play to his preferred strengths during the game against Reading, he maintains that he wants an earmarked position on the team as the main striker. The player has also asserted that his playing position isn't the only bone of contention against the team management, as he also believes that he is worth more than the 75,000 pounds-a-week fee that he has been offered. It has also been reported that Walcott has no primary intention of leaving London but would settle for an increment of 10,000 pounds more on his contract.
The transfer saga surrounding Theo Walcott has been discussed at length, but what has also been debated is Arsenal's performance if the young footballer decides to leave Emirates. Arsenal's ex-defender, Sol Campbell has backed Walcott by stating that the Gunners need the striker, especially during his best years of football. Keeping in mind how Arsenal has slipped through the ranks, Campbell stated that the prudent choice for the team would be to retain Walcott for the next five years, since he finds the back of the net often and the team could do with players like those. Walcott's contract is set to expire in the summer and with the transfer window opening in January, Campbell added that if the Gunners don't get it right in January they don't stand a chance for the rest of the season.
If Walcott was to leave Arsenal, he would join the league of high profile players like Fabregas, Song, Van Persie and Nasri, who had a good run with the team but have left after that. One of Arsenal's high points this season was the recent victory against Reading, and while they have made it to the final sixteen in the Champions League, it becomes all that more imperative that they bolster their squad come January. In that regard, Campbell adds: "I think they should find some money somewhere and get some top players and just go for it." He also said that in his opinion, Jack Wilshere epitomizes the spirit of Arsenal, stating that he had drive, a great football head and the need to win.
Arsenal are going to be strengthened by a financial influx, and maybe it's about time they stopped losing their top brass to deeper, more willing wallets. Maybe it is time Wenger sees his players as an integral part of his strategy, and maybe it's time for some incentive. Nobody wants another van Persie this festive season.