On Moyes and the McGuiness effect: Dissimilarities with Fergie's start and a tiny rant
Manchester United has a large fanbase. Some estimates say that every seventh person in the world supports United, while some show that every tenth person in the world is a United fan. Regardless of which one is more accurate, it can be safely assumed that United has a very large fanbase. And I can only guess that everyone of these fans knows or in the very least has heard of Sir Matt Busby. Man, to picture that thrashing of Benfica in the '68 European Cup final.
But for most United fans, the history strangely takes a pause after that final, and resumes only around decades later, with Sir Alex Ferguson (or just Alex Ferguson, as he was back then) getting hell from the Old Trafford faithful in his third season with the Red Devils (Remember Ta Ra Fergie, anyone?)
Not many would have heard about Wilf Mcguiness, the man who succeeded Sir Matt. Mcguiness' season (i.e, the 1969-70 season), is not of much importance to United, historically speaking. The only notable about McGuiness' time in charge was that his stint was so awful that Sir Matt had to resume managerial duties temporarily. But over four decades later, another man has been appointed to take over the reins of the most successful English club, following in the footsteps of another legendary manager. Six games in, and David Moyes seems the Mcguiness replica writ large.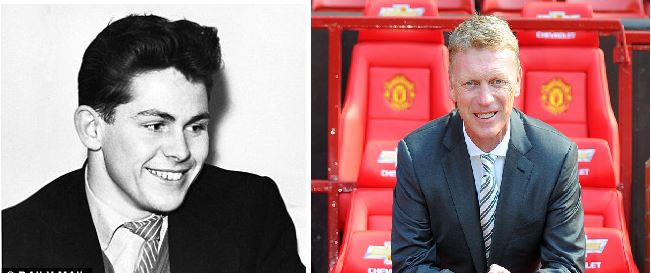 You may ask me 'How dare you say that you ignorant little prick? Moyes is 'The Chosen One', followed by the increasingly annoying '#KeepCalmAndBelieveInMoyes'. But, see for yourself. It seems to be more than just an unhappy co-incidence. The legacy of the predecessor, his overwhelming presence in the boardroom, the expectations of the fans burdening and weighing down upon him instead of empowering him… you see?
We all saw McGuiness buckle under the pressure. Big time. But, what also needs to be taken under consideration is that McGuiness was the 30 year old Reserves Manager under Sir Matt. Moyes, however, was the man every manager in the Premier League except the ones in charge of the Elite Four or Five, looked upto. Running Everton on his relatively measly budget and yet year after year getting them to their customary 7th position. League Managers' Association Manager of the Year for the years of 2003, 2005 and 2009. Moyes is The Chosen One. I blindly hold everything Sir Alex says to be final and unquestionable. If Sir Alex says Moyes is the man to carry forward his great legacy, then Moyes is the man to carry forward his great legacy.
Moyes and Mcguiness might have had similar starts to their league campaigns (Wilf got 6 points out of his first seven) but the comparison is still vague as Moyes looks like he can set the team back onto the right (qualify for Champions League, automatically or otherwise) track. But likening his early blues to what Sir Alex experienced is just… insane.
For starters, Ferguson was appointed in November with Atkinson's team miserably underperforming and got them to 11th and the following season United were runners-up to Liverpool. It was his in his third season (second full season) that he was crumbling under the weight of the United support ganging up on him when Robins scored the famed goal that saved his career.
Moyes, has inherited a squad that seemed to be coasting through the league for most of it. We expect him to deliver. This club needs success to survive. We spend what we earn, and to earn we need to win. We aren't funded by billionaires who own a football club for the fun of it (although we're owned by a leprechaun and his family, which is sad). And when he said United aren't good enough to win the Champions League, he really touched a nerve of some of the more diehard United supporters who've grown up not only following the exploits of the team but inculcating the team's attitude in their own lives.
For though he may have been absolutely right, it hurts every United fan's ego to concede something as uncertain as that as bluntly as he put it. United are known for that swagger, that arrogance, for looking down upon others and jabbing the finger in their faces. Moyes is accustomed to having the odds stacked against him and trying to overcome them. Being favourites, expected to win silverware, this does take him out of his zone a little, and if the pressure keeps mounting, he will most certainly give in to it rather than thrive under it.
United are United. If we were the lot to give up hope, we could have shut shop in 1958, Jimmy Murphy could have found another club, Sir Bobby would be a City legend, and Sir Matt could have retired with the departed souls of his Busby Babes.
Or on that night in May 1999 we could have thrown our hand up and said 'Well, we'll just wait another year' and Sir Alex could have let Ole and Sheringham sit and suffer on the bench.
The most delightful part of being a United fan is that the more you love the club, the more you are made to suffer, you become frustrated, and even fed up of United's self-detonation antics. And then? Well, 2006-2007, 2007-2008(2), 2008-2009.
You can give up on anything and anyone, but never Manchester  United. Glory Glory!