Paul Scholes: A tribute to the Ginger Prince
1.55K //
24 Nov 2012, 18:00 IST
"If he was playing with me, I would have scored so many more." – Pele.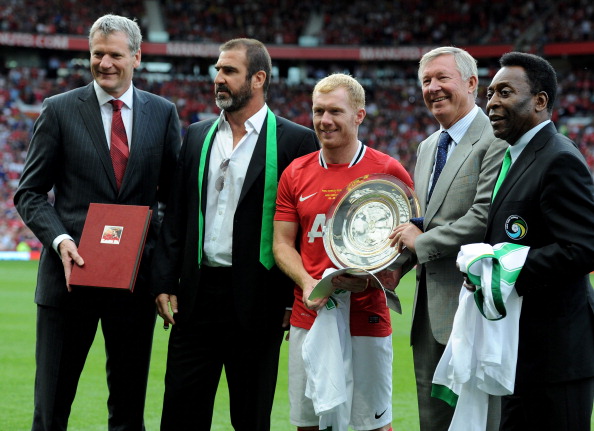 There has been a lot of debate surrounding who is the finest of the Fergie's Fledglings, and although there are many who think David Beckham is a cut above the rest and a few more who think that Ryan Giggs possesses qualities the others never even came close to displaying, I think it simply cannot be anyone apart from Paul Scholes. Gary Neville is inspirational, Ryan Giggs is skillful and David Beckham is flamboyant; but Paul Scholes … is Paul Scholes. Manchester -born, bred and fed, he is nothing short of inspirational, incredibly skillful, and flamboyant in his own way. What? He's the Ginger Prince after all, isn't he?
Paul Scholes was one of those boys at school who are not bad at anything, fantastic at what they do, the ones you just can't hate. Apart from football, Scholes also displayed an eye for cricket. He clearly made the right choice, however, and began training with Manchester United at the age of 14. He had three years with the United youth team, a stint which included an FA Youth Cup Final appearance, in a team that also included future senior team-mate Phil Neville. He ceased to be an apprentice and turned professional on the 23rd of July 1993, and was given the jersey No.24, but he had to wait for a little more than a year to step out on the pitch wearing it. But wear it he did, on the 21st of September 1994, and he did so proudly, scoring both goals in a 2-1 defeat of Port Vale in the League Cup. The trend of giving young players a run-out in the League Cup, started by Ferguson, continues this day, but at United it's hardly fetching the success as it did back in the days.
Paul Scholes meanwhile, was working his way up the United ladder and after his debut, he hardly bothered to look back, and at the end of his first full season with the Red Devils, he had made seventeen league appearances and scored five goals, and the first one at Old Trafford came as the opener in 2-0 home win against Coventry. In the next season, which was his first full season with United, Paul Scholes partnered Andy Cole upfront due to the unfolding of a sequence of events, including the departure of Mark Hughes and the suspension of Eric Cantona. Scholes justified the manager's decision to move him upfront by scoring a total of fourteen goals in all competitions. A decent enough aggregate for a midfielder, even an attack-minded one like Scholes. He played a crucial role in United's second double in the 90s.
Manchester United won the next Premier League too, and Paul Scholes was a key figure in the campaign once again –and he still continues to be one – and was required to drift back to centre midfield following a Roy Keane injury early in the 97-98 season, which ruled him out for the remainder of it. United did not get to witness any major silverware that season, as Arsene Wenger announced his arrival in England. Guess who were to put his Arsenal in their place the following season?
By the beginning of the historic '99 season, Paul Scholes was an established figure and a vital cog of the United machine. The backbone of United's midfield, he was involved in the making of almost every single goal they scored with him on the pitch. Which is saying a lot because United were anything but shy in front of the goal that season. He had also earned more than 15 caps for England and scored seven goals for them before the season got underway, including a hat-trick at Wembley in March against Poland in a Euro Qualifying match.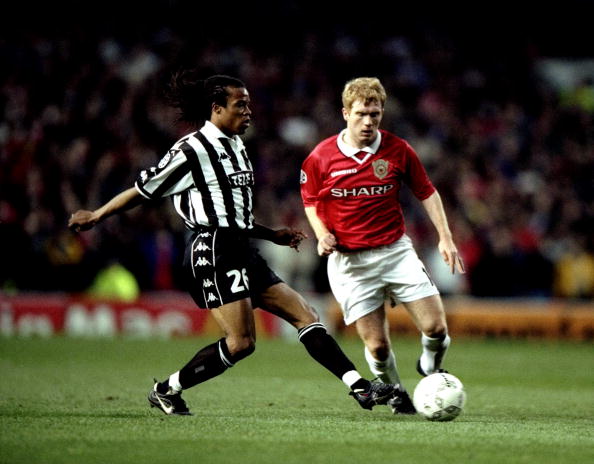 The '99 season was one in which everyone chipped in, and valuable contributions came from all over, not least from Paul Scholes' magical right boot. He was now wearing the No.18 jersey he had picked in the '97 season, which he was to hold onto for a decade and a half. He scored one of the two goals in the FA Cup Final against Newcastle, and an away goal in the Champions League quarters against Inter. His yellow card in the second leg of the semi-finals against Juventus meant that he would be suspended for the next European game – which happened to be United's momentous date with Bayern Munich.
His form dipped considerably for the next few years due to his inability to adapt to the system Ferguson adopted to accommodate new signings such as Van Nistelrooy and Juan Sebastian Veron. Scholes outlived both at Old Trafford and returned to his best, bagging a career-best tally of twenty goals in the 2002/03 season. He was ruled out of about half the 2005/06 season due to blurred vision. He played the last game of the season, although reports suggested he hadn't still completely recovered his vision. United too missed Scholes' vision as they failed to qualify for the knockout stages of the Champions League.
United won their ninth league title under Ferguson in 06/07, a season in which Paul Scholes, now 33, made 45 appearances, proving his fitness as well as his burning desire to continue in the top level. He was shortlisted for a place in the English Football Hall of Fame, although eventually the honour went to Arsenal's Bergkamp. During the 07/08 season, he sustained a knee injury in October and returned only in January the following year. Scholes scored only twice that entire season, and one of those two goals came in the form of a thrilling drive at Old Trafford against Barcelona in April to seal a superb tactical victory for Ferguson and Carlos Queiroz in the semi-finals of the Champions League, after they held Barca to a goalless draw at the Nou Camp.
In the final, though, Scholes did not look completely match fit and also received a yellow card and was ultimately substituted in the 87th minute, which meant that he did not take part in the penalty shootouts which United won 6-5 to take their third European Cup – Scholes' second.
"A role model, for me, and I really mean this, he's the best central midfielder I've seen in the last 15, 20 years. He's spectacular, he has it all, the last pass, goals, he's strong, he doesn't lose the ball, vision. Players love him. If he'd been Spanish he might have been rated more highly. "  – Xavi
Apart from that last line, which was completely unnecessary and delusional to an extent, Xavi couldn't have got his analysis of the Ginger Prince any more accurate. A role model to Xavi, is a role model to all. Scholes was inducted into the English Football Hall of Fame in September 2008 and made his 600th appearance for United in April 2009. Although United lost the Champions League to a Barca team that looked near-unplayable that evening, Scholes and United earned another Premier League and went just one short off Liverpool's 18 titles. Scholes scored only three goals, but for a 35-year-old midfielder, 35 appearances in all competitions seemed impressive. It seemed even more so the next season when he made 38 appearances as United were unsuccessful in all competitions save the League Cup. The 2010/11 season was Scholes' swansong year with the club (as we thought back then) and he was gifted a Premier League medal and a 6-0 win over the NY Cosmos in his testimonial match.
With Manchester United hardly looking like three time European champions and the defending English Champions, and nearly half the squad either on hospital beds or walking wounded on the pitch, Ferguson was compelled to bring back Scholes out of retirement and back to the team. It worked with almost immediate effect. I say almost, because Scholes looked more than a tad out of touch in his first game – An FA Cup 3rd round match against City. From then on though, Scholes looked more like being in his elements than he had looked for the past three years. United stormed into an 8 point lead at the top. Defensive lapses cost them the title, but Scholes once again received a barrage of bravados from all corners.
His return to football was marked with the familiar –and even predictable, to an extent –reckless tackling that some United fans called passion and took it as another reason to put up more of his posters on his wall, and the rest of the entire world criticized and claimed was a hindrance to the making of one of 'The Gods' of football:
"For me he was not a fair player. There's a little bit of a darker side in him, sometimes, that I did not like. I respect him highly as a quality player but I did not like some things he did on the football pitch". – Arsene Wenger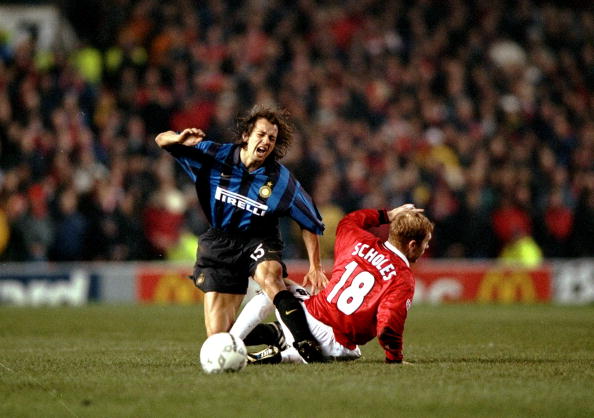 Now although I really don't take all of Wenger's opinions seriously, this one has more than a fair bit of meaning and truth in it. Paul Scholes did always look like he had that dark side in him, and it has more than once ruined his or United's match. Over 120 bookings in his entire career, and the dubious distinction of being the third most booked player in the Premier League, is a black spot on one of football's most distinguished careers. Although the criticism has never exceeded a certain degree, which owes mostly to his other deeds on the pitch, there has been a visible level of malicious intent in his tackles on occasions, like the high foul on Zabaleta in the FA Cup semi final against City in 2011.
But then, if Zinedine Zidane can headbutt an opponent and still command the levels of the respect that he –deservedly – does, then Paul Scholes must be forgiven for his poor tackling, as he himself criticizes his inept skills at it, and more emphasis must be laid on his pin-point passing skills, and he has become to accurate passing what Bruce Lee was to Kung Fu. He has achieved almost complete mastery over the art of it. Cristiano Ronaldo would be happy to acknowledge this:
"When we were in training, I used to do a lot of tricks which hardly any players at the club could do. Once I was showing my skills to Scholes. After I finished it, Scholes took the ball and pointed to a tree which was about 50m from where we were standing. He said, I'm going to hit it in one shot. He kicked and hit the tree. He asked me to do the same; I kicked about 10 times, but still couldn't hit it, with that accuracy. He smiled and left."
So there it is, Paul Scholes –William Wallace on the pitch, Da Vinci with the ball at his feet, and off the pitch? He's Paul Scholes the family man.
"I'm star-struck when I see Paul Scholes because on the pitch you can't catch him. Off the pitch he disappears." – Luis Figo
 He's the Ginger Prince, and he scores goals galore.