Pique back for Barca's Mallorca trip
796 //
10 Nov 2012, 18:44 IST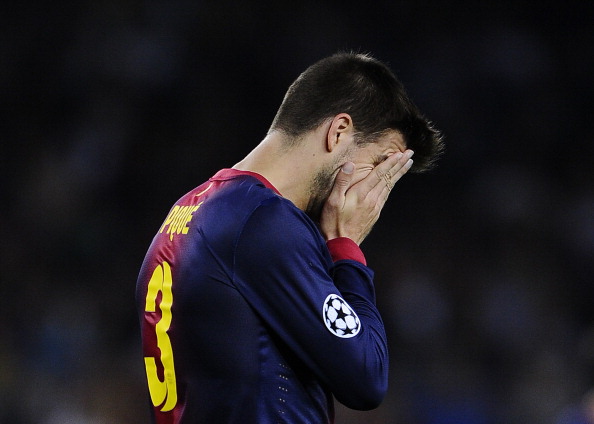 Madrid - Central defender Gerard Pique looks likely to make his return to the starting lineup as Barcelona make the short flight to Mallorca Sunday.
Barca travel after suffering a shock defeat to Glasgow Celtic in the Champions League in a match where they controlled around 90 percent of the ball, but were unable to break down a brave and well-organised defence, reports Xinhua.
Celtic's opening goal, a header from a corner, once again highlighted that Barca can be vulnerable when defending set pieces and Pique's return will add some much needed height into the back line, where Adriano is out with a muscle injury.
Club captain Carles Puyol has also returned to full training ahead of the Mallorca game, but the central defender, who damaged his elbow Oct 2, is unlikely to start in Mallorca.
Sergio Busquets will return to the starting 11, however, the midfielder was suspended for the Celtic match and will be fresher than his companions. Busquets will partner, Andres Iniesta, Cesc Fabregas and probably Xavi Hernandez in the Barca midfield, although Cesc will have a free reign to push forward into the attack, where David Villa is likely to kick off the match alongside Lionel Messi.
Images of Villa and Messi arguing at a moment in the Celtic game have again raised questions over the relationship between the pair, given that it is the second short argument they have been filmed having this season. However, the most likely explanation, and certainly the one used by the club, is that it was nothing more than a brief discussion in a moment of tension in the game.
Mallorca have struggled with injuries in defence this season and are missing several defensive players. Those weaknesses have seen them drop down the table following a positive start to the campaign and recent results include a 5-0 home defeat to Real Madrid, which Mallorca coach, Joaquin Caparros described as the worst in his year at the club.
Caparros will not allow such a weak display again, but the question is whether his side will have what is needed to deny the leaders of the Spanish Primera Liga.