Player Focus: Flying full-backs key to releasing France potential
987 //
15 Oct 2013, 17:00 IST

A topsy-turvy World Cup qualification group campaign comes to an end for France this week, against Finland at the Stade de France. Even if the achievement of a play-off place is as much as could have been expected at the start of a group shared with world and European champions Spain, it hasn't been anywhere near plain sailing.
We've had the usual hand-wringing over player attitudes and commitment, as well as genuine sporting questions over the identity of Didier Deschamps' side, and whether they had one. The central pillar of this miserable experience was the national record 526-minute goal drought, stretching from Franck Ribéry's goal in the 3-1 World Cup qualifying win over Georgia in Paris to the Bayern Munich wide man's successful penalty against Belarus in Minsk, in September – almost six months later.
So even with the question of whether France will reach Brazil still up in the air, it was something of a surprise to see Les Bleus demolish Australia with such giddy abandon. The 6-0 win at the Parc des Princes made it 10 goals in a game-and-a-half, and even saw Karim Benzema break an interminable goalless sequence that had lasted 1,222 minutes of playing time.
In fact, there has been such focus on Benzema's spell in purgatory and his assumed incompatibility with Olivier Giroud that it had seemingly not been considered that there might be other factors in France's lack of penetration. The Australia result and performance must be put into perspective – given that it was a friendly match, against opposition that performed feebly on the night – but perhaps its most encouraging feature was the efforts of full-backs Mathieu Debuchy and Patrice Evra in contributing to the side's attacking movement.
"It's something we've worked on in training," Eric Abidal said after the game. "The coach said that he wanted to see the full-backs very high up. That started to bear fruit here."
It's clearly something that's been in Deschamps' plans for a while. In that qualifier in Minsk, the average player positions from the WhoScored match report below shows Gaël Clichy (5) well advanced, up level with Blaise Matuidi in midfield and Bacary Sagna (15) even further forward on the right, just behind the front four of Ribéry, Giroud, Mathieu Valbuena and Dimitri Payet.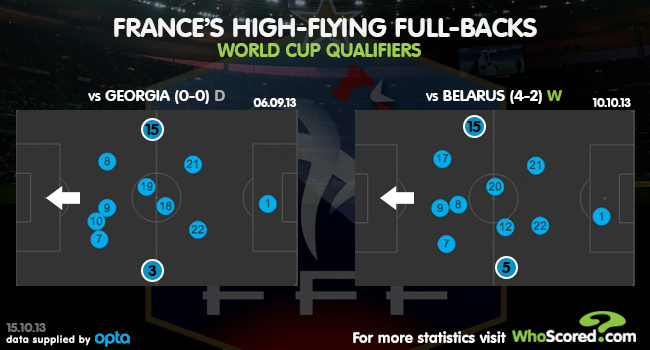 This had carried on a theme from the match in Georgia four days before, when Sagna and Evra (3) both took up average positions ahead of the halfway line. The Arsenal man contributed 3 key passes and his Manchester United counterpart made 2, just behind Ribéry, Valbuena and Samir Nasri. Unfortunately for France, only 5 of 22 attempts on goal were on target in another frustrating night.
The problem for Deschamps in encouraging use of wide areas – as has been the case with many other players who, in a different time, might be considered key for France – has been a lack of consistent form in the candidates, stymying the possibility of making this a key feature of France's play. Sagna was troubled by injury for much of last season and has spent much of this filling in at centre-back. Clichy notably endured a rough evening in Manchester City's chastening Champions League defeat at home to Bayern – when his error led to Thomas Müller's killer second goal for the German champions.
These difficulties appear to have given Debuchy and Evra chances to start again. After Newcastle played the long game to capture Debuchy from Lille, he initially struggled to reach his best level in the opening stanza of his Premier League career last season, with only 69.3% of his passes successful, although he won 3.6 aerial duels per game. This season, he is Newcastle's top performer among those with at least 5 Premier League appearances (average WhoScored rating of 7.38), has upped his pass accuracy to 75.3%, is winning 3.9 aerial duels per match and has already made one assist.
By the same 5-game-minimum criteria, Evra has been Manchester United's joint outstanding performer in the Premier League so far, sharing a 7.32 WhoScored rating with Wayne Rooney. This is a logical progression from last campaign, when Evra was second only to Robin van Persie among players who made at least 20 Premier League appearances. In 34 games, Evra scored 4 times, made 5 assists and successfully completed 87.1% of his passes.
Evra is a footballing Lazarus, certainly at international level, having been so tarnished as captain of the disastrous 2010 World Cup finals campaign. In recent times, he has been most lauded as the non-playing catalyst for France's comeback from a half-time deficit in Belarus, with a rousing interval speech to rally the troops.
From a playing perspective, Deschamps' desire for an extra attacking dimension is set to give Evra a ninth life for his France career. He is the ideal candidate to contribute, having started his professional career as a left-winger at Monza as a teenager and retained every bit of that attacking instinct. If anything, he has contributed more in an attacking sense in recent seasons, having made 9 Premier League assists in his last two full campaigns.
Inevitably, he was involved against Australia on Friday night. While Debuchy made the headlines with a tremendous left-foot volley from the edge of the area for the fifth goal, it had been Evra's half-cleared cross that began the danger.
Deschamps is at pains to point out that releasing the full-backs "requires a certain amount of complementarity with your midfielders", but going into his thirties, Evra has the perfect cover in the indefatigable Blaise Matuidi, who has also filled in at left-back for Paris Saint-Germain and his old club Saint Etienne. Maybe France have finally hit upon a way to entertain – and to enjoy themselves.