Player Focus: Honda reaping the benefits of his patience at Milan
2.47K //
18 Oct 2014, 23:48 IST
Casa Milan played host to a group of special guests this week. They were Japanese business leaders touring Europe to learn about the diversity management practiced by some of the continent's best companies and most recognisable brands. The hope, expressed by the club, is that some will go home and consider a sponsorship. Fujitsu and another Japanese multinational have already agreed partnerships with Milan in the last year.
Call it the Keisuke Honda effect. When he signed on a free transfer from CSKA Moscow back in the spring, comparisons were inevitably made with Perugia's purchase of Hidetoshi Nakata in 1998. David Beckham's loans to Milan also came to mind. Gifted on the pitch, a significant part of the attraction in each of their cases was statuses as marketing phenomenon off it. Within a matter of hours of them going on sale, 50k Honda shirts were sold. That he had been given one of the most prestigious No.10 jerseys in the history of the game only added to its appeal.
Sassuolo fielded 200 accreditation requests ahead of his anticipated debut. Honda had a story that sold itself. Milan were in no need of Don Draper. One day at school in 1999, his teacher had given class an exercise. The pupils were to write down what they would each like to be when they grew up. Honda, even at 12, had a very clear picture.
"When I'm older," he wrote, "I want to be the best footballer in the world. No, I will become the best." His ambition was specific. "I will become famous because I will play at the World Cup and be signed by a club in Serie A. I will become a starter and play with the No.10 shirt."
He had dared to dream the impossible dream and it had come true. Only the beginning of Honda's Milan career turned into something of a nightmare. The club was in turmoil. A 4-2 defeat to Sassuolo brought the dismissal of Massimiliano Allegri. His assistant Mauro Tassotti was placed in charge for the Coppa Italia tie with La Spezia. Then came the appointment of Clarence Seedorf. He had three different coaches in the space of a week. "I am only at 50%," Honda revealed, "I want to give more but my adaptation won't be easy if we carry on changing coaches."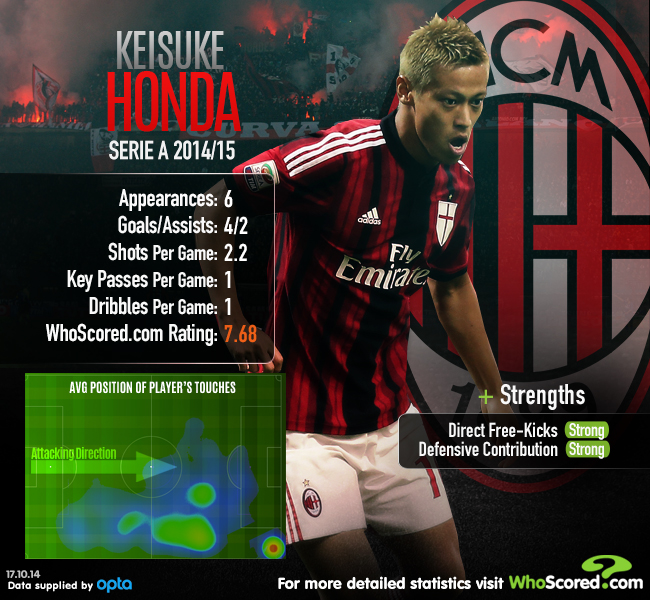 He was also played out-wide and out of position. "I had already played in this role in Moscow and for the national team," Honda told La Repubblica. "But I'll tell you the truth. I felt ill at ease the first time on the right with Milan. In fact, I often spoke about it with Seedorf and he explained that in his opinion I have the qualities for it. So little by little I am adapting. Sure, the position as a trequartista behind the strikers is my home, but there's Kaka there and he is playing well. And a footballer has to do everything he can for the team. We have to adapt."
Honda seemed to be struggling, though. In a 4-2-3-1, he didn't have a midfielder behind acting as a safety net and had to cover more ground than he was used to. It meant that when he did get on the ball in the final third he lacked the lucidity and presence of mind to do his best work. His most memorable moment was missing a sitter against Chievo. The season ended with Milan failing to qualify for Europe for the first time since he was a boy at school aspiring to follow in Nakata's footsteps. Seedorf also got the sack and was replaced by Pippo Inzaghi, who received a promotion from his job as coach of the senior youth team.
Not everyone believed Honda would be in his plans. Some had written him off already. But Super Pippo liked what he saw from the Japan international. His selection criteria is guided, above all, by one thing: a player's professionalism. When Milan signed Fernando Torres this summer, Inzaghi made a lot out of Jose Mourinho's character references. The striker was always first to training in Cobham and for Inzaghi that sealed the deal.
His mantra this season has also been that if his team lose this season, it'll be because their opponent played better, not because they gave more as his Milan will give everything. Show dedication, sacrifice and work hard and you'll impress Inzaghi. That is what Honda has done. "He is an extraordinary professional," Inzaghi said. "He always gets to training two hours before it starts and has the attitude I like."
More familiar with the league and its style of football, Honda now gives the impression of having adjusted. Kaka and Mario Balotelli's departures have helped. Though still out-wide, there are more opportunities for him to take up spaces in the centre. The free-kick and corner-taking duties are now his own and more time on the ball has contributed to Honda feeling more involved and more confident. Goalless in his first four months at Milan, he got off the mark in their season opener against Lazio and is the top scorer of the league's joint best attack with 4 in 6 games.
"These free transfers are really rubbish," Milan chief executive Adriano Galliani commented with irony. "They're without technique and can't play football." The variation to Honda's goals has also been encouraging. His icebreaker against Lazio was on the counter and with his right. He scored a header away at Parma and struck the bar with one against Juventus. A leftie from outside the area found the net in Empoli while he justified winning an argument with Jeremy Menez about who should take a free-kick against Chievo by firing it home.
Honda also has a couple of assists, one from open play for Giacomo Bonaventura in Parma and another from a corner for Adil Rami's equaliser in Cesena. Of players who have featured for more than 400 minutes so far this season in Serie A, only Carlos Tevez, Menez, Paul Pogba and Lorenzo Tonelli have higher average performance ratings than Honda [7.66]. His effectiveness stands out. At 30.8%, Honda's conversion rate is also the third best in Serie A of players with more than 2 goals behind Albin Ekdal [37.5%], a stat inflated by that performance against Inter, and of course Antonio Di Natale [33.3%]. He is averaging 23 accurate passes per chance created, which is on the lower side but perhaps reflects that rather than play as a No.10 is expected to do, he is a surprise finisher rather than starter of goalscoring actions.
After a false start at Milan, Honda is now gathering speed. Asked for a word in Japanese that sums up his experience so far, he said: "Gaman. It's a word I like a lot. It means patience. We Japanese, are very patient." It's a virtue alright. Honda coming good has been worth the wait.
Published with permission from WhoScored.