A look at Memphis Depay's performances for PSV Eindhoven this season
1.47K //
10 Feb 2015, 05:48 IST
When last year's 40-man shortlist for Tuttosport's prestigious 'Golden Boy' award – bestowed to a footballer playing in Europe under the age of 21, perceived to have been the most impressive over the calendar year – was announced there was a newsworthy omission.
Before this season he was recognised, at home and across the continent, as someone with unspeakable potential. Today he's in the midst of what is shaping up to be a stellar and historic campaign. I am of course talking about Memphis Depay. Without saying he should have won, Depay was certainly deserving of acknowledgment, especially as 2014 was a very good year for the Dutchman.

His continuing rise has been compelling. To put it into perspective only club legend Willy van der Kuijlen and the great Ronaldo have produced more goals for PSV before their 21st birthday. In the ever-youthful Dutch top-flight only a few prospects reach leadership status. Memphis, through sheer willpower, has ascended the throne at PSV, foreseeable after last season.
Forever remembered as Memphis' breakthrough campaign, featuring in all but two league games, scoring 12 goals and creating 7 - consequently finishing as the highest rated PSV player according to WhoScored.com – he was unlucky not to be named 'Dutch Football Talent of the Year', losing out to compatriot Davy Klaassen.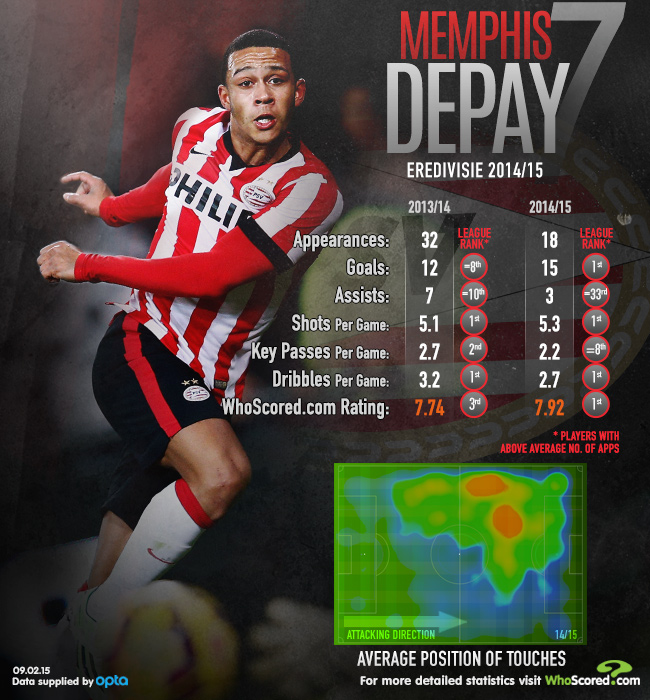 At full-flight, Memphis radiates the aura of a seasoned professional – superb off the ball movement, knowing when to play the right pass or keep hold of possession – demonstrating not only age is but a number but in this instance the wherewithal to become truly special. It's well documented that not every talent becomes a star but the Moordrecht native is doing everything in his power to fulfil his potential.
When making his senior debut in 2011 (five years after joining PSV's academy from Sparta Rotterdam) we caught glimpses of his explosive power, but like an explosion it all vanished with the moment, it couldn't be controlled until now. An example of his self-awareness and maturity, Memphis – who in the past was notorious for his selfishness getting the best of him – knew he'd reached a crossroads, no longer able to cling to the identity of someone on the rise, it was now or never.
Fortunately for his supporters, and evident over the last few months, he's found the right balance, becoming more consistent. The role of his manager cannot be underestimated. Phillip Cocu has utilised him in the same manner Guus Hiddink did with a young Arjen Robben, notably encouraging his individuality – cutting inside where he can showcase his attacking as well as playmaking attributes – as he's one of the few that can generate something out of nothing.
To say he's evolved into the fulcrum of this PSV side (so far directly involved in 31% of their league goals – 15 goals and 3 assists) is an understatement. It's the aforementioned Bayern Munich forward many hope Memphis will emulate, particularly when it comes to mapping out his future. Earlier this season, citing he's not outgrown the Eredivisie, he signed a contract extension until 2018. On the back of announcing himself to a worldwide audience last summer in Brazil, scoring twice in four games (five behind Johnny Rep's record for the most World Cup goals by a Dutchman), his stock has never been so high.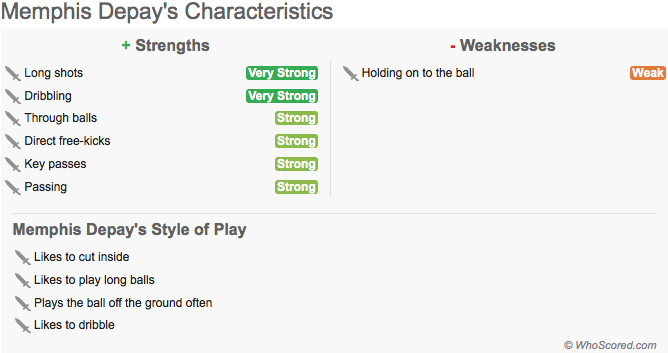 One comparison with Robben is how both, offering so much to their respective clubs and exciting the paying customers, are recognised by their fellow teammates as match-winners. PSV, across all competitions in 2014-15, haven't lost a game in which he's scored (14 wins and two draws).
From an aesthetic standpoint Memphis, who learned his trade on the streets of Rotterdam, meshes the classic and contemporary. He's a real mercurial winger. His ambidexterity, guile and electric pace – subsequently completing the second most dribbles in the Eredivisie (50) this season – have made him a defender's nightmare.
Accusations of being a one-trick pony fall on deaf ears when he's producing the numbers. Defending from the front (0.8 tackles and 0.4 interceptions per game), illustrating the unity of this PSV side, his telepathic relationship with left-back Jetro Willems has been the cornerstone behind their offensive verve. In terms of creativity he's averaged 2.2 key passes per game, whilst no player has attempted more shots. His return of 15 goals, surpassing last year's tally with 12 games to spare, places him first in the golden boot race.
Even though he exudes positive arrogance there's a wise head on young shoulders. He's dead serious about his craft and tirelessly works on self-improvement – his attitude in that respect is not dissimilar to role model Cristiano Ronaldo. For example his crossing (0.9 per game) could be considered a weakness but it can become the opposite with a minor technical tweak. Instead of drilling low and hard into the box he should instinctively opt for a high cross.
Fundamentally only Memphis will prevent himself from becoming the well-rounded, dynamic forward many envisage. "Hopefully he can have the same career as Ronaldo," former youth team coach Mart van Duren recently told FOX Sports. "That is dependent on the choices he makes."
A move away from the Netherlands is inevitable, however remaining for another year or two won't do him any harm. For those who care about Oranje the hope is he chooses wisely – looking ahead to the next decade, everything's in place for him to be one of the pillars of the international side (already having won 13 caps). Many of his contemporaries since the turn of this century have chosen ill advisedly and paid the price by fading into obscurity.
There's no question Memphis is ticking all the right boxes on the pitch. So far he is the highest rated Eredivisie player on WhoScored.com (7.92), and favourite to succeed Daley Blind as 'Footballer of the Year'. He won't be eligible for this year's 'Golden Boy', given that he turns 21 on Friday, but maybe one day, following in Robben's footsteps, his name will graduate to the Ballon d'Or 23-man shortlist.