Player Ratings: Arsenal vs West Bromwich Albion
1.82K //
08 Dec 2012, 23:31 IST
Arsenal ended a poor run of games and recorded their first league win in four matches, thanks largely to some debatable decisions by the referee, Mike Jones. It is a win that brings temporary respite from their own fans for the Gunners, while West Brom have now lost three on the run. Here's how the players fared.
Man of the match – Mikel Arteta
Arsenal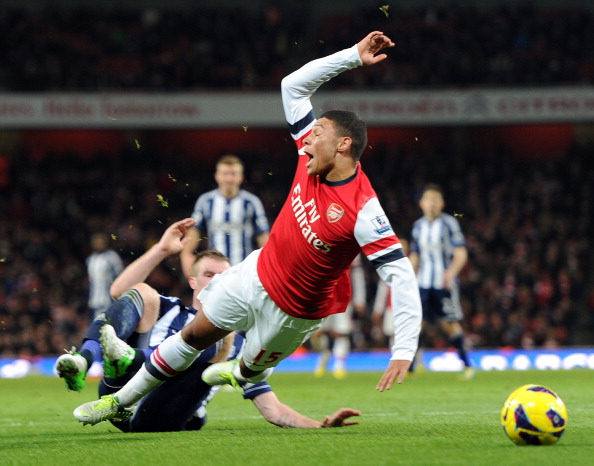 Wojciech Szczesny– 6
Was a spectator for most of the match. Only called into action once, late in the game, and did well to stop a long range effort from Rosenberg.
Bacary Sagna – 6.5
Did well in a game that he was expected to miss. Managed to keep Brunt quiet for most of the game, never letting him get past on the outside, and found Chamberlain with some good balls forward.
Per Mertesacker – 6
Just like Szczesny, had very little to do. Was not nearly as mobile as Shane Long, but didn't face any trouble from the flat attack.
Thomas Vermaelen – 6.5
Had enough time to play as cover for Kieran Gibbs, with West Brom playing only one up front. Went out well to meet and stop Gera, and then Lukaku from getting any good balls into the box.
Kieran Gibbs – 6
Ventured forward often to provide support to Gervinho, but got caught out a couple of times in the process. Needs to show more of his defensive side, as he did when keeping Odemwingie in check.
Mikel Arteta – 7.5
Sat well in midfield and dictated the direction of play. Did not get forward as much as usual, but took both penalties well, especially keeping in mind his late miss against Fulham last month.
Jack Wilshere – 7
Was active on the pitch, and made plenty of driving runs from midfield. Helped create the space for other creative players, and fed a few through balls himself. Should have been on the scoresheet, but managed to put the ball wide while sliding in.
Gervinho – 7
Put in a performance that is now more or less expected of him now, where he created plenty of opportunities for himself, but failed to manufacture the final product, whether it be a telling cross or a goal. Kicked the air when he had a golden chance to score his team's second goal.
Oxlade-Chamberlain – 7
Got in behind Popov on numerous occasions. May have fouled the full back in the buildup to the second goal, but had the presence of mind to play to the whistle, and earned his team's second penalty.
Santiago Cazorla – 7
Earned a fraudulent penalty for Arsenal's first goal, but had more creative contributions that got lesser reward. Not the best day at the office in terms of shooting, but played well with the ball at his feet.
Olivier Giroud – 6
Occupied the defenders well, allowing players behind him to get forward, but did little to get in scoring positions. Seemed unaware of what to do when the ball arrived at his feet instead of his head.
Substitutes:
Francis Coquelin (Chamberlain 78′) – 5.5
Played more defensively than Chamberlain, and allowed Popov some breathing space.
Thomas Rosicky (Gervinho 81′) – 5.5
Had little of the ball, and helped his team out defensively as West Brom tried to get back into the match.
Lukas Podolski (Cazorla 87′) – 5
Should have been on the scorers' list, but managed a glaring miss, by scooping the ball over the goal.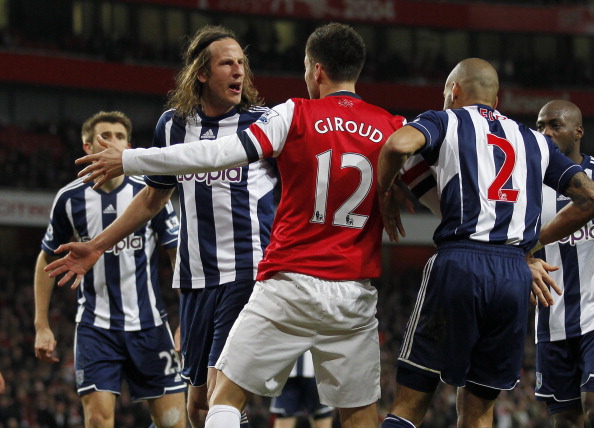 Boaz Myhill – 5
Took extremely long to take his goal kicks in the first half, leading to sarcastic applause from the crowd when he hurried to take them in the second. Was beaten straight down the middle on both penalties by Arteta.
Steven Reid – 5.5
Unfortunate to have been at the receiving end of the referee's decision to award Cazorla the penalty. Did reasonably well to stop Gervinho getting behind him on the outside, but allowed Gervinho to run in-field easily.
Gareth McAuley – 5.5
Made good use of his height to deny Giroud and Mertesacker from getting into the game on set pieces. Could also have scored himsefl early in the second half, but headed wide.
Jonas Olsson – 5
Did well to stop the Arsenal attack, but almost always gave possession straight back to them. Was often combative, leading to little productive contribution on the pitch.
Liam Ridgewell – N/A
Has been one of the better defenders this season. Unfortunately sustained a strain was replaced in the 7th minute, rounding off a woeful week for the defender.
Youssuf Mulumbu – 6
Did his best to deny Cazorla and Wilshere the space in midfield, but could't manage to stop them on all occasions. Also made a vital clearance to deny Cazorla a tap-in.
James Morrison – 5.5
Got into several good positions, especially in the second half. Needed to do much more as a midfielder though, seeing his strikers starved of service.
Chris Brunt - 4.5
A forgettable day for the club captain, as he not only failed to get past the opposition defence, but also dove in rashly on Chamberlain to concede the second penalty. Had a good attempt in the first half, but failed to get it on target.
Zoltan Gera – 5
Yet another West Brom attacker who failed to get into the game. Was ineffective both when playing wide as well as drifting infield. Was replaced by Rosenberg, who did not fare much better.
Peter Odemwingie – 5
Completely invisible in the first half. Slightly more influential in the second, but nowhere near what his team needed of him. Seems to enjoy playing up front much more than behind the striker.
Shane Long – 5.5
Ran the channels well, but received little to no service from the midfield. Grew increasingly frustrated and began to drop deeper and deeper, finally committing a foul while tracking back that got him a yellow.
Substitutes
Goran Popov (Ridgewell 7′) – 5
Had a poor game, allowing Chamberlain to get past him easily on many occasions. Was unfortunate to have not received the foul in the lead up to the second penalty.
Romelu Lukaku (Odemwingie 62′) – 5.5
Did reasonably well with the meagre possession he had. West Brom had more of a presence in the Arsenal half after his arrival, but couldn't make an impression of any sort on the scoreline.
Markus Rosenberg (Gera 76′) – 4.5
Very poor outing for the Swedish striker, as he first made a terrible dive in the Arsenal box, and then was caught offside twice bringing a premature end to promising attacks.