Player Ratings: Barcelona 4 - 0 AC Milan
2.21K //
13 Mar 2013, 18:11 IST
It was a mesmerising performance from Barcelona as they thrashed Italian giants A.C Milan 4-0 (4-2 on aggregate) to book a spot in the last eight of the Champions League 2013. It was said Barca's performance had been under par since the last 2 weeks, but the Spanish Kings proved all the critics wrong. Here are the match ratings:
1) Victor Valdes – Rating – 7/10
The Spanish goalkeeper had nothing to do throughout the match but made a couple of good saves. Kept a clean sheet.
2) Dani Alves  - Rating – 8/10
The right-back was consistent as he charged through the right flank, exchanging one-two passes with Busquets and gave in fine crosses into the box. Did a good job of marking El Shaarawy.
3) Pique – Rating  - 8.5/10
The centerback was solid as a rock and made clean tackles without earning a booking. Made a crucial challenge and clearance from a Boateng cross.
4) Mascherano -Rating – 7.5/10
He was successful in subduing Niang and Prince and timed his challenges precisely. Won ball possession for Barcelona on a number of occasions. The Argentine made a mistake which gave the Italians a chance to strike when Niang's shot crashed into the post.
5) Jordi Alba – Rating – 8.5/10
Played defensively well, attacked through the left flank and rampaged forward  after playing superb one-two passes with team-mate Iniesta. Made a wonderful challenge to stop Robinho scoring from point blank range and paced forward to grab a late goal for Barca which sealed a sure win for the Catalans.
6) Xavi – Rating – 8.5/10
Played to his potential and excelled in maintaining ball possession till the final whistle. Made two great assists, one for Messi and the other one for Villa.
7) Busquets – Rating – 7.5/10
Was tactically astute, read the movements of Milan players comfortably and stopped Milan's counter attacks. Showed composure and class.
8) Iniesta – Rating – 8/10
Pressurised the Milan defence and played the midfielder role with ease. He set up Messi's second goal and came close with a  stunning half-volley that  Abbiati pushed away.
9) Pedro – Rating – 6.5/10
Made good movements off the ball but lacked finishing accuracy. Compared to his illustrious team mates, his performance was somewhat below par.
10) Messi -Rating – 9/10
The Argentine sensation scored two first half goals and utilised his potential and chances to the maximum. Didn't let the team down. Man of the match.
11) David Villa – Rating – 8.5/10
His movements created space for Messi and Pedro. One fine pass from Xavi gave him the space he needed to curl a shot past Abbiati into the net.
Substitutes
Puyol – Rating – 7/10
Played the last 10 minutes comfortably after coming on for Mascherano.
Sanchez – Rating – 7/10
Had his first shot on goal ruled offside, but gave a wonderful assist for the Jordi Alba goal.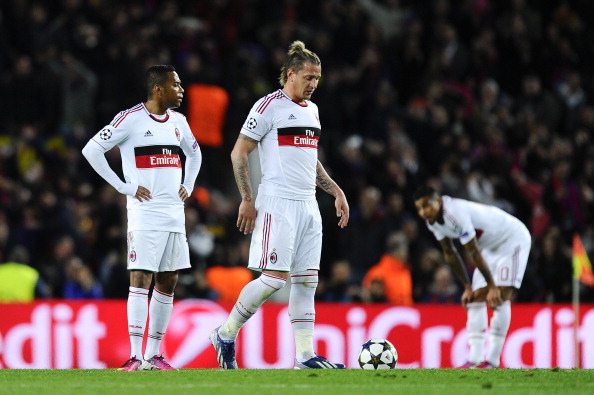 1) Abbiati – Rating – 5.5/10
Could do nothing about either of Messi's goals, but made 2 great saves from  Iniesta and Xavi.
2) Philippe Mexes – Rating – 4.5/10
Was no match for Lionel Messi's pace and couldn't shut him down.
3) Cristian Zapata – Rating – 5/10
He started off well, but once Barca were counter attacking, he looked tired and incompetent at times.
4) Ignazio Abate – Rating – 6/10
Very lucky not to be booked and escaped a strong penalty shout for tripping Pedro. Though he moved forward well, his team mates were unable to utilise his pace.
5) Kevin-Prince Boateng – Rating – 4/10
The Ghanian was not at all a threat for the Catalans and was ineffective. Lacked pace, strength and gave away the ball a lot of times.
6) Mathieu Flamini – Rating – 6/10
The Frenchman was truly uninspiring as Barca proved to be too good for him in midfield. Was left chasing shadows during his time on the pitch.
7) Montolivo – Rating – 5/10
He was the main man for Milan during their counterattacks, but his passes were not accurate  and lost possession frequently.
8) Constant – Rating – 5.5/10
Did not appear mentally and physically prepared for the game and failed to mark Villa which gave him  all the time he required to slot home the third goal.
9) Ambrosini – Rating – 6/10
Put a lot of effort in midfield,but couldn't cope up with the pace of  Barca and at times gave away possession.
10) Niang – Rating – 4/10
The striker was often stopped by Pique and Jordi Alba and failed to produce an individual effort, although he had a chance which struck the post.
11) El Shaarawy – Rating – 5/10
In the absence of Pazzini, he was the main man for Milan, but he lacked finishing and hit two low strikes which lacked force.
Substitutes
Sulley Muntari – Rating – 4/10
Did not really add much to the team after coming on during the second half.
Robinho – Rating – 7/10
Had a golden chance to score a goal but Jordi Alba overpowered him.
Bojan Krkic – Rating – 6/10
The former Barca player put in a really good cross for Robinho from the left corner but other than that did little of note.