POLL: Are FC Barcelona favourites to win the Champions League?
2.13K //
29 Dec 2012, 11:05 IST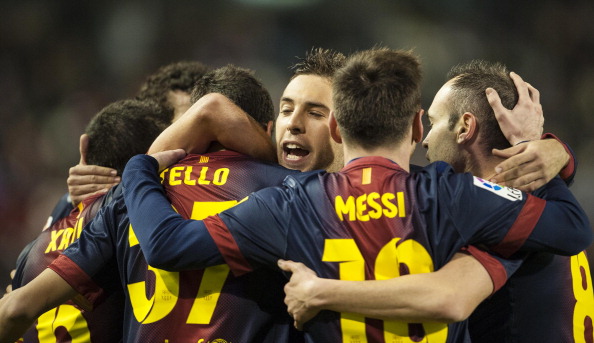 With the win in nearly every La Liga match, Barcelona seem to be very confident about their form, and this may prove healthy for them as they have progressed to the Round of 16 in the UEFA Champions League. They seem to have a difficult start to this season with the loss of the Spanish Super Cup to their arch rivals Real Madrid, but they seem to have learned a lot from that and built themselves strong after the departure of their most successful coach Josep Guardiola.
Barcelona's ace striker Lionel Messi is in great form, already scoring 26 goals in the league and has broken Gerd Mueller's record of 85 goals in a calendar year, taking his tally to 91 and has 35 goals in all competitions this season. His teammates and Barcelona's backbone Xavi and Iniesta are also on a roll. Iniesta has also been nominated for the prestigious Ballon d'Or along with Messi and Real Madrid striker Cristiano Ronaldo. Iniesta is scoring goals and providing many assists, whereas Cesc Fabregas and new signing Jordi Alba are also doing great.
Looking at Barcelona's form in the Champions League, they have managed to secure 13 points in the group stage. A draw with Portugal's Benfica and a defeat to Scottish club Celtic was due to the absence of their defensive backbone, Puyol. The defensive midfielders had to do the job of the defenders then. Now that the defense line is complete, we see comfortable wins again.
While other teams have lost at least one game in their respective leagues, the Catalan giants remain unbeaten in La Liga so far. This season also sees the best start of a La Liga campaign so far, by any team. Barcelona are able to make it happen.
But still there is a long way to go, because this fact can't be denied that there are the top clubs fighting in the Champions League. Teams like Manchester United, Real Madrid, Bayern Munich, Milan don't give up easily, especially when they too hold too many records and have some awesome history and fierce rivalry.
Well, it'll be best to wait till February for the first leg of the Round of 16 to happen, that will clear a lot about the future of the club in the 2012-13 UEFA Champions League.