Portland Timbers 3-1 Philadelphia Union: Second half comeback earns Timbers a deserved three points
678 //
13 Mar 2012, 22:11 IST
Team News & Setup
Similar to last season, manager John Spencer played his 4-4-2. Portland brought in Kris Boyd as a designated player to pair better with the style of Spencer than Kenny Cooper, who preferred to drift wide and play on the ground. Boyd arrives as the SPL's all-time leading scorer. Diego Chara and Jack Jewsbury are the two engines in the center. In defense, the rookie from Uconn Andrew Jean-Baptiste started in the center alongside Brunner. Futty Danso, a 2011 mainstay and new signing Hanyer Mosquera were out with injury and a lack of a transfer certificate respectively. Palmer and Wallace, both attack minded fullbacks rounded out the back four.
After coming over from a trade from Dallas, Eric Alexander started in left midfield and Alhassan started on the right. Up top Boyd started alongside Perlaza, a small quick forward who had decent success in 2011.
Philadelphia was one of the surprises of 2011, advancing to the Eastern Conference semifinals. However, they lost two experienced players Veljko Paunovic and Faryd Mondragon back to their home countries. Also, they shipped out their best attacking threat in Sebastian LeToux. According to ESPN, the Union only have four players over the age of 27. To fill in for LeToux, Freddy Adu and Danny Mwanga will have to up their level of play. Goalkeeper Zac MacMath is a budding young star. The Union were able to sign 26 year old Costa Rican left back Porfirio Lopez to pair alongside reliable defenders Califf, Valdes and Williams. In midfield, Phily started veteran Brian Caroll alongside newcomer Garbiel Gomez in the center, with Freddy Adu and Michael Farfan out wide. Gomez is 27 and played for Panama at the 2011 Gold Cup and came from the second division in Mexico.
The Union paired two newcomers up top. Lionard Pajoy, a 30 year old from the Colombian league and 21 year old Josué Martinez from Saprissa and also a Costa Rican international. Pajoy scored 13 goals in 27 games last season. Union head scout Diego Gutierrez said "He's a very physical player. He's a guy that's 6-1, a wide body, and a guy that's got a lot of speed. He's not your typical target player, though he does play with his back to the goal quite well. He also has a lot of skill on the ball, so he's able to do a lot of things" (philadelphiaunion.com). Kenneth Hernández, soccer writer for Costa Rican daily Al Día, describes Martinez, "He's a fast player. His main problem area is that he makes mistakes in converting. He misses chances and the [Saprissa] fans have not been so kind with him. It has cost him to establish himself as a consistent player" (mlssoccer.com).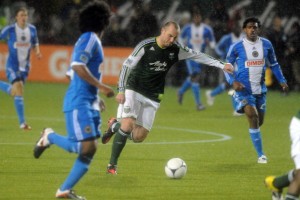 First Half
The opening minutes were cagey and defensive in the wet and noisy Jeld-Wen Field. In the ninth minute, Eric Alexander cut in from the left onto his right foot and had a curling shot blocked by MacMath that almost slid into the bottom corner. One minute later, Perlaza had a penalty shout after being brought down by Califf and then Perlaza had space on a counter down the left but misplaced his squared pass to Alhassan.
Twenty one minutes in, Boyd nearly opened his account after a dummy and a return header from Perlaza but MacMath was off his line quickly. The Union countered down the right with Adu and Martinez but Adu's chipped ball could not be found by Pajoy.
Portland controlled possession early. The home field advantage provided by the Timbers Army and also by the Union being unaccustomed to playing on the smallest MLS pitch. Philadelphia struggled to control possession; often misplacing passes or playing long balls that skipped away on the slick turf. Adu was most involved when he tucked inside from the right and Martinez drifted wide.
The Timbers were most effective when they switched play from touchline to touchline and allowed Wallace and Palmer to get forward and overlap. The strikers for both side, Pajoy, Martinez and Boyd were starved for service.
Second Half
The match came to life after an offensively challenged first half. Portland came out with ambition. Alexander played a dangerous cross that was met by Alhassan but was headed off the line by Valdes. The Union struck first from a free kick in the 51st minute. Gomez drove the ball into the back post that was touched by Jean-Baptiste and landed in the corner.
The Timbers rallied immediately after going behind. MacMath did well to punch away a cross but in the 54th minute he fumbled a Jean-Baptiste header from a free kick into the back of the net. Three minutes later, Wallace got forward and played a ground cross that was saved by MacMath as well as the rebound by Perlaza. Portland slightly adjusted tactics and resorted to playing long balls to the head of Boyd and did a better job of finding the fullbacks to get crosses in. Jewsbury was the engine that got the ball out wide early, when they had the most space.
Sixty-five minutes in, Jewsbury sprayed a pass wide right to Alhassan. He cut back to his left and swung the ball into the near post for Boyd to flick onto the back post. Califf was a half-step slow to react to Boyd's run and he paid for it. Timbers supporters hope that Kris Boyd will be a lethal finisher inside the box, an element missing from their side last season. Eight minutes later, Boyd got free off a corner kick and forced Adu to clear his header off the line.
In the seventy sixth minute, Jewsbury played a set piece short to Alhassan who beat two Union defenders on the right side and chipped a cross into the back post that landed in the backside corner to seal the three points.
Of the substitutes, Mwanga engaged in physical battles with Jean-Baptiste and the rookie did well to hold his ground. Other than that, Mwanga was hardly involved. Darlington Nagbe came on for Alexander and was aggressively pushing for a fourth goal, which looked more likely than a Union second.
Conclusion
It was no surprise that the Timbers scored from a set piece. Last season Jewsbury was one of the best in the MLS at providing dangerous free kicks and corners. Boyd will continue to flourish if Portland maintains its style of getting the ball wide to cross. However, Perlaza was lost at times and would prefer a ball behind the defense to use his pace. It is early days, but the partnership looks promising.
The Union have new players in key areas; central midfield, goalkeeper and striker and will have to gel quickly if they are to make the playoffs this season. The away side seemed to rattle after Portland was able to equalize quickly.
The match was entertaining but not tactically fascinating. However, join the discussion by tweeting us @kpngacleansheet or on Facebook at Keeping a Clean Sheet. Also, feel free to leave a comment. We will be writing about MLS all season.