FC Barcelona are one of the world's most prestigious and biggest clubs. However, the team's long term success is slightly mixed, considering their talisman Messi and sharpshooter Suarez are both on the wrong side of 30. Although, the club does have some up-and-coming youngsters. In this article, we discuss how the club could possibly look in 5 years, looking at a possible starting lineup and performance for the 2023/24 season, only taking into consideration the current squad.
Disclaimer: Everything in this article is purely the author's opinions and are not the views of Sportskeeda as a whole.
The Lineup
Barcelona 2023/24 starting 11FC Internazionale v FC Barcelona - UEFA Champions League Group BSD Eibar v Real Madrid CF - La LigaReal Sociedad v FC Barcelona - La LigaFC Barcelona v Tottenham Hotspur - UEFA Champions League Group BFC Barcelona v RC Celta de Vigo - La LigaAnderlecht v Barcelona - UEFA Youth LeagueFC Barcelona v Cultural Leonesa - Copa del Rey - Fourth Round
Goalkeeper: Marc-Andre Ter Stegen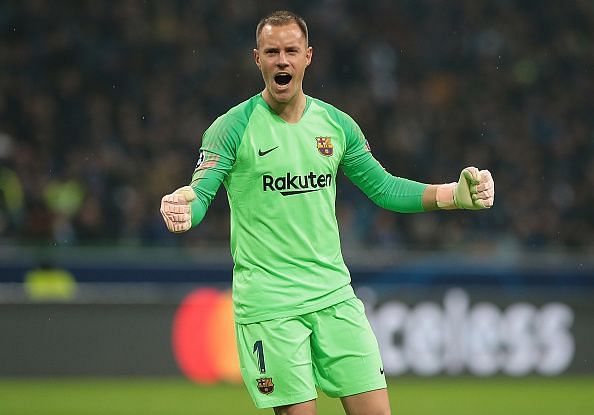 Marc-Andre Ter Stegen will be 31 and at his peak in the 2023/24 season, so is likely to be between the sticks for the Blaugrana. He will be one of the most experienced players in that squad and is going to be the most important piece in the Barcelona squad, considering they won't have a reliable backup for the German.
Left-back: Marc Cucurella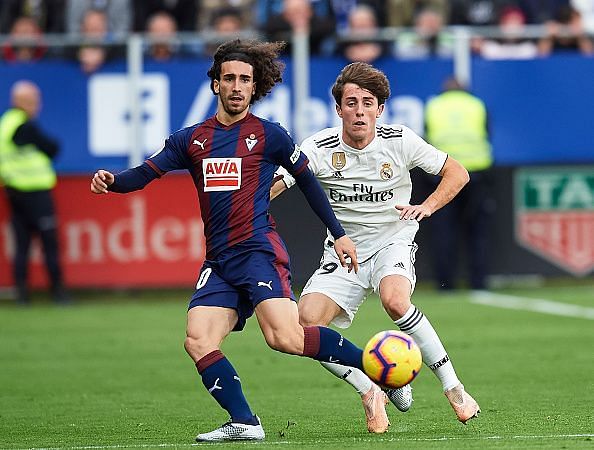 Marc Cucurella is currently on loan at Eibar, where he has impressed. One of the brightest La Masia graduates currently in the first team, his trajectory is currently rising, and he could be the perfect replacement for Jordi Alba once the former finally decides to retire from the sport. In fact, Cucurella could potentially push out the senior left-back from the FC Barcelona starting 11 if his performances continue to improve. Marc Cucurella will be 25 when the 2023/24 season concludes.
Center-back: Samuel Umtiti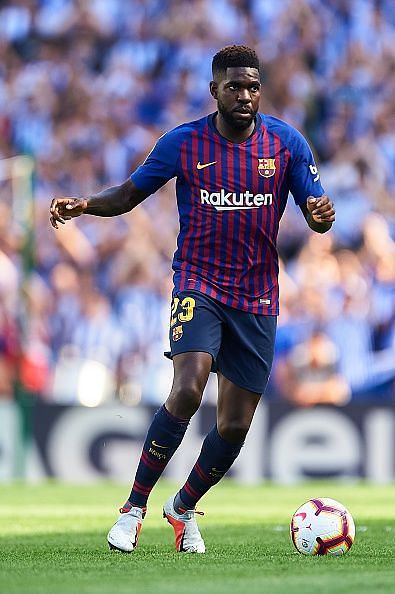 Samuel Umtiti is currently one of the world's best centre-backs at just age 25. He already has won a FIFA World Cup. Last season, he was linked with moves away from the Camp Nou, before re-signing with the Catalan club. He's a player who can very easily be the best centre-back in the world at his peak and a potential captain for Barca. He will be 30 when the 2023/24 season finishes.
Centre-back: Clement Lenglet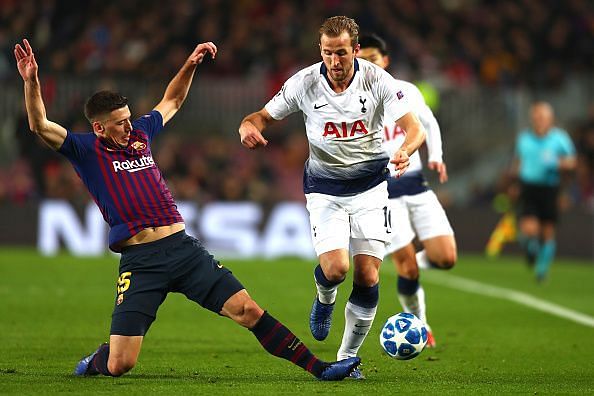 Clement Lenglet was a much-hyped addition to Barcelona's lineup when he joined from Sevilla over the summer. However, injury problems have made it difficult for him to shine in Barcelona colours. However, since he's only 23, he has a lot of time to make it up to the Camp Nou faithful. In 2023/24, Lenglet will be age 28 and at his peak. ( If Lenglet fails to shine, Barcelona have signed Jean-Clair Todibo as well).
Right-back: Nelson Semedo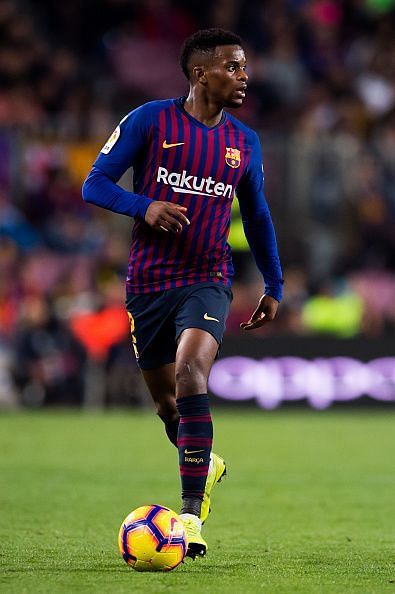 Nelson Semedo joined in the summer of 2017 from SL Benfica as one of Barcelona's additions for depth. Although his debut season wasn't the greatest, there is no doubt that he could very well be one of the world's best right-backs. Semedo will most likely be Barca's starter at right-back if he is still at the Camp Nou in 5 years time. He will be 30 come the 2023/24 season.
Centre defensive midfielder: Oriol Busquets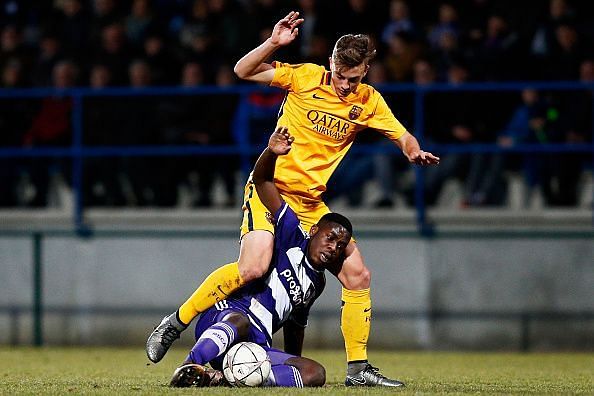 Oriol Busquets is the second out of three La Masia graduates on this Barcelona 11, and probably the most predictable. He has been seen by the Camp Nou upper brass as the heir apparent to his namesake, Sergio Busquets(no relation). He is known for his height and tactical awareness, which is why he is expected to shine in the CDM spot which has been Sergio's for years. Oriol will be 24 after the 2023/24 season ends.
Centre-midfielder: Carles Aleña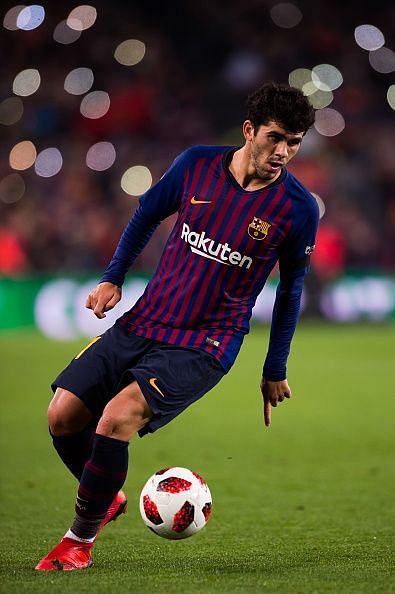 The third and final La Masia player in this Barcelona starting 11 is probably the most well-known. Ever since grabbing attention with a brilliant goal against Roma in 2015, Aleña has been marked as a future great, recently even getting his first La Liga goal against Villareal. Aleña may be one of the future greats in a Barca shirt and will be 24 by the time the 2023/24 season ends.
---
Also See : Barcelona Transfer News, La Liga Transfer News, EPL Transfer News.
---
Central Midfielder: Arthur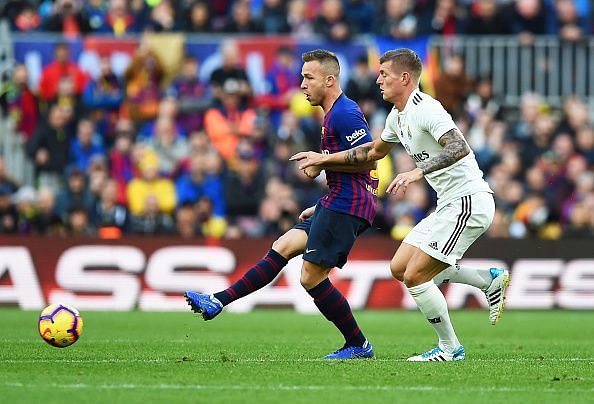 Arthur Melo burst onto the scene with Grēmio in 2017, attracting interest from both Barcelona and Real Madrid. In the end, Barcelona got their man, who has had an immediate impact at Camp Nou. He has been drawing comparisons to Barcelona legend Xavi Hernandez. He's still only 22 and could play for Barcelona for at least 10 years. He will be 27 when the 2023/24 season concludes.
Left winger: Ousmane Dembele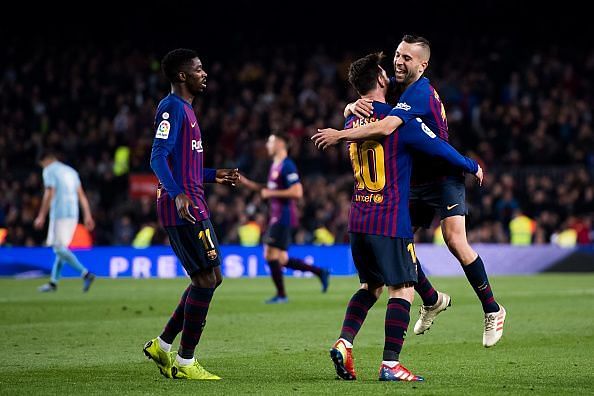 Ousmane Dembele joined last summer from German club Borussia Dortmund as Barcelona frantically searched for a Neymar replacement, finally signing the Frenchman. Unfortunately, Dembele had an injury-ravaged first season in Catalonia, leading to rumours of his departure. However, this season he has had a massive increase in form, even displacing Brazilian star Philippe Coutinho in the starting lineup. Because of this, he is now expected to remain at Barcelona. He will be 25 after the 2023/24 season finishes.
False 9/Central attacking Midfielder: Philippe Coutinho
Philippe Coutinho joined Barcelona from Liverpool in the winter transfer window for around 142 million pounds. He was part of the "Fab Four" that Liverpool assembled in his final season at the club, yet seemed set on a move to the Nou Camp, generating a lot of dislike from the Liverpool fans along the way because of the way he went about getting his move to Barcelona. However, Coutinho seems to have instantly gelled with his new teammates, so it appears to be worth it but is currently having some troubles with current manager, Ernesto Valverde. However, Valverde is unlikely to be at Barcelona in 2023. He will definitely be one of the best players Barca will have in future. He will be 31 in the 2023/24 season.
Right-winger: Malcolm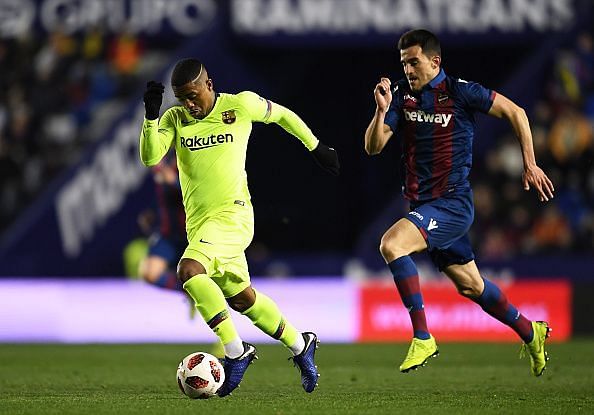 Malcolm joined FC Barcelona from French club Bordeaux over the summer but has so far failed to impress for the Spanish outfit. However, he has a lot of time to improve, so, therefore, will almost certainly be at the Nou Camp for some time to come. He has already proved his worth with Bordeaux and was one of the brightest and most sought-after players in the summer transfer window. Because of this, he makes it into the Barcelona 11 of 2023/24, when he will be 26.
Pros of FC Barcelona 2023/24:
This Barcelona squad has pace to spare down the wings, with Dembele and Malcolm being absolute speedsters. They also have a solid defence, so will not concede too many goals.
Cons of FC Barcelona 2023/24:
Barcelona of 2023/24 lacks a proper striker, with Philippe Coutinho being shoehorned into an unfamiliar False 9 role. Another issue is that some of their players are noticeably injury-prone.