Premier League Fantasy XI: Arsenal
For this series of Premier League Years XIs I will be putting together Fantasy XIs for each club. The simple rule is that the players will be judged only on their performances for their club during the Premier League years so if their best football came before the competition they will not be considered. First [...]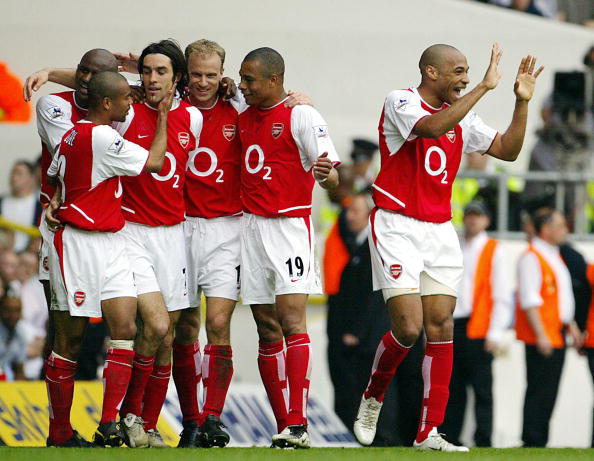 I will be putting together Fantasy XIs for each club, with the simple rule that the players will be judged only on their performances for their club during the Premier League years. Therefore, if their best football came before the competition, they will not be considered.
First up, the Arsenal XI.
David Seaman - I don't think you can really argue with this selection. Seaman was in goal for 2 of Arsenal's 3 Premier League titles and was part of the famous Arsenal back-five under George Graham, which was one of the toughest in league history to breach. One of the best organising goalkeepers in the world, he commanded his penalty box and kept his defence in order. Also capable of breathtaking shot-stopping.
Lee Dixon - Before he became a fixture on TV sofas, Dixon was one of the best defensive right-backs in the league. He won 2 of the 3 Premier Leagues that Arsenal captured and was unlucky to have Gary Neville ahead of him in the England pecking order, or he would have added significantly to his 22 caps. Rugged and physical, he had superb positioning and was a part of Arsenal's dominant defence during the 90s.
Sol Campbell - Campbell is a prime example of the type of players Wenger used to sign, but hasn't for many years. After being plucked away from the Spurs for free, Campbell became an absolute rock in the middle of the defence. Arsenal immediately won the league after his arrival, and he was one of the unheralded heroes of the Invincibles season. For the first few years of his time at Arsenal, he was one of the best defenders in the world.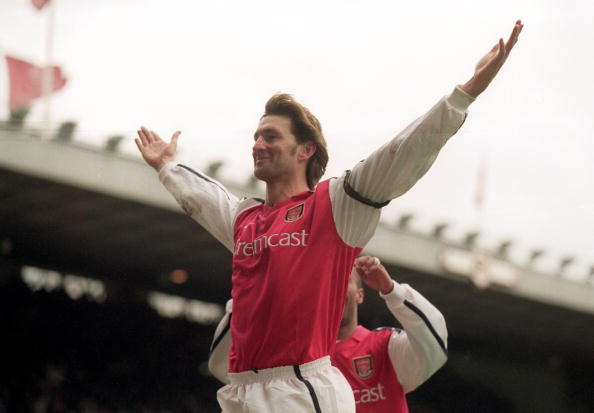 Tony Adams - Adams' influence on Arsenal's development under Wenger was critical. He was the symbol of the club's drinking culture in the pre-Wenger years. When Wenger was able to convert Adams to his clean living philosophies, Adams ushered the message through to the dressing room. He brought old style toughness and leadership from the George Graham regime and combined it with Wenger's work-ethic and professionalism to form a successful mix. His 'conversion' set the ball rolling in the Wenger era.
Ashley Cole - It's a shame Cole left in the way he did, because he was on his way to becoming a true Arsenal legend. The last truly great player to come out of Arsenal's academy, Wenger inherited the young Cole as a flying left winger, but saw how moving him to left-back would give the team an added dimension. His combination on the left flank with Pires & Henry was the best in the world whilst they were together.
Freddie Ljungberg - Ljungberg was brought to the club for peanuts by Wenger in 1998, and locked down the right wing for a decade. Ljungberg wasn't the most technically gifted, but he left every ounce of energy on the pitch every time he played. As he developed, he started to add goals to his game, grabbing 12 in the league winning 2001/02 season. He offered a top-notch defensive shield in front of various right-backs to add to his attacking game.
Patrick Vieira - Vieira joined Arsenal in 1996 and changed the culture of the club. He wasn't happy to plod along in the top 6, and wanted to win the league. He went about doing it with relentless work rate and sheer force of presence. He imposed himself onto games and dragged his teammates with him. He won all 3 league titles that Arsenal won and has never been replaced.
Cesc Fabregas - Fabregas was the first, and by far the most successful of the second phase of Wenger's recruitment. The rest of the players in this side were ready-made or inherited, but Fabregas arrived as a 16-year old from Barcelona with a boat load of talent. Wenger moulded him in to one of the best in the league, and gave him the captain's armband at a very young age. Fabregas stepped into the team the season after the Invincibles, and so never won a trophy. If he had been about 4 years older, he would have won a stack of them.
Robert Pires - Pires arrived at Arsenal after impressing in France's victorious Euro 2000 side for just £6 million. It was one of Wenger's best moves. He stepped in to Marc Overmars' shoes but managed to be even more successful than the Dutchman. He was a key part of the Cole, Pires, Henry left flank that won Arsenal so many games. Pires enjoyed 6 seasons of glorious goals and assists including this special against Villa.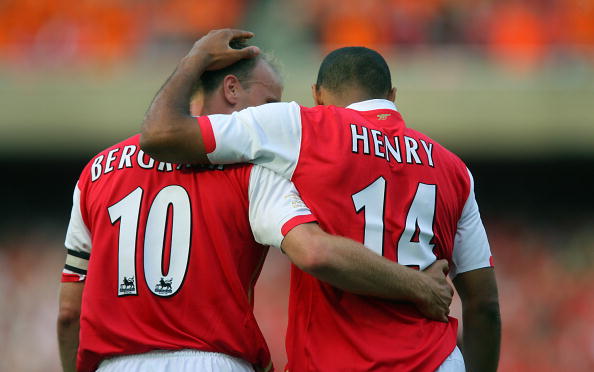 Dennis Bergkamp - I'll try to do Bergkamp justice. Bergkamp's 1997/98 season was possibly the best single season performance in Premier League history. His famous hat-trick against Leicester showed him at his sublime unstoppable best. His goal against Newcastle at St. James' Park had the mark of genius. He won 3 Premier League titles and gave Arsenal legitimacy when he signed. More over, he almost single-handedly changed Arsenal from 'boring boring' to the aesthetics's choice. A truly supreme performer.
Thierry Henry Arsenal's all-time record goalscorer. What more can you say? He came to Arsenal having lost his way out on the Juventus left wing, but Wenger put him up the middle, believed he could score, and so it proved. He enjoyed 8 goal-laden seasons, including 30 in the league in the Invincibles season, and wrested the balance of power away from Manchester United.
Subs: Jens Lehmann, Martin Keown, Gilberto Silva, Manu Petit, Marc Overmars, Robin van Persie, Ian Wright