Premier League years Fantasy XI: Liverpool
1.22K //
31 Mar 2013, 23:40 IST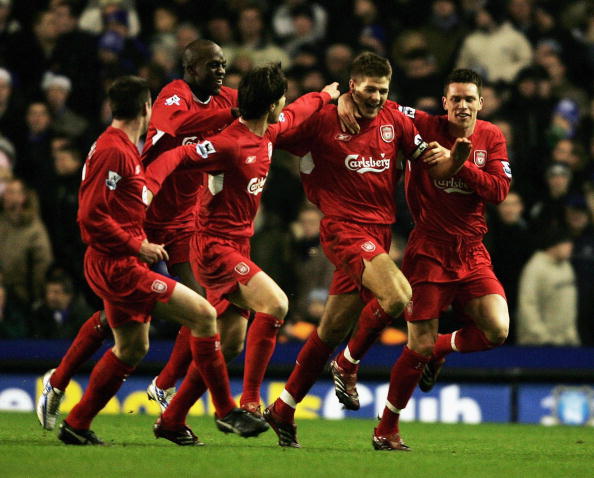 For this series of Premier League Years XIs, I will be putting together Fantasy XIs for each club. The simple rule is that the players will be judged only on their performances for their club during the Premier League years, so if their best football came before the competition they will not be considered.
Liverpool have had plenty of talent during the Premier League years and two distinct successful teams, the Houllier team and the Benitez team, and this Fantasy XI is comprised of a mix of both of these.
Goalkeeper had been a problem for Liverpool during the Premier League years but that hole was plugged thereafter when Rafa Benitez plucked Reina from Spain just after Dudek's Champions League final heroics. Reina is unlucky to have only won 3 major trophies in his 8 years at the club but he has been a solid presence between the sticks. A capable distributor of the ball, he has played as a keeper sweeper and his excellent shot stopping have won many points for Liverpool.

Jamie Carragher
The Kop sing 'We all dream of a team of Carraghers' because of his fight and passion for the shirt and the club that he loves. Having come through Liverpool's youth system as a raw and rugged prospect, Carragher has matured in to the vocal leader of the defence, organising everyone else and throwing himself in the way of the ball if needed. He's played at right back, left back and centre back during his career at Liverpool and has epitomised what the fans expect of players donning their shirt. The image of him, socks rolled down and delirious with excitement in Istanbul, is iconic.
Sami Hyypia
One of the best buys in the Premier League, Hyypia arrived from Dutch mid table side Willem II for just £2.8m. What they got for that was a decade of exemplary service and leadership. He would have a strong case for inclusion in an all Premier League team as one of the best examples of his position. Hyypia was absolutely rock solid in every way. Big, very strong and surprisingly athletic, Hyypia combined these physical gifts with an infectious desire to win.
Stephane Henchoz
Perhaps a surprise but Henchoz's partnership with Hyypia was one of the best in Europe. Henchoz was more comfortable on the ball than Hyypia so provided a perfect foil. Plucked from the wreckage of Blackburn's relegation in 1999, he came in under the radar but established himself immediately. In his second season at the club, he played a key role in Liverpool's famous 5 cups campaign. An elegant and sophisticated player.

Jon Arne Riise
Riise arrived as one of the hottest prospects in Europe in 2001 and didn't disappoint. Most famous for his buccaneering forward runs and cannon left foot, he was also a ferocious tackler and very capable defender. He certainly benefited from playing alongside Hyypia and Henchoz who kept him where he needed to be in his younger years, but he improved year on year to become one of the best players in his position for a good few years.
You can't play him on the right Rafa! It's not ideal, but like Benitez, this is more by necessity than design. I don't really need to justify Gerrard's inclusion of course. The amount of times he's dug Liverpool out of trouble is well documented. He hoisted the Champions League trophy after inspiring the famous comeback with the goal to make it 3-1 and his last minute special against Olympiakos earlier in the tournament. He's been one of the most consistent midfielders in Premier League history.
Dietmar Hamann
Hamann was a critical player in Liverpool's Premier League era team. After an influential single season at Newcastle, Liverpool prised him away for £8m. Hamann's best attribute was his football brain. He always knew where to be to break up opposition attacks and picked the right pass when possession was recovered.
To show Alonso's importance you only need to look at what has happened to Liverpool after Benitez sold him in 2009. In 2008/09, with Alonso enjoying his best season at Anfield, Liverpool finished second with the most points ever gained by a runner-up. In 2009/10 they were 7th, 2010/11 they were 6th and 2011/12 they were 8th. They've never replaced him. His metronomic passing and tempo dictation made him the best deep lying playmaker in league history.

Steve McManaman
McManaman was a constant menace cutting in from the left wing. His pace and dribbling meant that he always had to be accounted for and he caused chaos during the early years of the Premier League. At his best he was a magician, capable of making something out of nothing and winning games on his own. His supply line from wide set up numerous goals and he could be impossible to stop at his best. He was unlucky to have his prime years in a pretty poor Liverpool team sandwiched in between the trophy-winning years.
Michael Owen
He's not so popular now, having wound down his contract to force a move to Real Madrid and then joining Man United, but he burst on to the scene in the most spectacular fashion. To be first choice striker at a club as big as Liverpool at just 18 says it all for his precocious talents. His searing pace and unerring finishing combined with his constant presence on the shoulder of defenders made him a nightmare to defend against. He scored key goals in Liverpool's trophy-laden 2001 in which he also won the World and European Player of the Year honours. An unprecedented triumph.
Robbie Fowler
Fowler was Michael Owen before Michael Owen, but better at finishing. Fowler was a pure goal getter. Fowler scored 30 goals a season in his first 3 full seasons at club, beginning the run at just 18 years old. His 116 goals in his first 3 1/2 years is a European record in the big leagues. He scored a hat trick in just 5 minutes against Arsenal. He burst in to the scene in a way that no other player did in the Premier League era. Fowler should have scored more than he did for the club, but some off field issues meant he left. His impact though cannot be denied.
Subs: James, Finnan, Agger, Redknapp, Berger, Barnes, Torres