Preview: Arsenal need to be on their toes to see off plucky Brighton
1.73K //
25 Jan 2015, 14:29 IST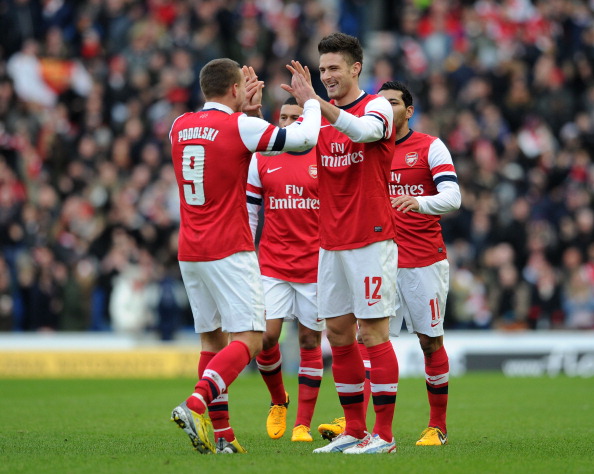 Once again the FA Cup represents Arsenal's best chance of a trophy this season. The Champions League has offered a less rocky path up Europe's highest mountain than in previous years but the higher you go the harder the terrain becomes and Arsenal are yet to show, as Wenger would put it, consistent consistency.
Arsenal for the second FA Cup match in a row face reasonably recent cup opposition and travel to Brighton for their 4th round match. Brighton gave Arsenal a bit of a scare almost two years ago to the day when Arsenal needed a late goal from substitute Theo Walcott to deny Brighton a replay.
Ulloa grabbed the equaliser that day to make it 2-2 after two goals from Olivier Giroud and his performances for Brighton earned him a move to Leicester where he scored a quick equaliser at the King Power Stadium to deny Alexis Sanchez the glory of claiming all three points for Arsenal with his first league goal.
At the time, Brighton were sat just outside of the play-off places in the Championship and looked to be a challenger for promotion but sadly have not lived up to those lofty standards this season. Languishing in 23rd place just six games ago, the new manager Chris Hughton has come in and overseen a run of four wins from their last five games.
Arsène Wenger has a selection headache for this match with choices to make over starting Szczesny, Özil and Walcott. What a headache to have. Any so-called second string Arsenal put out in this match will look remarkably like a full-strength Premier League team and that is testament to the talent Arsenal have but also a stark reminder for the talent we are still missing and what could be if only we could keep our core group fit for an extended period.
A balance must be struck between keeping momentum going and using the benched players to save some legs for more pressing opposition. With that choice also comes the consideration that Arsenal are playing away from home against a team in good form and as matches so far this cup campaign have shown, Football League clubs are not to be underestimated.
Progression to the next round of the most winnable competition for Arsenal this season is at stake and the selection must reflect that.
Arsenal from - Szczesny, Ospina, Gibbs, Mertesacker, Koscielny, Chambers, Monreal, Bellerin. Flamini, Coquelin, Rosicky, Ramsey, Özil, Giroud, Walcott, Chamberlain, Alexis, Cazorla, Campbell.
Predicted line-up
Ospina, Chambers, Mertesacker, Koscielny, Gibbs, Chamberlain, Ramsey, Coquelin, Özil, Rosicky, Giroud
I expect to see substitute appearances from Alexis, Walcott and Flamini
Match quote
"In the cup, you have to be ready from the start on and people like that can always surprise you if you're not ready" – Arsène Wenger
Last 3 meetings
Brighton 2-3 Arsenal (26.01.2013)
Brighton 1-2 Arsenal (30.01.1988)
Arsenal 3-1 Brighton (05.02.1983)
Form Guide
Arsenal Last 5
WWLWW
Brighton Last 5
WLWWW
Opposition watch
After a difficult start to the season, Brighton have picked up 12 points out of the last 15 to climb four places up the table and move six points clear of the relegation zone. Only Middlesbrough and Wolves have better form in the Championship at the moment and Brighton have picked up these points playing reasonably expansive football.
Joao Teixeira, on loan from Liverpool, scored twice for the Seagulls on Wednesday to double his tally for the season and move to joint top league scorer for Brighton with Lewis Dunk so Arsenal will need to keep him in check as his confidence will be sky high.
An open game is what you would usually expect from Brighton as they are a good passing side but Seagulls skipper Gordon Greer has spoken about needing some of the "darker stuff" against Arsenal and Greer was heavily criticise for a tackle on Lewandowski in an international match in October that was labelled brutal. No foul was given and he has promised not to hold back saying "You can't just go out and play football all the time".
It would be unfair to predict a dirty game where the plucky underdogs kick chunks out of their overpaid and pampered opposition proving "Arsenal don't like it up them" and displaying tactical genius in systematic fouling which is definitely not cheating but just good old-fashioned and clever professionalism to get the job done.
Greer's comments don't help to assauge fears that it's only a matter of time before Arsenal suffer another horrific injury at the hands of a thuggish opponent but I do not think he was promising a dirty match, just a tough one which is fair enough.
Factfile
- In their last 12 home cup games Brighton have only lost once – to Arsenal
- Arsenal have not lost an FA Cup game for 7 matches scoring at least 2 goals in 6/7 of them
- Brighton have played Arsenal 14 times and only won twice
- This will be the 5th time Arsenal have played Brighton in the FA Cup – they've never lost
Prediction
Both teams are in good form and high in confidence but I expect Brighton to make it hard for Arsenal and frustrate them a lot in the first half before Arsenal's superior fitness wears them down to produce a scoreline that does an injustice to the hard work Brighton put in.
4-1 to Arsenal with Giroud, Walcott and Alexis scoring.