Race for FIFA presidency: The chase takes shape, but Blatter the favourite to win yet again
1.58K //
01 Feb 2015, 01:28 IST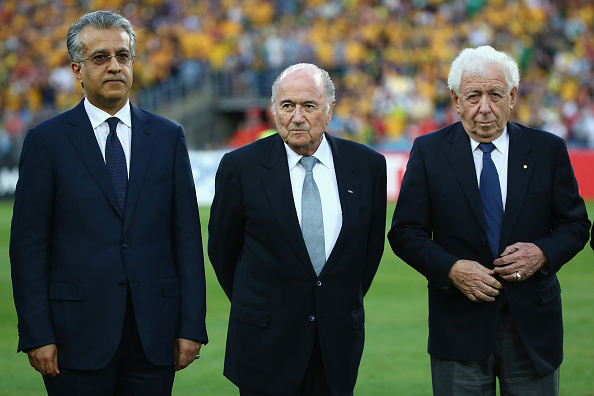 The window for gathering nominations in order to stand for this year's FIFA presidential race shut last night and it wouldn't have been a surprise if it was met with a collective breath of relief. When Luis Figo entered his name into the ring on Tuesday it was getting hard to keep track of the candidates.
Prince Ali bin al-Hussein of Jordan, the French former FIFA executive Jerome Champagne, Dutch FA president Michael Van Praag and former Portugal midfielder Luis Figo had joined current incumbent Sepp Blatter, whose desire to stand for a fifth term has been met with ubiquitous ire in Europe, as well as David Ginola's farcical sideshow in tandem with bookmaker's Paddy Power.
Ex-Spurs and Newcastle midfielder Ginola however has missed out after failing to collect the required 5 nominations, putting to a close an absurd campaign that saw the Frenchman peddle the rhetoric of much-needed change for 2 weeks, in exchange for £250,000.
The bookmaker meanwhile would receive a large amount of cheap publicity for what amounted to a ridiculous charade. The crowdfunding project raised just another £250,000 of a £2.3 million target, bludgeoning Ginola's reputation while further exposing Paddy Power as the cynical company that sees no subject off-limits in their quest to cream money from football.
Administrative controversy dogs Blatter
While Ginola's withdrawal from the race has been welcomed, Blatter's relatively low-key announcement that he will stand once again, posted on his Twitter feed late on Thursday night, will be met with frustration. After saying in 2011 this term would be his last, Blatter enters the 17th year of his reign as favourite to stay in his position, despite allegations of corrupt World Cup bids and elections that have tainted his last four years.
There may have been a lack of credibility about Ginola's short-lived campaign but his manifesto spoke repeatedly of change and it is change that FIFA undoubtedly needs. Van Praag's progressive plan speaks of "modernisation" and Prince Ali, who has picked up the nomination of the English FA, has prioritised the need to "shift the focus away from administrative controversy and back to the sport".
Figo, meanwhile, is motivated by his disillusionment regarding the organisation's recent failure to publish a report into the deeply-controversial awarding to Qatar of the 2022 World Cup. "If you search FIFA on the internet you see the first word that comes out: scandal — not positive words. It's that we have to change first and try to improve the image of FIFA. Football deserves much better than this" he said.
Blatter will fly this weekend to Saturday's Asian Cup final in Sydney possibly comfortable in the knowledge that he is well supported over there. General Secretary of the Asian Football Confederation Dato Alex Soosay pledged his full support to Blatter at last year's FIFA congress and that sentiment was reaffirmed this month in the wake of Prince Ali's decision to stand.
It is Blatter's FIFA that of course, whatever the circumstances, delivered the World Cup to Asia with Qatar and Soosay's backing has been echoed by a series of powerful Asian football officials. The continent has 41 associations and whereas Prince Ali will target votes in Europe where he enjoys popularity, that vote will be split between Figo and Van Praag. It is advantage Blatter before anybody can even think about the May 29th ballot.
Champagne may also play a divisive role in the European vote, though his proposals follow a similar theme of reform to his UEFA rivals. A former 11-year ally to Blatter within FIFA, Champagne's views into the current regime are indicative of how toxic the association has become. Speaking on the resignation of Michael Garcia, the man who investigated the awarding of 2018 and 2022 World Cups to Russia and Qatar respectively, he said "It has not only damaged FIFA, it has also damaged football".
"The image of the organisation is so poor that people make fun of FIFA. It's very negative. More and more people want to grab football for their own economic, political, or sometimes criminal, interests rather than serving the game" said Champagne, also a fierce critic of the abuses suffered by migrant workers in the Gulf, a recurring topic in the debate of the Qatar World Cup. He points to insidious corruption throughout FIFA and the dubious process of how members are voted onto the executive committee which he opines as actively encouraging collusion.
Names cast into irrelevancy
Though Blatter, aptly referred to as the Teflon Don, somehow clings onto his presidency and remains impervious to criticism brought about by ludicrous plans such as the Interplanetary Cup- the idea of playing a tournament between different planets. One only has to look at how Blatter has ensured himself the chance to stand for yet another term to find out how rock solid he is at the head of FIFA's murky pyramid. In the congress- described by the English FA's Greg Dyke as "something like North Korea"- he managed to fend off the introduction of term limits, therefore clearing the path for another campaign.
Now shorn of some his most loyal allies in the regime, Blatter still has fervent support throughout the global game. The 78 year old was determined to take the World Cup to Africa ever since visiting Ethiopia in 1976 and he of course delivered on that promise in 2010.
It is in Africa where FIFA spends the majority of its surging revenues, for instance funding the flagship Goal programme which aids development and football infrastructure in countries that need it the most. Those projects are mostly found in Africa. On Tuesday, numerous CAF officials said that Blatter had the overwhelming support of the continent which has 56 associations.
After the nomination window closed it will now be determined which names will appear alongside Blatter's on the ballot sheet, but they sadly seem likely to be cast into irrelevancy as the Swiss gears up for another term in office. Regardless of the turbulence that has occurred under his guise, or the bile that is thrown his way as a result, Blatter, friend of Africa and Asia, seems immune, no matter how much Figo, Van Praag or Prince Ali seek a process of change.
Written by Adam Gray
Follow Adam on Twitter @AdamGray1250
Like O-Posts on Facebook
You can also follow O-Posts on Twitter @OPosts