Reading 3-4 Manchester United: 5 talking points
907 //
02 Dec 2012, 10:38 IST
What an entertaining game that! Great fun this match. Here are the five talking points: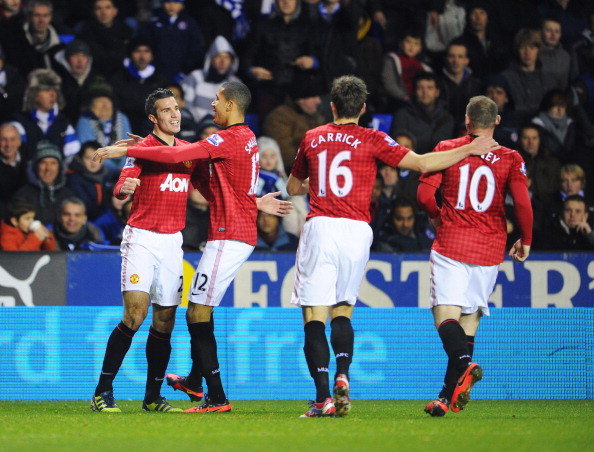 1-     TITLE WINNING MATURITY: United got the three points. That is the final result and that is what the team and the boss will be mainly bothered with. United did not let their shambolic defending bother them and duly went on to go 4-3 ahead and from then on, they looked the better team although Reading did put up stiff resistance. But the final outcome is that United go into next weekend's Manchester derby at the Etihad three points clear of Man City who couldn't beat Everton today. This win today coupled with City's result means that United go into the derby relatively relaxed and calm. They must of course go with the intent of winning as that'd put City six points behind. The way United closed the game out with some good defending was a sight for sore eyes especially when they had defended worse than school kids in the opening 23 minutes!
2-     GOOD FIGHT BY READING: Credit must be given to Reading for not cowing down before the big name players of Man United. They raced into the lead; were 1-2 down and then went 3-2 up before eventually losing 3-4. Their attackers worked hard and their midfielders supported them ably. Hal Robson-Kanu was a delight to watch. He played well though his cause was aided by United`s ever so helpful defence! Tabb and Roberts deserve mentions for some decent performances today. Tabb was a livewire in midfield and though he needs to improve, he can be someone who can do well for the club. On the whole, I doubt McDermott will be too upset at his players' performance. Sure they defended badly but after the interval, the players put in a good shift and put United's defence under a lot of pressure.
3-  ENTERTAINMENT GALORE: The first half was absolutely amazing. 7 goals in 34 minutes! It seemed as if anytime the attackers on either side approached the opposition goal, something would happen. Indeed, when Young sent Evra clear on the left with a clever back heel, I could sense a goal coming and that is precisely what happened.  Then a clever piece of play from Rooney setting RvP through and the Dutchman gladly obliging with a neat finish to put United 4-3 up. As if that wasn't enough, he had a goal ruled out when it had clearly crossed the line and then in the second half, after doing all the dirty work in winning the ball off the keeper, he proceeded to do a Torres and missed an open goal!
4-   GET GOAL LINE TECH IN FAST! : Robin Van Persie should have had two goals today notwithstanding his howler in the second half. Why? Because a perfectly legitimate goal wasn't given since the assistant deemed the ball to have not crossed the line! Though it did not matter eventually since United won the game but a striker will be justifiably aggrieved at not getting a goal when it has clearly crossed the line. Goal line tech is coming soon but one hopes that such incidents are kept at bay till then by the referees and their assistants. We need the football match at the centre of discussion, not the referees' decisions!
5-    BAD DEFENDING YET AGAIN: United`s defending was bad. AGAIN. Jonny Evans, who has been pretty okay this season, was directly at fault for two of the three goals scored by Reading. The usually good Ferdinand was shaky as well in the first half. Conceding three goals inside 23 minutes is a grim reminder of the team's frailties  The effort that went into the clean sheet against the Hammers was undone by some woeful defending that allowed Reading to firstly go 1-0 up and then come back from 1-2 down to go 3-2 up! United came back from a goal down to win yet again. It`s a habit which must go since title wins are built on the back of good defences, not by a defence which concedes 21 goals after 15 games at 1.4 goals a game. Vidic is clearly being missed and I hope United will get their act together and soon!  
     All in all, a good game to watch with lots of goals and good showings by both teams.