Does Real Madrid have the worst fan base in the world?
8.03K //
17 Mar 2015, 12:37 IST
Real Madrid fans, of late, have been subjected to a lot of criticism for booing their own players, including their talisman Cristiano Ronaldo. The latest example of their negative behaviour was when they jeered the Portuguese for not celebrating Gareth Bale's goal against Levante the other day. But it's not just the fans who are getting the hate. Ronaldo's decision to not celebrate his goal has brought him judgment from self-proclaimed pundits and fans all over the world.
To play the role of a devil's advocate, the disappointment from fans is definitely justified given the expectations they have from a team like Real Madrid. People tend to forget that there is a reason millions and millions are spent on the clubs and players year after year. The level of football that is expected from the players donning the white jersey is pretty high, and when those expectations are not fulfilled, fans tend to get agitated.
'Agitated' is a subjective idea though; many would claim that an ideal fan would choose to back his team instead of condemning the players and coaches, but there are many factors to consider.
Ray Hudson's rant on The Football Show on why Real Madrid fans should stick by the team instead of jeering them
---
Cristiano Ronaldo was disgusted with the fans during Real Madrid's 2-0 win against Levante
---
However, taking all those factors into consideration, you still cannot always be so negative towards your own team, especially after they have just won the club their 10th Champions League trophy. No, it is not okay to boo your own team, as it does nothing but decrease the morale of the players – who have been struggling since 2015.
Criticising to a limit is fine, but booing is a morale destroyer, and will only worsen the situation. This video of Cristiano Ronaldo was broadcast particularly on La Sexta as the Portuguese looked disgusted at the fans and their reactions throughout the match against Levante – which they won 2-0.
To make matters worse, it was suggested that Ronaldo was telling the fans to f**k off in Spanish, the word in particular being fodanse. But that is not all of it now, is it? Not celebrating Gareth Bale's first goal as he was busy regretting his own miss apparently makes him the worst teammate in the world.
But let's leave it for his teammates to decide whether he is an ideal teammate or not.
"Learning off the best player in the world is just incredible," Bale was quoted by The Telegraph as stating last year. "He's helping me become a better player, which is my constant goal. I'm trying to get up to his level."
And that's not all.
Second captain Sergio Ramos is back in the side after an injury and the team definitely looks much stronger now. Luka Modric, who is arguably their second best player after the Portuguese, is back to full fitness too, which can only be good news with the Clasico less than a week away.
"Being Cristiano is difficult, he's been at such a high level for so many years," said Ramos, who was disappointed with the supporters too.
"He knows that better than anyone. He's used to scoring 60 goals a year and when he gets 40 he's not happy – he has a very competitive character and nobody will change it. But we're not worried about him gesturing. We need to be grateful for what he brings to the side."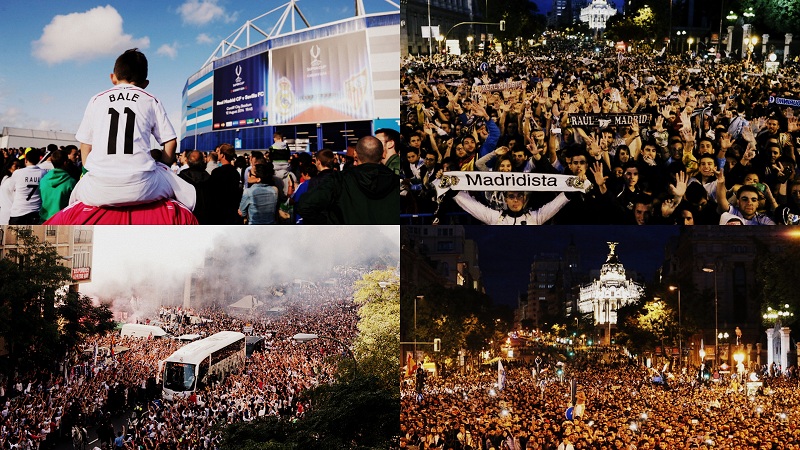 Madridismo is a word that is quite often associated with the club, and the meaning behind it is how the club is identified. But what does it mean exactly? Well, El Pais' Luis Gomez sums it up the best.
"The personal, paternalistic leadership style of Bernabeu instilled in the club a simple ethos that resembled that of a religious order more than that of a political organization. The main elements consisted of a sense of austerity, hard work, humility and honesty. Real Madrid transmitted these values through its players onto the field, summarized in a term that has come to be known as señorío."
The club, being one of the first in Spain to have been honoured with the world 'royal' by then King Alfonso XIII, stands for the idea of being the best out there. When Gomez says 'Señorío', he literally means lordship, and that is what the fans demand the club to stand for too.
Losing to Atletico Madrid 4-0 is definitely not lordship, and neither is losing a lead in the league to Barcelona after leading for a long time. The idea is not just to play to win, but to play with passion and honour, and when you don't see that in the players, it is definitely going to upset fans.
The Real Madrid supporters definitely need to cut down on their boos, but at the same time, as a supporter of the club myself, I can tell you that calling the Madridistas the worst fans in the world is a bit of an overstatement.