Real Zaragoza vs Real Madrid: Match preview
2.10K //
30 Mar 2013, 10:08 IST
Stadium: Estadio de la Romareda
Referee: Alberto Undiano
Kick-off: 12:30 AM (IST), Sunday, 31st of March
A late kick-off sees Jose Mourinho's Real Madrid travel to Zaragoza on the back of a hot winning streak with the aim of remaining in touching distance of Barcelona, at least mathematically. The capital club are 13 points behind the league leaders; and with the slim hope of defending their title disappearing over the horizon, they can ill-afford a slip-up in their remaining fixtures. Relegation-threatened Zaragoza seem like harmless opponents though, with significantly lesser than half the points Real Madrid have against their name and a win-less streak which puts their fans to shame.
Real Zaragoza: L D L D L
With 12 games without a win, it is no surprise that Zaragoza have slipped down the league table and now find themselves just 2 points clear of the relegation zone. There seems to be absolutely no good direction that the club is heading in, with the players appearing disjointed as a unit and well-documented disciplinary issues plaguing them on the pitch. The side have also failed to score in four of their last five games, and have looked increasingly less likely to win a match as this streak drags on. The defenders have often found themselves occupied through a majority of the match; if this continues, they might justifiably be one of the clubs relegated this season.
Real Madrid: W W W W W
In exact opposite fashion to their opponents, Real Madrid have really got their act together for the second half of the season, scoring important wins and coming up with the goals when most needed. Their back-to-back wins over Barcelona, followed by a somewhat fortuitous win over Manchester United, have given Mourinho's side a real confidence boost and have stopped them from rolling over in the La Liga race just yet. Their Portuguese manager's tactical moves seem to be paying off handsomely; a prime example being that of last game's changes at half time which inspired a comeback win over Mallorca. Things look good for Los Blancos.
Injuries, Concerns and Suspensions
Real Zaragoza: Javi Alamo, Ivan Obradovic, Franco Zuculini, Stefan Babovic.
Real Madrid: None.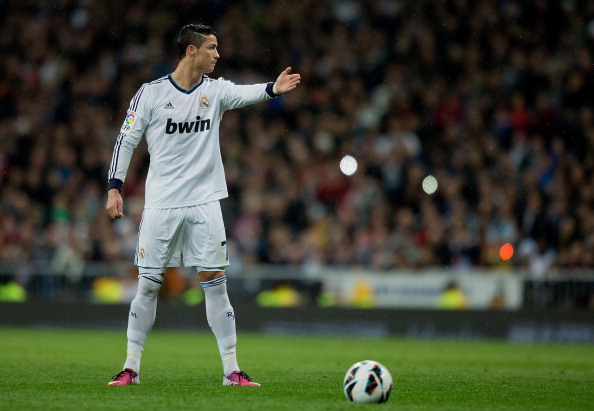 With 21 goals in 20 appearances for Madrid and Portugal this calendar year, Ronaldo has regained the scoring form which helped him fire his side to their first La Liga title in four years last season. With 6 goals in his last five games for Madrid, he is definitely doing his best to try and help them miraculously retain that crown; and against a Zaragoza defence which has been less than impressive, he should be able to contribute further in that direction.
Cristian Sapunaru
The man directly facing Ronaldo will be Romanian left-back Sapunaru, perhaps the most popular defender of Zaragoza's back four. While he is certainly capable of keeping up with Ronaldo on his day, he is key to this game simply with a question mark over his ability to stay on the pitch. Facing Ronaldo and Coentrao will certainly not be an easy task, and if his 6 yellow cards and a red (from two more yellows) in his last ten games are anything to go by, he might be in for an early visit to the showers.
A win for the visitors, plain and easy. Even with an eye on their midweek fixture against Galatasaray, Real Madrid have enough in reserve to prove too good for their hosts. Zaragoza also have serious disciplinary issues, ending 6 of their last 9 games in all competitions with less than 11 men on the pitch. A repeat of that could only make things go from bad to worse for Los Blanquillos.