Player Focus: Reformed Pepe tamed by Carlo Ancelotti's calming influence
2.05K //
04 Mar 2015, 10:52 IST

Real Madrid and Portugal centre-back Pepe is widely regarded as one of world football's most infamous pantomime villains - with a reputation stemming from a long rap sheet of incidents over the last decade in both La Liga and international football.
Most notoriously, Pepe received a 10 game La Liga ban after kicking Getafe's prone Javi Casquero, and then punching Juan Albin as he left the pitch back in 2009. More recently there was the loss of control at last summer's World Cup, when Germany's Thomas Muller delighted in provoking a red card that got Portugal's campaign off to the worst possible start.
For many neutrals, and even Madrid or Portugal supporters, Pepe has long been considered an expert in the dark arts that central defenders use to intimidate more talented attackers, and less usefully for his teams, he has also been prone to losing control at vital moments. However, such views now look in serious need of revision.
Readers may be surprised to learn that the yellow card Pepe received in Madrid's 1-1 draw with Villarreal on Sunday was his very first booking in La Liga all season. And it was not even for a bad foul, with the yellow card was shown for his protests to referee Jose Luis Gonzalez Gonzalez, after a late free-kick awarded against Gareth Bale allowed the under-pressure Villarreal defence a breather.
This first booking [in his 16th La Liga appearance] is not some sort of statistical anomaly. Pepe, who turned 32 just last week, has actually been showing a new found maturity this season, or at least a tendency not to throw himself into reckless challenges and get involved in off-the-ball mayhem.
Among Madrid's first choice starting back-four, Pepe is by far the least likely to give away a free-kick. His 0.6 fouls per game in La Liga so far this term is considerably lower than the tallies of usual centre-back partner Sergio Ramos [1.7 fouls], right-back Dani Carvajal [1.3] and left-back Marcelo [0.7]. Only the assumed 'nice young man' Raphael Varane commits fewer fouls [0.5 per game] though that is not really comparing like with like.
Those foul counts are also unsurprisingly reflected in the yellow card statistics. Ramos [seven yellows], Carvajal [seven yellows] and Marcelo [six yellows] have all already served a ban for accumulated bookings this season. Reserve full-back Alvaro Arbeloa has managed to go into the referee's notebook four times in his more limited playing time. Varane has also just the one booking, but this similarity again only serves to demonstrate just how much Pepe has cleaned up his act.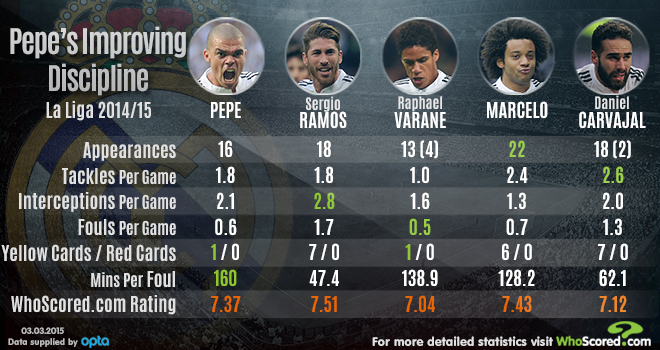 Even more startling is a comparison of Pepe's 0.6 fouls per game with the records of his more attacking Madrid colleagues. 13 of his Blancos teammates are whistled more often - including much more creative types like Isco [1.1 fouls per game], Karim Benzema [1] and James Rodriguez [0.7]. Even Cristiano Ronaldo [0.7] has given away more free-kicks than his international colleague this season.
Most mind-blowingly, we can add Barcelona's Lionel Messi to the list of players who now regularly break the laws of the game more often than Pepe. Messi also gives away 0.7 free kicks per game - slightly more than the player who was once caught on camera clearly stepping on the Argentine's hand. This incident, which took place during Jose Mourinho's turbulent time in charge of Madrid, helped feed a regular Estadio Santiago Bernabeu chant which goes 'Pepe, Pepe, Pepe, stamp on him'. Madrid's ultras might need to find a new tune.
The change in Pepe's behaviour was also pretty clear in the trip to Elche on February 22. The home team's fans had not forgotten the 'winning' of a penalty in Madrid's visit last season, and Los Blancos' number three was barracked mercilessly from the stands throughout. Elche's players also got stuck in - with centre-forward Jonathas booked for catching his marker in the face with his arm. Pepe responded with just one foul himself, and generally played excellently as his team kept a clean sheet.
That shut-out at Elche had followed Madrid's best defensive performance in quite a while, when Pepe had returned from six games out with a rib injury to partner Varane in the 2-0 Champions League win at Schalke. Coach Carlo Ancelotti that night praised the experience and leadership of the returning defender.
"You could see Pepe's experience, his personality," Ancelotti said. "He leads the way. He was important for us today."
Some local pundits -- such as Alvaro de la Rosa in AS last week -- have claimed that the Italian has actually been a calming influence on the fiery character. "Since Ancelotti's arrival at the club, the defender is playing in a more composed manner, with less aggressiveness but with even better effectiveness," it was claimed. "Ancelotti has managed to transform Pepe's anger into a more constructive disposition for the team."
The current - generally positive - feeling towards Pepe was also demonstrated in the reaction to his 32nd birthday last Thursday. The Madrid media was full of photos of him posing for photographs and signing autographs through his car window for starstruck fans outside the club's Valdebebas training ground. A quite surreal 10 minute long video showing fans of all ages and nationalities offering quite emotional messages of congratulations and support for their hero was posted online.
This acclaim also comes from more neutral standpoints - as his overall statistics at WhoScored.com show. In La Liga this season, Pepe has made 3.7 clearances, won 2.9 aerial duel, made 2.1 interceptions and 1.8 tackles per game. His 7.37 WhoScored rating has him rated as La Liga's fourth best centre-back [behind Ramos, Nicolas Otamendi of Valencia and Atletico Madrid's Diego Godin] and just ahead of Barca's Gerard Pique.
This puts Pepe in the company of La Liga's, if not world football's, very best defenders. He has also committed far fewer fouls, and received fewer bookings, than any of his peers.
For years the Brazil-born defender was mostly known for his aggression and lack of self-control. But, having perhaps been shown the error of his ways by Ancelotti, the seemingly reformed character is now standing out for the exact opposite reason.