Reina howler denies Reds victory
732 //
16 Aug 2010, 16:22 IST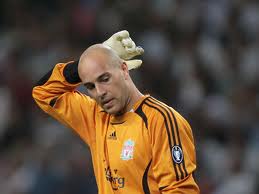 A 90th minute howler by Pepe Reina allowed Arsenal to steal a point away from Anfield in a match Liverpool played with 10 men for the entire second half. It was impossible to conceive Liverpool had finished 7th last season such was the optimism around Anfield and much of the credit should go to their new manager Roy Hodgson. He gave premiership debuts to Joe Cole in a centralized role and Milan Jovanovic on the left. Fernando Torres was only fit to be on the bench and his place was taken by David Ngog who has already notched up three goals in Liverpool's Europa League qualifying campaign. Arsene Wenger having recently signed a three year contract handed premiership debuts to centre back Koscielny and former Bordeaux striker Marouane Chamakh. Skipper Fabregas wasn't fit enough to take any part but Walcott, van Persie and Rosicky made the bench.
Arsenal enjoyed the early exchanges with their slick passing however it was centre back Vermaelen who came closest to breaking the deadlock producing a fine save from Reina from a free kick. Liverpool's best spell saw right back Glen Johnson cutting inside and let fly, his attempt parried over by Almunia. From the resulting corner, Ngog got a free header but was denied by Clichy whose goal line block saved the day. However the match would turn on its head without either net being busted; Joe Cole in an attempt to prevent Koscielny from clearing lunged in front of the defender but his momentum had taken him forward enough to have his leg twisted by Cole's challenge. Referee Mark Atkinson had a clear view and his decision meant Joe Cole would only last a half in his premier league debut.
But if first half ended with Liverpool looking down the barrel, it all changed early in the second with in-form striker David Ngog lashing a thunder bolt past Almunia's near post to give Liverpool a 1-0 lead. With the clock ticking Arsene Wenger decided to bring on Theo Walcott and Thomas Rosicky and both made immediate impact. First Walcott produced a fine save from Reina low to his left from a free kick and then Rosicky after a classy 1-2 with van Persie cut through Liverpool's defense only to have his goal bound effort turned over by the finger tips of Reina. However in the last minute of normal time when Rosicky's cross could not be held by Reina the ball ricocheted off the post into Reina's hands who fumbled and to the utter dismay of the Kop, ended up in the back of the net. All of Reina's previous heroics had been undone in a matter of moments. However there was further drama at the other end as Steven Gerrard produced a smart save from Almunia from a free kick. The man who conceded the free-kick, Koscielny, having being booked for the incident would then be adjudged to have committed a second bookable offense for a handball. This meant not only would Arsenal and Liverpool share honors in terms of goals scored but also share the rare distinction of having both their premiership debutants sent off in the dying moments of either half.