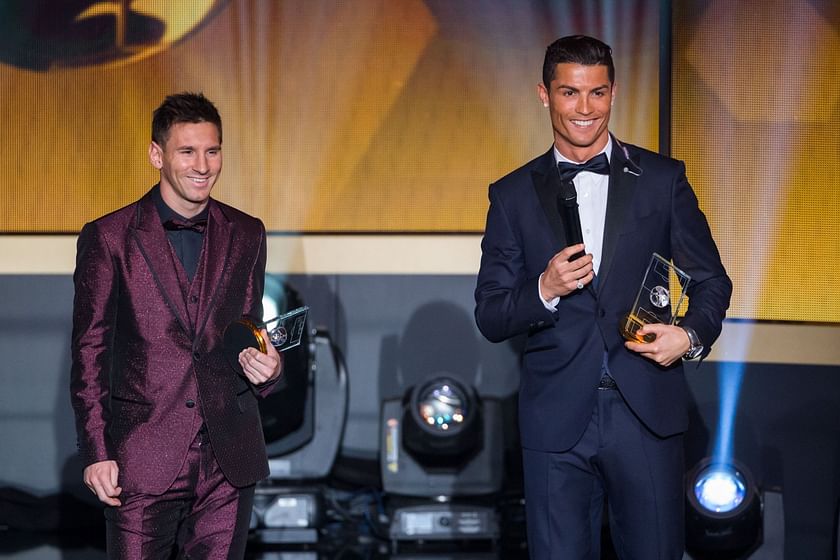 The most popular sport in the world, football, has had some true heroes who have transcended the game itself and cemented their legacy in the minds of football fans forever. Is picking the best football players of all time even possible?
In this article, we have attempted to do just that. While it has been no easy task, we have tried to break down the selection into three main factors: Ability to win matches single-handedly, longevity, and performance under pressure.
A sportsman's true mark of excellence is the ability to step up under pressure and deliver when it matters the most, consistently. Hence the last two factors have been given slightly more importance.
Check the Premier League Live Score
Now, without much ado, let us dive into the list and take a look at the ten best football players of all time.
---
#10 Michel Platini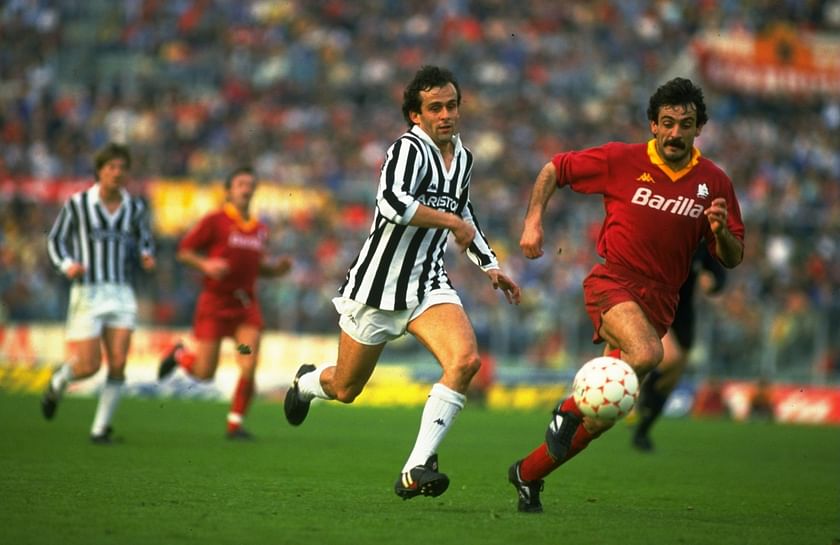 Number 10 on this list is Michel Platini. France might well consider their greatest ever player to be Zinedine Zidane, one of the greatest footballers of all time. Still, before the Real Madrid legend had weaved his magic, Les Bleus had another talented playmaker in Platini.
Credited with making France a global superpower in football, the diminutive playmaker enjoyed a long and fruitful career for club and country. Operating as a number 10, Platini often reserved his best for the biggest matches, scoring several crucial goals throughout his career.
Winner of the Ballon d'Or award three years in a row (1983,84,85), the Frenchman reached the peak of his game when he guided France to the European Championship title in 1984.
Scoring an incredible nine goals in just five games, Platini, playing in his home country, captured the country's imagination with his stunning performances. He was so good that even Pele could not resist complimenting him:
"He didn't run a lot like Cruyff and didn't depend on his physique, but I liked how he was the brain organising things on the pitch. He was a player who used his head in the broader sense. The way he shone with France and Juventus, and his capacity for taking free-kicks made him one of the greatest European footballer of the 1980s."
Having guided France to their first-ever major international trophy and winning league titles with both Juventus and St Etienne, Platini retired when he was still at the top of his game in 1987.
The Frenchman's impact on his country can perhaps best be summed up by Zidane's quotes:
"When I was a kid and played with my friends, I always chose to be Platini. I let my friends share the names of my other idols between themselves."
Platini inspired a new generation of French footballers and is one of the all-time greats of the beautiful game.
---
#9 Johan Cruyff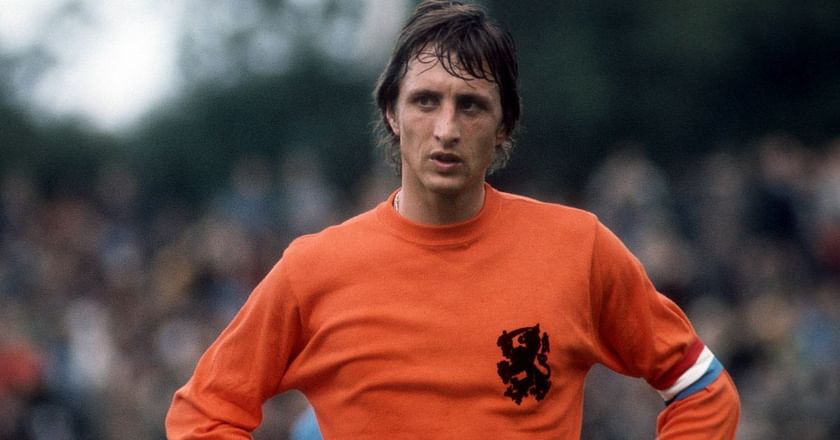 No player and person in the history of the sport has had as much of an impact as Johan Cruyff. A pioneer who brought the brilliant idea of 'total football' to Ajax, Barcelona and the Netherlands national team, Cruyff had a distinguished career for both his clubs and national team, playing some beautiful football along the way.
"Winning is an important thing, but to have your own style, to have people copy you, to admire you, that is the greatest gift."
Winner of the Ballon d'Or three times in his phenomenal career (1971,73 and 74), Cruyff first created his legacy at Ajax, where he guided the Dutch giants to multiple league titles and three stunning European Championships, playing an integral role and leading from the front.
However, what Cruyff is best remembered for in the modern era is the transformation he brought to Barcelona.
Guiding the Catalan giants to their first league title in 14 years immediately after joining them, Cruyff is considered a cult hero, and it was he who first introduced the ethos of tiki-taka and beautiful football at the Camp Nou. Barcelona president Joan Laporta hit the nail on the head when he said:
"As a player, he turned football into an art form. Johan came along and revolutionised everything. The modern-day Barça started with him; he is the expression of our identity, and he brought us a style of football we love."
A true visionary and pioneer of the game, Cruyff was also part of probably the greatest ever football team to never win the World Cup, when the incredibly entertaining Netherlands side finished runners-up to West Germany in 1974.
Finally calling time on his incredible career in 1984, where he improbably guided Feyenoord to the league title, Cruyff was a true legend of the game who stayed at the very top level for an incredible 20 years.
The late Johan Cruyff's contribution to the game can perhaps best be summed up by Gary Lineker's quote:
"Football has lost a man who did more to make the beautiful game beautiful than anyone in history."
---
#8 Ronaldo Nazario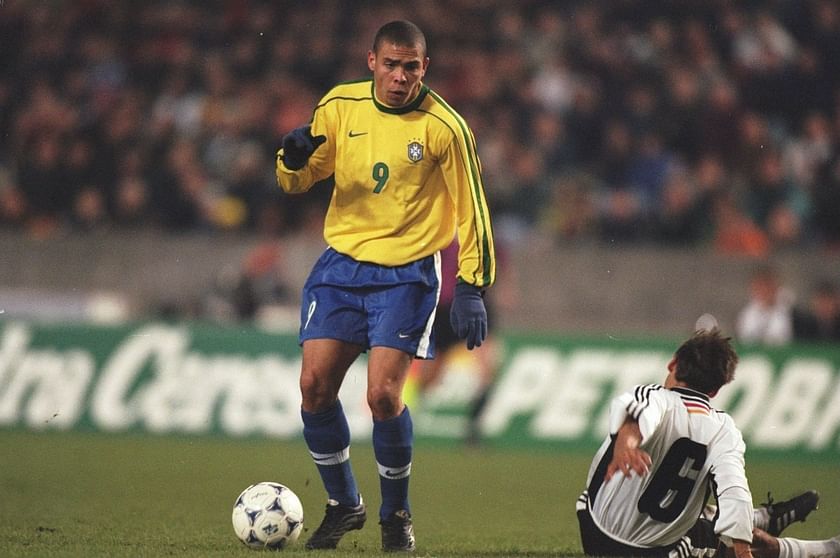 When a player plays for Barcelona, Real Madrid, Inter Milan and AC Milan and still has no haters, you know that he is something special. Ronaldo Nazario, also popularly known as 'O Fenomeno' is probably the greatest striker ever to play the game.
Ever since Ronaldo burst onto the scene as a talented 17-year-old kid at Cruzeiro, there was no doubting the fact that the Brazilian forward was destined to achieve great things in the game. After taking European football by storm at PSV, Ronaldo probably had the most exceptional season of his career at Barcelona, where he cemented his legacy as one of the greatest talents the game has ever seen.
Former Atletico Madrid and Manchester United star Quinton Fortune even said that Ronaldo was the greatest player he has ever seen:
"He was physical perfection, and he seemed like a mythical figure. I love [Lionel] Messi, I played many times with Cristiano [Ronaldo], and I adore him, Neymar is outstanding, Ronaldinho was exceptional—but if you put all of them together, you might get what Ronaldo was that season."
Winner of the prestigious Ballon d'Or award in 1997 and 2002, the Brazilian striker is perhaps best remembered for his performances in the 1998 and 2002 World Cups for the Brazil national team.
In 1998, Ronaldo was one of the best players in the tournament, scoring four and assisting three goals. However, after suffering a convulsive fit hours before the final, he was not at his best as Brazil succumbed to host nation France in the final.
2002 was a different story. Coming back from an injury, Ronaldo took the world by storm and finished as the top scorer, scoring an incredible eight goals and winning the Golden Boot. Calm, composed and deadly in front of goal, the legendary striker scored in all the big matches including the final, leading Brazil to an astonishing fifth World Cup triumph.
Had major injuries not caught up with the Fenomeno, Ronaldo Nazario might have been even higher on this list. Rob Smyth of the Guardian beautifully described Ronaldo's career:
"There were two Ronaldos: the one that returned after long-term injury in 2002 was a great goalscorer, but the 1990s version was a great everything. At his fearsome peak for PSV, Barcelona, and Inter Milan, he was arguably the most dangerous striker the world has ever seen."
Ronaldo, on his day, was quite simply unstoppable. In 2018, the Brazilian became majority owner of Spanish club Real Valladolid.
---
#7 Alfredo Di Stefano
Real Madrid's greatest ever player and an integral part of their dominance in the 1950s, Alfredo Di Stefano had a long 20-year career where he was among the top footballers in the world for the entire duration.
Best known for his achievements with Real Madrid, Di Stefano scored an incredible 307 goals in 396 appearances and won 15 major honors with Los Blancos, including five straight European Championships.
Playing as a supporting striker or as an attacking midfielder along with Puskas and Gento, Di Stefano was always at his best during the big matches and holds the record for being the only player to score in five European Cup finals.
The Real Madrid legend's best performance probably came in the 7-3 final win against Eintracht Frankfurt, where he dominated the game and controlled everything on the pitch.
Legendary manager Helenio Herrera said Di Stefano was an even greater player than Pele:
"Alfredo Di Stéfano was the greatest footballer of all time – far better even than Pelé. He was, simultaneously, the anchor in defence, the playmaker in midfield, and the most dangerous marksman in attack."
Many people still consider Di Stefano to be the best Argentine player ever, even better than Diego Maradona and Lionel Messi. A complete player who could play in plenty of positions with equal ease, Di Stefano's impact on his team was perhaps best summed up by journalist Mike Langley:
"He revolutionised forward play by his box-to-box mobility, his willingness to tackle back and his mastery of the attacking arts – shooting, close control, heading power and an eye for the most telling pass. A perfect footballer."
The 'Blonde Arrow' unfortunately never got a chance to play in the World Cup, and if he did, he might have been much higher on this list than just number seven.
---
#6 Garrincha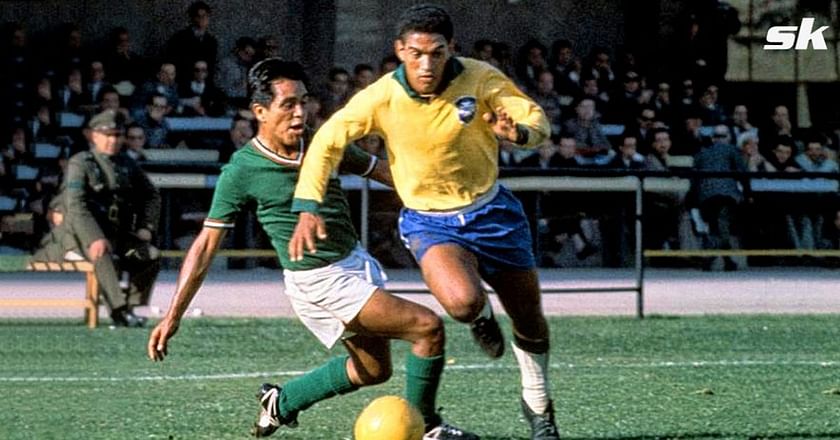 Winner of two World Cups and considered to be one of the most talented players ever, Garrincha was an iconic number 7 for both Brazil and his club side Botafogo. From 1953-1965, Garrincha entertained the Brazilian public with his skills, tricks, and flicks, often bringing sheer joy to the people by the unique way in which he played football.
Garrincha first made his World Cup debut for Brazil in 1958 and immediately went on to establish himself as one of the best players in the world, scoring and assisting plenty of goals for his team-mates like Vava and Pele. The legendary genius even grabbed two assists in the final and was named man-of-the-match for his stunning performance.
Wales defender Mel Hopkins, who faced Garrincha in the quarterfinals of the 1958 World Cup, claimed that the Botafogo player was better than Pele at his peak:
"Garrincha was more of a danger than Pelé, I believe at the time, a phenomenon, capable of sheer magic."
In the 1962 World Cup, Garrincha, in the absence of Pele, led Brazil to glory and he was named as the best player in the tournament.
The legendary Brazilian's finest moment was probably in the 1962 semi-finals against Chile, when he scored two stunning goals. A Chilean newspaper named El Mercurio later summed up the Brazilian's brilliance perfectly, as they lavished praise on his performance.
"What planet is Garrincha from?"
Unfortunately, Garrincha's alcoholism and injuries tragically cut short his career. Still, people in Brazil will always remember the bow-legged genius and his ability to brighten their day with the way he played the beautiful game.
Eduardo Galeano, a famous Uruguayan writer, best captured what Garrincha meant to the masses:
"In the entire history of football, no one made more people happy. When he was out there, the pitch was a circus ring, the ball a tamed animal, the match a party invitation.
Garrincha nurtured his pet, the ball, and together they created such mischief that people almost died laughing. He jumped over it, it gambolled around him, hid itself away, skipped off, and made him run after it. And on the way, his opponents ran into each other."
Garrincha is probably the most talented player ever to play the game!
---
#5 Zinedine Zidane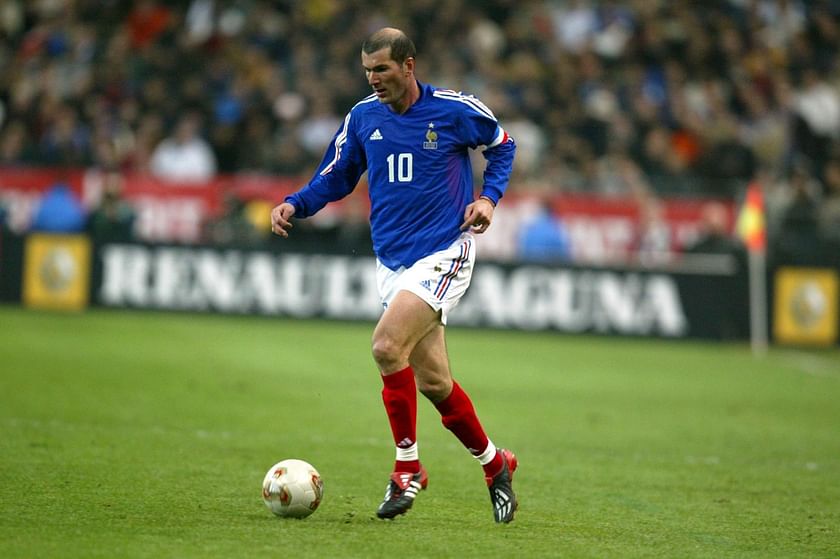 Winner of the Ballon d'Or in 1998, Zidane had a hugely successful career at both Juventus and Real Madrid. However, Zidane first truly came into the public conscience as a genuinely world-class player with his performance against Brazil in the 1998 World Cup final.
Scoring a brace of headed goals in the final, Zidane gave France their much-awaited maiden World Cup triumph against favorites Brazil, thus making him an overnight hero and icon. He followed it up with a stunning performance in Euro 2000, where France won again, and he was crowned the player of the tournament.
His idol, Platini, was full of praise for the young French prodigy:
"Technically, I think he is the king of what's fundamental in the game — control and passing. I don't think anyone can match him when it comes to controlling or receiving the ball."
After sealing a then world-record switch to Real Madrid, Zidane soon showed his class and became one of the best players of the star-studded lineup. His most famous moment in a white shirt came in the 2001-02 Champions League final against Bayer Leverkusen.
With the score tied at 0-0, Zidane showed unbelievable technique to volley home a left-footed shot from outside the box. One of the most beautiful goals in the history of the Champions League, the Frenchman showed that he could always be counted upon to deliver at the most crucial stages.
Until he retired from the sport in 2006, Zidane remained among the best players in the world. Barring his infamous headbutt in the 2006 World Cup final, the legendary Frenchman was indeed a player who reveled on the biggest stage.
For his incredible longevity and his amazing performances in the 1998 World Cup final, 2000 European Championship and 2002 Champions League final, Zidane is regarded as one of the greatest players of all time.
Zidane's class and grace on the field were captured best by famous Guardian journalist Sid Lowe. Writing about Zidane, he said:
"Zidane was football's answer to the Bolshoi Ballet. Zidane was elegance above all else."
Zizou's brilliance continued into his managerial career as he completed a hat-trick of UEFA Champions League with Real Madrid from 2016-2018.
---
#4 Cristiano Ronaldo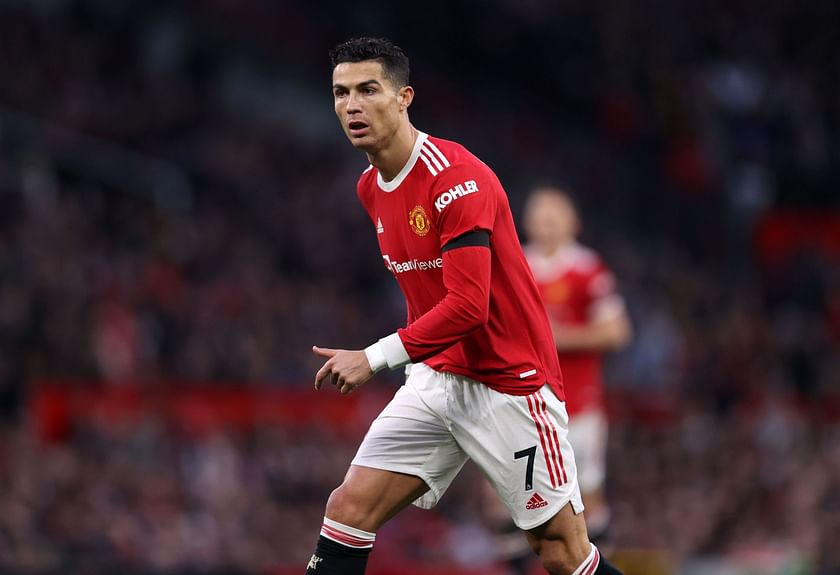 A precociously talented kid at Sporting CP, Cristiano Ronaldo was discovered by Sir Alex Ferguson and it is at Manchester United, where the Portuguese superstar first cemented his legacy as one of the greatest players of our generation.
The legendary George Best was so impressed with Ronaldo that he said that:
"There have been a few players described as 'the new George Best' over the years, but this is the first time it's been a compliment to me."
A fierce determination to be the best, Ronaldo, with his grit and determination along with his supreme talent, has become one of the most recognizable names in world football today.
While he made a name for himself as a global superstar with Manchester United, it was at Real Madrid where he cemented his status as an all-time great.
Be it scoring the last penalty in a Champions League final penalty shoot-out or scoring a crucial goal in the Euro 2016 semi-final, Ronaldo has time and again stepped up when it has mattered the most and shown the world what he is capable of.
On top of his game for close to 16 years now, the five-time Ballon d'Or winner has continued to rack up the goals for Juventus after swapping Madrid for Turin in the summer of 2018.
Currently, he is back at Manchester United after securing a dream return to Old Trafford last summer. The 37-year-old recently became the highest goalscorer in professional football (807) with his hat-trick against Tottenham.
Ronaldo's career in recent times has taken a turn for the worse, as he was released by Manchester United and was then benched for Portugal as they were sent home by Morocco in the quarter-finals. It remains to be seen if the forward will find a new home soon.
---
#3 Lionel Messi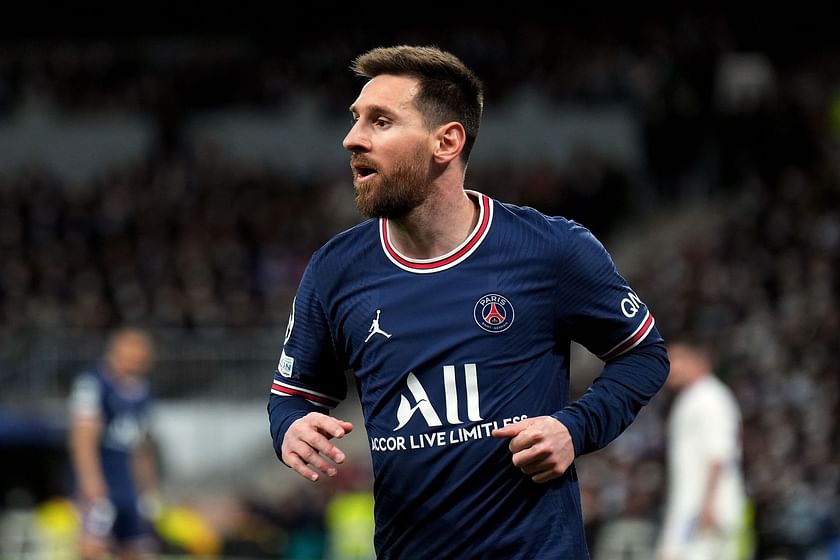 Barcelona superstar Lionel Messi, along with Cristiano Ronaldo, is undoubtedly among the greatest players of our generation. Bursting onto the scene as a fresh-faced La Masia kid in 2005, Messi, first under the tutelage of Frank Rijkaard and then, more importantly, under Pep Guardiola, established himself as one of the greatest players to ever grace the game.
"When you are in trouble, give the ball to Lionel Messi."
A child prodigy, Messi, after Ronaldinho's, departure quickly became Barcelona's main man and was the star of Guardiola's all-conquering Barcelona side in 2008-09.
Mascherano's incredible comments about his compatriot shows Messi's importance to the Catalan giants:
"[Messi] is indispensable, but the rest of us are dispensable. – No, the club is bigger than any manager, than any player except Leo. That's the reality, and you have to accept it."
While Messi has scored in all types of important club matches - Champions League finals, semi-finals, Copa del Rey Finals, Clasicos against Real Madrid, he had his struggles while playing for Argentina.
After having lost three consecutive finals with the national team, Messi even retired from the national team briefly, only to return two months later to have one final crack at international glory. Messi finally put an end to his trophy drought with Argentina by lifting the Copa America in 2021.
No matter what he does from now on, Messi will always be considered to be one of the greatest of all time. The only player to win the Ballon d'Or seven times, the Argentine international, left Barcelona last summer in a shocking free transfer to join PSG.
Messi's genius was best put into words by Arsenal manager Arsene Wenger:
"Messi is the best player in the world by some distance. He's like a PlayStation. He can take advantage of every mistake we make."
After a disappointing 2021-22 season by his standards, Messi was back to his brilliant best as he scored 12 goals and set up 14 more in just 19 games for PSG. He has continued his form into the World Cup for Argentina, who will play France in the final.
---
#2 Diego Maradona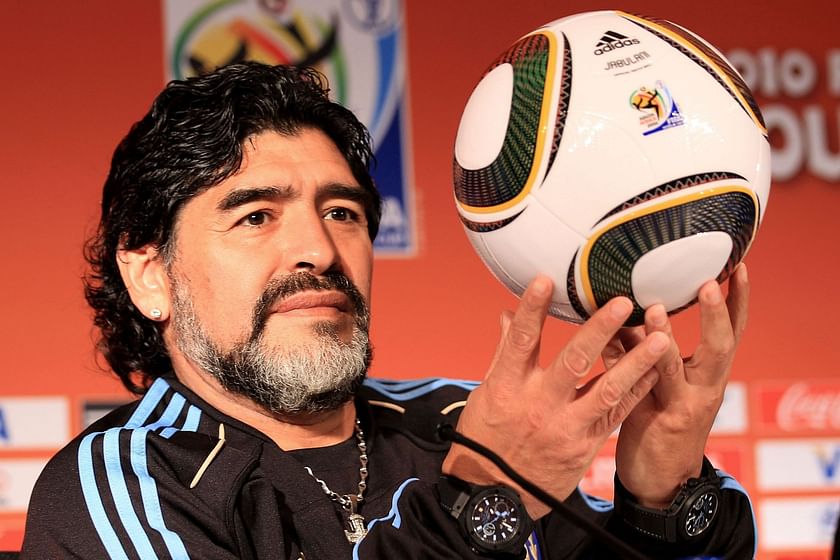 Diego Maradona's entire persona as a player and person was probably captured in that fateful match against England at the 1986 World Cup. A cunning genius, the Argentine maestro, left the English defense in knots to score the greatest goals of all time.
"Maradona, turns like a little eel and comes away from trouble, little squat man... comes inside Butcher and leaves him for dead, outside Fenwick and leaves him for dead, and puts the ball away... and that is why Maradona is the greatest player in the world." —Bryon Butler BBC Radio commentary on Maradona's second goal against England in the 1986 World Cup
Supremely talented and a magician with his feet, Diego Maradona could do things with a football that mortals could not even dream of. Not afraid of bending the rules if it suited him, El Diego always played to win, and he was undoubtedly the star of Argentina's famous triumph in 1986.
While his exploits for Argentina are famous, Maradona also had a telling club career in Europe, first at Barcelona and then at Napoli. Although the legendary playmaker won only a Copa del Rey and Supercopa Espana during his time at Barcelona, he put in some miraculous performances, none more so than when he received a standing ovation from the famously hostile Santiago Bernabeu crowd.
At Napoli, Maradona almost single-handedly dragged the team to two Serie A titles. The Argentine maestro was at his destructive best during those years, and the Naples crowd took to him and looked up to him as their messiah.
Inspiring the Serie A side to greatness, Maradona took every game by the scruff of the neck and led by example on the field. A hero even to this day, Maradona is still Naples' favourite son and is widely considered the greatest player to ever play in Europe.
You can see the respect Maradona has from even the greatest players of this game by Messi's comments:
"Even if I played for a million years, I'd never come close to Maradona. Not that I'd want to anyway. He's the greatest there's ever been."
Maradona passed away in 2020 due to a cardiac arrest.
---
#1 Pele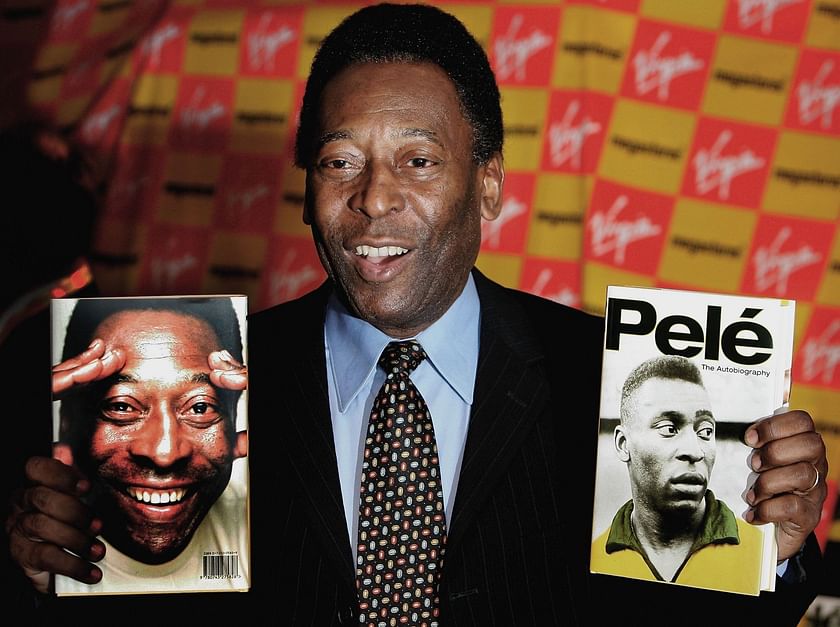 Brazilian legend Pele is widely regarded as the greatest footballer of all time. No player has won more World Cups than him, and that alone should be enough to justify the Brazilian's inclusion at the top of this list.
Goalscorer supreme, Pele was also the focal point of attack for club and country. His goalscoring stats are simply incredible; he is the only player to score more than 1200 senior goals.
Pele, even more so than all the other legends on this list, brought his best game when it mattered the most. The youngest ever player (17 years and 249 days) to score in a World Cup, Pele scored twice in the 1958 edition's final against Sweden.
Although he could only play one match in the 1962 World Cup because of injury, it was in 1970 that he cemented his legacy as the greatest player of all time. Playing some beautiful football along the way, Brazil dominated the tournament, with Pele winning the Golden Ball (Best Player) award for his performances.
Burgnich, who marked Pelé during the final, was quoted saying:
"I told myself before the game, he's made of skin and bones just like everyone else — but I was wrong."
While Pele's exploits with Brazil are well known, he also had an extremely successful club career at both Santos and New York Cosmos. Winner of multiple trophies at Santos, Pele scored over 600 goals for the Brazilian club before finally winding down his career in America.
Benfica goalkeeper Costa Pereira following the loss to Santos in 1962, had this to say about Pele:
"I arrived hoping to stop a great man, but I went away convinced I had been undone by someone who was not born on the same planet as the rest of us."
The Brazilian is regarded as an all-time great and his goalscoring exploits will remain unbeaten for years to come.
---
Also Check Out: World Cup's best players