Samir Nasri: Arsenal's crown prince
French Football is associated with some of the greatest footballers the world has ever seen like Michel Platini, Zinedine Zidane, Eric Cantona, Thierry Henry etc.: people who enthralled audiences world over with their extraordinary skills and passion for the game.  Blessed with the best names in football generation after generation, France has been a powerhouse both on the European and international front.  The golden generation of Zizou and Henry are ageing but French football has been witnessing the rise of a new crown Prince, an heir to the throne to Zinedine Zidane, who has all the makings of writing a glorious chapter in his nation's history.  He is Samir Nasri.
The void left by Zinedine Zidane's departure after the 2006 World Cup was always going to huge, because after all Zidane was arguably the world's greatest footballer.  But again, every beginning must have an end.  Zidane's departure meant there was a chance for younger players to step up and make a name for themselves. Many names were thrown in the media for filling the mantle of France's most favourite son. One prominent name was Samir Nasri.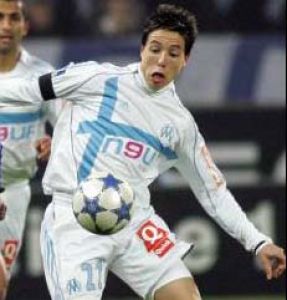 Born to Algerian parents, Nasri grew up in Marseille, where learned most of his skills by playing on the streets. He was scouted by Marseille at an early age of nine, while he was playing for local football club Pennes Mirabeau. He graduated to the first team at the age of 17 after learning the tricks of the trade for eleven long years in the youth team of Marseille. His Algerian background, silky smooth skills and technical ability as play maker earned him direct comparisons to the legendary Zinedine Zidane and he was widely tipped to fill Zizou's boots. Nasri has represented France at every level, be it U/16, U/17, U/18, U/19 or U/21. He went on to win the U/17 championship with France where he scored the winning goal in the final against the Spaniards. He also went onto win the Ligue1 Young Player of the year award in 2006-07. His splendid form at the club and international level earned him recognition and attracted interest from top European clubs.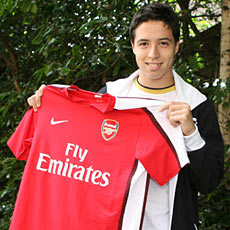 Thanks to the French connection and Arsene Wenger, a move to Arsenal soon followed for the young French playmaker. He made an immediate impact at the club and under the tutelage of Arsene Wenger his future looked as bright as ever. It didn't take him long enough to make his mark too as he scored on his Premier League debut inside the first four minutes. Largely deployed on the wings, he played an important role in the season and helped Arsenal finish in the top four.
An injury kept him out for the early part of the 2009-10 campaign but he came back stronger and continued his fine form. With the injury to captain Cesc Fabregas, Nasri was shifted to the role of central playmaker, a role he played with aplomb as he helped tear down opposition teams effortlessly. As central play maker, he was more effective and more brutal, best illustrated in his single-handed dismantling of Porto in the Champions League. Nasri culminated an excellent display in Arsenal's 5–0 thrashing of Porto with a superb individual effort, dribbling past the Porto defence before driving it across the goalkeeper, sending the ball in off the far post.
What followed after a brilliant season with the Gunners was heartbreak as Nasri was left out of the French squad for the World Cup in South Africa. It was a very controversial decision by the much maligned Raymond Domenech and that proved to be more devastating when France suffered a humiliating first round exit after missing a creative spark, something Nasri could easily have provided. Omission from the World Cup squad didn't deter him and he worked extra hard in training to prove himself.
Then began the 2010-11 season where 'Le Petit Prince' came out stronger and rejuventated, determined to embrace his destiny as one of the best. He has been Arsenal's main man this season and has time and again proved his worth with innumerable number of goals and assists to his name, thus becoming the Premier League's brightest talent of the season. He has been instrumental in helping Arsenal launch a title assault this season.  His superb performances for Arsenal didn't went unnoticed and he won more individual honours as he was voted the French player of the Year in 2010.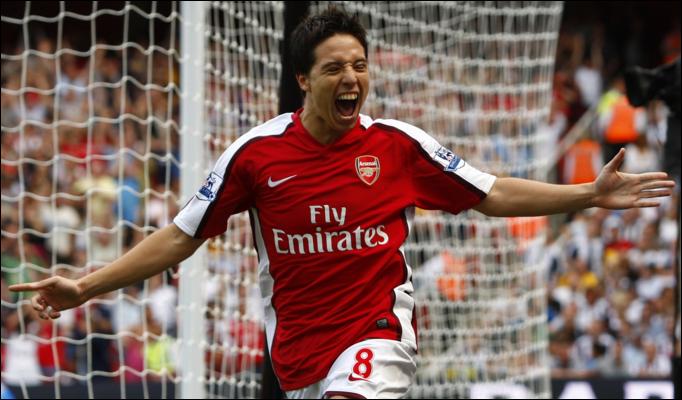 With 14 goals and equal number of assists for Arsenal this season, Nasri has established himself as one of the key members of the Arsenal squad. With the Gunners aiming to break their silverware duck with the Premier League crown and the injuries to key men Cesc Fabregas and Theo Walcott, Samir Nasri will be crucial to Arsenal's chances of winning a trophy.  Here's to hoping that he can finish the season on a high for the Gunners!